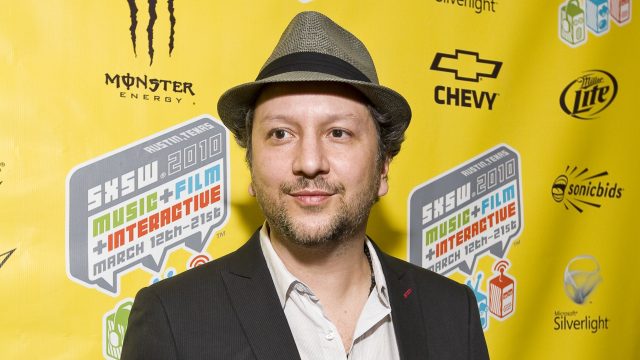 At SXSW 2018 we celebrated the 25th Edition of the SXSW Film Festival and had the pleasure of sharing stories, memories, and reflections from our distinguished alumni. We had a blast telling these tales and want to keep the party going! Today we spotlight Sebastian Gutierrez.
Gutierrez has world premiered four narrative features at SXSW, all of which feature actress Carla Gugino as a part of the ensemble casts. In 2009, the festival premiered Women In Trouble, which highlighted women in ten different roles ranging from a psychiatrist to a flight attendant with a delicate thread of trouble tying them all together. Elektra Luxx (2010) is a follow up and focuses on just two of the characters. The festival also premiered the experimental film Girl Walks Into a Bar (2011) and most recently Elizabeth Harvest premiered in the Visions category at SXSW 2018. Read his memories with us below!
"I had been working in Hollywood writing movies for studios and waiting for long periods of time to make the movies I wanted to make as a director. I was coming off a particularly typical Hollywood experience where a movie I was working on did not turn out the way I envisioned it, thanks to the usual lethal mix of studio interference and, um, what is known as 'creative differences' when I had the following epiphany: I can just go make a little character-driven movie with very little money and really good actors, in between their day jobs doing big movies or TV shows. That movie became Women In Trouble. When I pitched it to the actors, I literally told them, 'let's go make a cool little movie we can have fun doing, shoot it in ten days for no money, and try and get it into a super cool festival like SXSW, go down there all together, drink margaritas and hang out with other cool filmmakers. And that's exactly what ended up happening. The movie was pretty much designed to go show at that festival, to that audience, to be part of that vibe.
After premiering Women In Trouble at SXSW, I gathered the tribes and made a companion piece, Elektra Luxx. This movie was also accepted at SXSW, as was our internet feature film experiment, Girl Walks Into a Bar. Suddenly, Austin and SXSW became the destination we all wanted to be at because of its unmatched combination of friendly audiences and film-savvy movie goers…people who know how tough it is to make something personal in today's environment.
The night of Elektra Luxx's premiere, the projector at the theater broke down. Now, I have heard many stories of this happening to other filmmakers at different festivals, so I ran up to the booth and tried to deal with the situation. While the projectionist was dealing with trying to fix the problem, I witnessed the mass exodus of audience members leaving the theaters. I had to run against the tide of people and jump on stage to to say something, anything, to try and keep them in the theater until the problem was fixed. I was up there for who knows how long, doing my best to tap dance my way through the crisis. To this day I have no idea what I said exactly, but the audience stayed, and listened to my delirious, desperate and impromptu attempt at entertaining them with tales from the set. Eventually Janet [Pierson] came up on stage and whispered in my ear that, unfortunately, the problem was not going to be fixed, the screening would not resume. I was gut-punched, she was gracious, but the result of the fiasco was that the audience was won over and Sony ended up buying the movie. So although I don't wish the situation on anyone, the personable atmosphere at SXSW allowed for the filmmaker to connect with the audience directly and get his point across. It was an out-of-body experience I won't forget.
When I made Elizabeth Harvest there was only one festival in the U.S. I was interested in taking it to. And that's where it premiered."
Join Us For SXSW 2019
Register and book your hotel now to save! The Film Badge gets you primary access to all SXSW Film events including Film Keynotes and Featured Sessions, world premieres, round tables, workshops, parties, and more. Over the course of nine days, the SXSW Film Festival hosts over 450 screenings! Film registrants also have primary access to Convergence events, including the Comedy Festival and nine unique conference tracks, as well as secondary access to most Interactive and Music events.
Follow us on Facebook, Twitter, Instagram, and SXSW News for the latest SXSW coverage.
See you in March!
Sebastian Gutierrez at Elektra Luxx Film Premiere – Photo by Patrick McMullan
The post SXSW Film Festival Alumni Stories – Sebastian Gutierrez appeared first on SXSW.