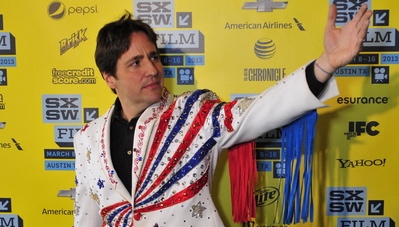 At SXSW 2018 we celebrated the 25th Edition of the SXSW Film Festival and had the pleasure of sharing stories, memories, and reflections from our distinguished alumni. We had a blast telling these tales and want to keep the party going!
SXSW has screened four documentary feature films from AJ Schnack. His films meet at the intersection of film and music starting with his documentary debut of the 2002 World Premiere Gigantic (A Tale of Two Johns). Other subjects include Kurt Cobain (Kurt Cobain About a Son, 2007), Andre Williams (Agile, Mobile, Hostile: A Year With Andre Williams, 2008 World Premiere), and most recently, the World Premiere of We Always Lie to Strangers, which follows the story of family, community, music and tradition set against the backdrop of Branson, Missouri.
We are happy to share AJ Schnack's SXSW story with you:
"It's 2002 and I'm arriving at SXSW for the first time to debut Gigantic (A Tale of Two Johns), my first nonfiction feature. I remember the plane ride to Austin, seeing people board with long poster tubes and wondering, 'is everyone on this plane a filmmaker headed to SXSW?'
Later that night, I looked around Buffalo Billiards and saw some of the same people I'd seen on the airplane, playing pool and drinking beer. I remember being excited and nervous, like the first day of school, as I struck up a conversation and picked up a pool cue. Eighteen years later, I'm still good friends with the people I played pool with that night, who, like me debuted their first film in Austin that year.
A decade later, I'm sitting in the Paramount for the awards ceremony and looking around the packed auditorium. It was in that hallowed space that I'd screened the first two features I ever made. Each was big and loud and filled with people. It was what I'd always dreamed a festival would be: an appreciative audience in an old movie palace looking at something you'd made by hand. Thinking back to all those many years showing films and watching films at SXSW, I marvel at the family of filmmakers that I've been part of – documentary and fiction alike – and feel so lucky that SXSW was my first festival home."
Join Us For SXSW 2019
Register and book your hotel now to save! The Film Badge gets you primary access to all SXSW Film events including Film Keynotes and Featured Sessions, world premieres, round tables, workshops, parties, and more. Over the course of nine days, the SXSW Film Festival hosts over 450 screenings! Film registrants also have primary access to Convergence events, including the Comedy Festival and nine unique conference tracks, as well as secondary access to most Interactive and Music events.
Follow us on Facebook, Twitter, Instagram, and SXSW News for the latest SXSW coverage.
See you in March!
AJ Schnack – Photo by Jordon Naylor/Getty Images
The post SXSW Film Festival Alumni Stories – AJ Schnack appeared first on SXSW.