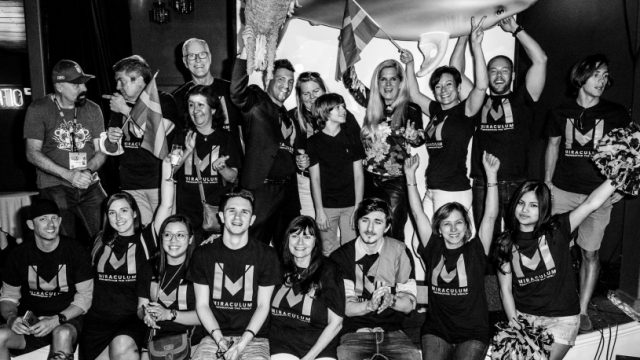 Written by Carolyn Harrold
At SXSW Eco, we recognize the important role that entrepreneurship is playing in solving critical social and environmental challenges. To advance these efforts, we offer Startup Central, a robust programming theme designed for startups and the individuals and organizations that support their work. The events that comprise Startup Central are designed to inform, inspire and connect the nearly 500 members of the startup ecosystem who attend SXSW Eco each year.
Join us in Austin October 10-12 for SXSW Eco and save 25% by registering by September 16.


Networking Opportunities + Events
SXSW Eco offers a networking events in a variety of formats to help startups connect with the people and resources available to support them.
STARTUP + INVESTOR CONNECT
Pitch your business in quick one-on-one meetings at Startup + Investor Connect. This "speed-dating" style event is designed to introduce startups to potential investors and strategic partners. Startups will have the opportunity to sign up in advance for meeting slots with VC, angel and corporate investors as well as representatives from accelerators and incubators.
MEET YOUR ACCELERATOR
New for 2016, this session gives startups the opportunity to hear from and meet 8 of the country's top incubators and accelerators. Participants include: NYC ACRE, Austin Technology Incubator, Clean Energy Trust, Greentown Labs, Imagine H2O, Los Angeles Clean Energy Incubator, MassChallenge, SEED SPOT.
NATIONAL RESOURCES FOR STARTUPS
Learn how to take advantage of the resources available to startups and other innovators through federally funded programs and facilities. In this session, representatives from a mix of National Labs, Agencies and Departments will present ways in which startups can engage with their organizations, highlighting available funding opportunities, as well as technical and scientific resources. Participants include NREL, EPRI, ARPA-E, DOE, PPNL, LBNL, NSF and more.
MENTOR SESSIONS
SXSW Eco's Mentor Sessions give attendees the opportunity to sign up for one-on-one meetings with industry experts. During these quick meetings you can receive direct feedback or career and business advice from your choice of a cross-disciplinary group of experts.
New Panels + Workshops
SXSW Eco offers over 100 sessions featuring perspectives from rising stars as well as industry leaders. Themes range from Energy and Water to Communications and Policy. Below are a few highlights within Startup Central, featuring leading investors, representatives from top accelerators, proven entrepreneurs and policy makers.
BEYOND VC: FINDING THE RIGHT FUNDING MODEL
Speakers: Benjamin Gaddy (Clean Energy Trust), Jennifer Garson (DOE), Sarah Cone (Social Impact Capital)
FRIENDS OR FOES: HOW STARTUPS + REGULATORS NAVIGATE INNOVATION
Speakers: Bradley Tusk (Tusk Ventures), Macky McCleary (State of Rhode Island), Komal Ahmad (COPIA), Rob McGinnis (Nagare Water)
OPEN INNOVATION: DISRUPTING CLIMATE CHANGE
Speakers: Alex Amouyel (MIT SOLVE), Laur Hesse Fisher (MIT Climate Colab)
Competitions
[RE]VERSE PITCH COMPETITION
If you are a business or institution with surplus or byproduct materials in Austin, apply to pitchat the [RE]verse Pitch Competition presented by Austin Recycling Economic Development Program. Startups attending SXSW Eco will have the opportunity to collaborate with the selected presenters.
THE STARTUP SHOWCASE presented by ATI + AUSTIN ENERGY
The cornerstone of this theme is the Startup Showcase, a live pitch competition spotlighting the 48 most promising early stage impact companies from around the world. This event serves as a launching pad for the presenting startups and has become a place of discovery for investors, corporations, utilities, foundations and the media.
Startup Central is designed to bring together members of the startup ecosystem who are advancing social and environmental change . Join us in Austin October 10-12 for SXSW Eco and save 25% by registering by September 16.
Photo Courtesy of Miraculum.
The post SXSW Eco Is For Startups appeared first on SXSW.