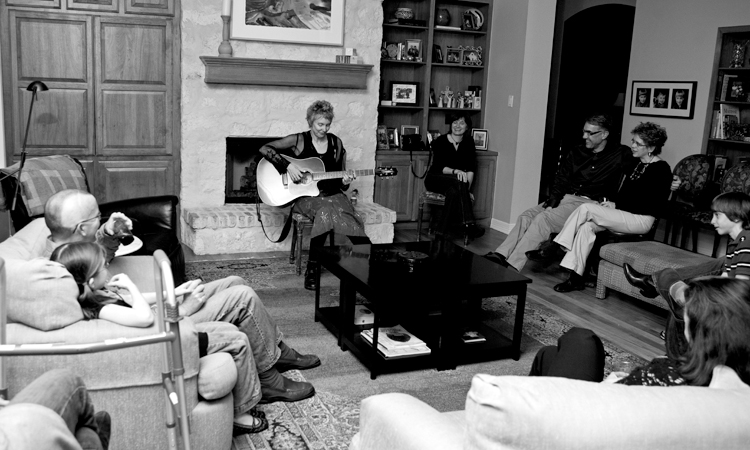 SXSW created the SXSW Community Grant to recognize good work being done within local communities and help further that work by funding a project or program. SXSW feels that promoting good is one of many ways of helping foster creative innovation. Read the story of 2016 recipient Swan Songs below and learn more about 2017 applications.
How a Swan Song Changed One Musician's Life
When Christine Albert was initially approached about playing a benefit concert for Hospice Austin's Christopher House, she thought that bringing music to patients could be a more meaningful and effective way to help people in palliative care. Albert began her mission informally, granting concert requests for a few longtime fans. She found that music provided a medium for friends and family members to be close to a loved one experiencing terminal illness, and that enjoying a show together took some pressure off of an emotional and difficult time. Inspired by her first show for a man called John Swann, Albert knew that the name Swan Songs fit the mission of her nonprofit perfectly.
Fast forward twenty-some years later, and Swan Songs is now a 501(c)(3) with Christine Albert as Founder / CEO and a small staff serving the Central Texas area. Swan Songs has employed over 200 local musicians and, unlike many benefits, offers an honorarium that can be donated back to the organization if the musician chooses to do so. As recipients of the inaugural SXSW Community Grant in the Music category, Swan Songs hopes to increase its reach by 33% in 2016. Swan Songs embodies the spirit of giving and focus on community that we hope to perpetuate though grants.
Apply to the 2017 SXSW Community Grant
Do you know of a 501(c)(3) nonprofit organization with a program that improves the community in a hands-on way? If so, please take a look at the SXSW Community Grant and see if it fits one of our grant categories: Music, Film, Interactive, Edu, and Eco. Each category reflects a commitment to the communities our festivals serve.
We're looking for new or continuing programs that positively impact the community and especially that help underserved or disenfranchised people. We're most interested in programs or projects envisioned as ongoing or continuing with a hands-on approach. We don't think most problems can be solved in a day, so we're focusing on longer-term solutions. Apply for a SXSW Community Grant today before the July 22, 2016 deadline.
2016 Community Fund Grant Winner, Swan Songs. Photo courtesy of Swan Songs.
---
Related News:
The post SXSW Community Grant Spotlight: Swan Songs appeared first on SXSW.