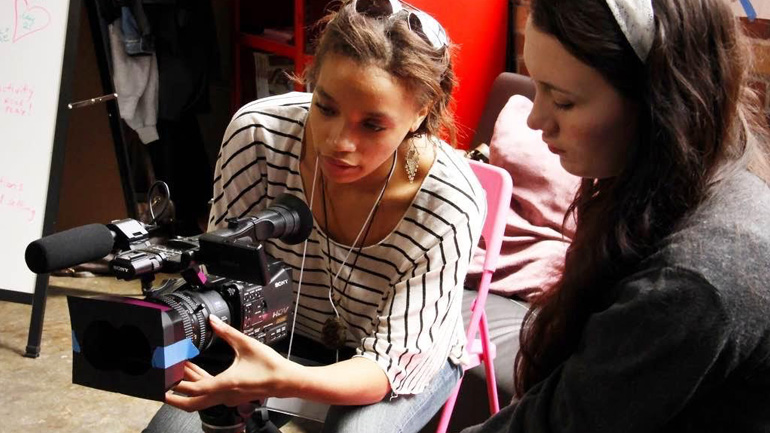 The SXSW Community Grant recognizes good work being done within local communities and helps to further that work by funding a project or program. SXSW feels that promoting good is one of many ways of helping foster creative innovation. Explore our spotlight on Eco, Interactive, and Film categories for the 2017 SXSW Community Grant with stories about past recipients and application information below.
Eco, Interactive, & Film Categories
Eco Category – Greater Edwards Aquifer Alliance
This year, Greater Edwards Aquifer Alliance won a SXSW Community Grant in the Eco category for their Community Rain Garden initiative. GEAA engaged area residents in designing and installing Low Impact Development projects to enhance stormwater filtration before it can flow into the aquifer. This hands-on approach to community improvement with the end result of cleaner water for everyone in Central Texas, embodies the type of program this grant seeks to fund.
Film Category – Reel Grrls
In the Film grant category, Reel Grrls is a nonprofit with a mission to cultivate voice and leadership in girls by teaching them how to produce films about issues important to them. Reel Grrls engages girls and women ages 9-22 to think critically and creatively about digital media in order to create positive social change. The funds from their grant went toward a mobile program to serve rural and low-income youth. This program is creating the next generation of filmmakers we hope to see making art many people can relate to and enjoy.
Interactive Category – Skillpoint Alliance's Velocity Prep Program
The Interactive grant winner, Skillpoint Alliance's Velocity Prep Program, is a high school internship program developed for students to gain work experience in high-demand STEM careers in Central Texas. This year's challenge was for the students to create an energy solution for the Community First! Village, a 27-acre master planned community providing housing for the chronically homeless. A major differentiator is that these internships are paid, showing that the student's work has value and helping overcome family income obligations that may present obstacles to similar opportunities.
Apply to the 2017 SXSW Community Grant
Does your nonprofit 501(c)(3) fit in one of the above grant categories? If so, you can apply for a SXSW Community Grant now through July 22, 2016. Take this opportunity to win a grant of $10,000 to fund your program as well as two passes to the SXSW event in March. Further your contacts and learning in the SXSW festival industry most suited to your work and spread the news about your hands-on method of making your community a better place to live.
2016 Community Grant recipient Reel Grrls. Photo courtesy of Reel Grrls.
---
Related News:
The post SXSW Community Grant: Call for Applicants in Eco, Interactive, & Film Categories appeared first on SXSW.