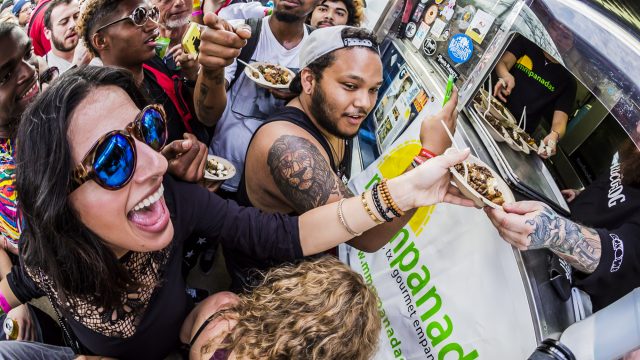 Imagine that every time you opened your wallet, a third of your hard-earned cash flew away. We'd never allow this level of waste in our daily lives and yet we've come to accept it in our food system. Every year, one-third of the food produced in the U.S. goes uneaten, most of it destined for the landfill.
The U.S. has committed to cutting wasted food in half nationally by 2030, mirroring the same global objective set by the U.N.'s Sustainable Development Goals. Today, we're doing our part by announcing our own goal: to end wasted food at SXSW within five years.
This goal is ambitious, but so are we! That's why SXSW will work with The Rockefeller Foundation, industry experts, and community partners to make it happen. Wasted food may be a global problem, but the solutions to solving it are local. We're excited to play our part.
There are so many ways to prevent, recover, or repurpose would-be wasted food, and we all need to start somewhere. As a first step, this year, excess food from SouthBites® Trailer Park will feed people at the Austin Resource Center for the Homeless (ARCH). Expect more next year, and even more the year after that.
We will share our progress along the way, as well as tips for what you can do at home, wherever you are in the world. We hope you'll join us on this journey.
Photo by Aaron Rogosin
---
Related News:
The post SXSW and The Rockefeller Foundation Teaming Up to Reduce Food Waste at SXSW 2017 and Beyond appeared first on SXSW.