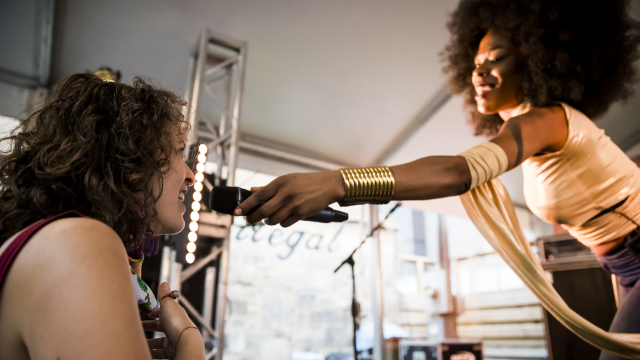 Each March in Austin, diverse groups of creatives across interactive, film, and music industries converge at the SXSW Conference & Festivals. Journey into this oasis of fresh ideas to cultivate creativity, untangle problems, propose solutions, and forge lasting connections during 10 days of collaboration with thought leaders working towards a more connected future.
Calling all creatives – applications are now open for the 2019 SXSW Conference & Festivals. From submitting your buzz-worthy film or performing on stage in front of a global audience to presenting your game-changing tech startup or bringing your art to the walls of Austin – take the opportunity to be a part of this inventive SXSW community from March 8-17, 2019.
Learn how to participate in one of the many prestigious SXSW categories below and take note of upcoming deadlines. Browse the full list of participation categories and stay tuned as artists, films, speakers, finalists, installations, and other SXSW 2019 programming is announced throughout the season.
The SXSW Film Festival celebrates raw innovation and emerging talent from both behind and in front of the camera. Premiere your film in front of press, film industry leaders, and film lovers as well as tech and music professionals at the 2019 SXSW Film Festival. Screening sections include Feature Film, Short Film, Episodic, Music Video, Virtual Cinema, Texas High School Short, and Title Sequence. Learn More »
Final Deadline: October 18, 2018 Texas High School Shorts / Title Sequences Final Deadline: December 13 at 11:59pm PT
Apply for the opportunity to perform at the 2019 SXSW Music Festival, March 11-17, and gain unparalleled access to an audience of industry professionals, international media, and new fans. Showcasing at SXSW means performing in one of the many venues located in famous downtown Austin for thousands of fans, reps, media, and fellow musicians from all over the world. Learn More »
Final Deadline: October 25, 2018 at 11:59pm PT
Place by Design is SXSW's public space design competition, celebrating transformative work at the intersection of art, technology, and design that rethinks how we use and interact with the places around us. Learn More »
Deadline: November 8, 2018 at 11:59pm PT
The SXSW Interactive Innovation Awards prize creative innovation in the connected world, celebrating the ever-widening variety of technology, projects, products, achievements and discoveries. Innovators from across the digital industry have the opportunity to enter their exciting, new work in this competition – open to all projects, products, and developments launched or made in calendar year of 2018. Learn More »
Final Deadline: November 15, 2018 at 11:59pm PT
Pitch your innovative startup at the eleventh annual SXSW Pitch (formally SXSW Accelerator) in front of a live audience and panel of expert judges. Plus, be a part of product demonstrations by the most ambitious talents in the world with the creative new ideas to change it. Join the ranks of SXSW Pitch alumni gaining millions in funding along the way with a combined total of over $5.43 billion. Learn More »
Final Deadline: November 15, 2018 at 11:59pm PT
Get Ready for SXSW 2019
Explore SXSW News for the latest 2019 programming announcements and event updates. Stay tuned as more finalists and programming are announced throughout the season including the SXSW community-curated sessions from PanelPicker® in mid-October 2018.
Register today and book your hotel to begin your SXSW adventure from March 8-17, 2019. Sign up for SXSW Event Updates so you don't miss a beat, announcement or important deadline.
Curb your anticipation for March 2019 by taking a look back videos from previous Keynotes, film premieres, sessions, and more on the official SXSW YouTube Channel. Follow us on Twitter, Instagram, Facebook, and SXSW News for the latest SX coverage.
Photo by Aaron Rogosin
The post Apply to Participate at SXSW 2019: Upcoming Deadlines for Festivals, Awards & More appeared first on SXSW.