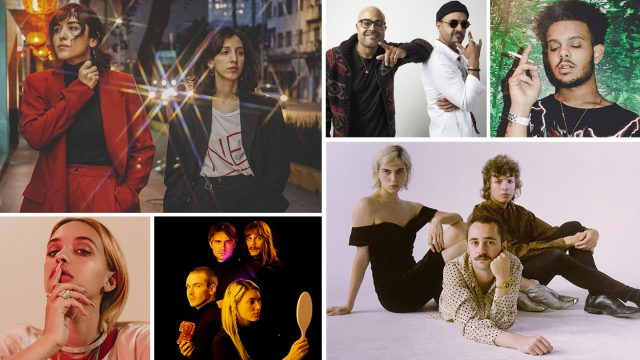 New year, new music! And on that topic, today we announced 500+ Showcasing Artists who will be performing at the SXSW Music Festival, March 12–18, 2018. Every one of you must have had your New Year's Day black-eyed peas because our latest list features amazing talent from 43 countries around the world.
First off, SXSW is pleased to announce the North American debut of composer Max Richter's 8-hour masterpiece SLEEP. Recently added Showcasing Artists also include Alamo Record's producer/rapper Smokepurpp, veteran mellow-rockers Low, Rough Trade signees Goat Girl, up-and-coming Chicano chillwave act Cuco, Australian indie-pop singer Amy Shark, breakout Southern rock band Stop Light Observations, Latin Grammy nominated electronic pop group Centavrvs, and many more.
The Music Festival team are not the only ones who have been busy lately at SXSW HQ lately – we've also announced great additions to the Music Tracks at the SXSW Conference. Accomplished music industry executive and Head of Music at YouTube and Google Lyor Cohen will deliver a SXSW Music Keynote, iconic bassist/songwriter Kim Deal will have a conversation with veteran producer/musician Steve Albini, and that just barely scratches the surface! Be sure to take a look at the SXSW Conference Schedule to see everything that's been announced so far.
Discover Showcasing Artists
500 artists is a lot to dig into and SXSW is around the corner. To help you get the most out of your experience in March, we have some helpful tools of discovery to share with you:
SXSW 2018 Registration Info
Register for a Music Badge to get the most out of your SXSW experience. In addition to hundreds of Official SXSW Showcases, you'll also gain access to:
Primary access to all Music and Convergence Tracks sessions at the SXSW Conference
Secondary access to Interactive and Film Tracks sessions at the SXSW Conference
Most Film Festival screenings and Comedy Festival events
SXSW Social for pre- and post-event networking
Most networking events and parties
The best available rates when you book your hotel through SXSW Housing & Travel
Newly Announced 2018 SXSW Showcasing Artists
Everything subject to change.
A.CHAL (Los Angeles CA)
Acid Dad (New York NY)
Adahzeh (Kingston JAMAICA)
Adron (Atlanta GA)
Aiming For Enrike (Oslo NORWAY)
Aisha Badru (New York NY)
AJ Tracey (London UK-ENGLAND)
Akina Adderley & The Vintage Playboys (Austin TX)
Aleman (Cabo San Lucas MEXICO)
Alesia Lani (Austin TX)
Alexalone (Austin TX)
Alexander Jean (Los Angeles CA)
Alex Di Leo (Fort Lauderdale FL)
Allman Brown (London UK-ENGLAND)
Alsarah & the Nubatones (Brooklyn NY)
Amy O (Bloomington IN)
Amy Shark (Gold Coast AUSTRALIA)
Andre Cymone (Los Angeles CA)
Andrew Applepie (Berlin GERMANY)
Anna Burch (Detroit MI)
Anna Takeuchi (Kyoto JAPAN)
Annie Hart (New York NY)
A Place to Bury Strangers (Brooklyn NY)
Ashley Koett (Denver CO)
A. Sinclair (Austin TX)
Ask Carol (Oslo NORWAY)
ATASH (Austin TX)
Attractions (Fukuoka JAPAN)
AveParadiso (Guadalajara MEXICO)
Bad Gyal (Barcelona SPAIN)
Balún (Brooklyn NY)
Bambara (Brooklyn NY)
BdotCroc (Minneapolis MN)
Beams (Toronto ON)
BeatKing (Houston TX)
Becca Mancari (Nashville TN)
Belau (Budapest HUNGARY)
Ben Aqua (Austin TX)
Beshken (New York NY)
Bethlehem Steel (Brooklyn NY)
Bifannah (VIGO SPAIN)
Big League (Melbourne AUSTRALIA)
Big White (Sydney AUSTRALIA)
Big Zuu (London UK-ENGLAND)
Billyracxx (Eatonville FL)
Bipolaroid (New Orleans LA)
Blake (San Antonio TX)
Blake Brown & The American Dust Choir (Denver CO)
Blessed (Abbotsford CANADA)
Blue Water Highway (Austin TX)
Bobi Andonov (Melbourne WA)
Boggie (Budapest HUNGARY)
Boniface (Winnipeg CANADA)
Booher (Austin TX)
BP Valenzuela (Manila PHILIPPINES)
Breakfast Muff (Glasgow UK-SCOTLAND)
Breanna Barbara (Bradenton FL)
Bri Steves (Philadelphia PA)
BRONCHO (Tulsa OK)
Brooke Annibale (Pittsburgh PA)
The Brother Brothers (Brooklyn NY)
Brother Sundance (Nashville TN)
Brownout (Austin TX)
BUHU (Austin TX)
Calan Mai (Gold Coast AUSTRALIA)
Cam (Lafayette CA)
The Canvas People (Austin TX)
Capyac (Austin TX)
Caroline Rose (New York NY)
Carson McHone (Austin TX)
Casper Skulls (Toronto CANADA)
Cassandra Jenkins (New York NY)
Cedric Burnside Project (Holly Springs MS)
Centavrvs (Distrito Federal MEXICO)
Ceschi (New Haven CT)
CHAI (Nagoya JAPAN)
Chainska Brassika (London UK-ENGLAND)
Childsaint (AUS) (Perth AUSTRALIA)
CHILLEMI (New York NY)
Chill Russell (Austin TX)
Chloe Foy (Manchester UK-ENGLAND)
Chris Stamey (Chapel Hill NC)
Chrissy (Chicago IL)
Christaux (Milan ITALY)
Christina Rosenvinge (Madrid SPAIN)
Christopher Rees (Llwynypia UK-WALES)
Christy Hays (Austin TX)
Cicada Rhythm (Athens GA)
CLARA (Los Angeles CA)
Club de Surf (Santiago CHILE)
Club Night (Oakland CA)
COASTCITY (Puerto Rico PR)
Cold Fronts (Philadelphia PA)
Colin Gilmore (Austin TX)
Common Holly (Montreal CANADA)
Cones (Los Angeles CA)
Copeland (Lakeland FL)
Corridor (Montreal CANADA)
Courtney Marie Andrews (Phoenix AZ)
Creepside (San Antonio TX)
Crunk Witch (Presque Isle ME)
Crush (Seoul SOUTH KOREA)
Cuco (Hawthorne CA)
Culture Wars (Austin TX)
The Cunning (Nashville TN)
Cure For Paranoia (Dallas TX)
Cut Chemist (Los Angeles CA)
Da Chick (Lisboa PORTUGAL)
Daggy Man (Brisbane AUSTRALIA)
Damien McFly (Padova ITALY)
Dan Lyons (Margate UK-ENGLAND)
Dante Elephante (Los Angeles CA)
Darkbird (Austin TX)
Dawg Yawp (Cincinnati OH)
Dead Leaf Echo (Brooklyn NY)
The Dead South (Regina CANADA)
Deanna Wheeler (Austin TX)
Dear Rouge (Vancouver CANADA)
Death Bells (Sydney AUSTRALIA)
Death Hags (Los Angeles CA)
Deezie Brown (Austin TX)
Denis The Night & The Panic Party (Fano ITALY)
Dennis Kalla (Luleå SWEDEN)
De Osos (Mexico City MEXICO)
Derian (Tampico MEXICO)
Dermot Kennedy (Dublin IRELAND)
Dezorah (McAllen TX)
Dick Stusso (Oakland CA)
Didi (Columbus OH)
Distractor (Costa Mesa CA)
Divide And Dissolve (Melbourne AUSTRALIA)
DJ Grip (Austin TX)
DJ HALO (Oakland CA)
DJ Jigüe and El Menor (Havana CUBA)
DJ Rosegold (Toronto CANADA)
Doc Daneeka (Swansea UK-WALES)
Domico (Tokyo JAPAN)
DopeKnife (Savannah GA)
Dot (Los Angeles CA)
Double Ferrari (Athens GA)
DPR LIVE (Seoul SOUTH KOREA)
Dre Prince (Austin TX)
Dressy Bessy (Denver CO)
Duckwrth (Los Angeles CA)
The Dunwells (Leeds UK-ENGLAND)
Earthgang (Atlanta GA)
Efek Rumah Kaca (Jakarta INDONESIA)
Ehiorobo (Freehold NJ)
Elephant Stone (Montreal CANADA)
El Freaky (Bogotá COLOMBIA)
Elle Exxe (Edinburgh UK-SCOTLAND)
Ellevator (Hamilton CANADA)
El Mató A Un Policia Motorizado (La Plata ARGENTINA)
El Tambor de la Tribu (Guatemala City GUATEMALA)
Emily Duff (New York NY)
EmiSunshine (Madisonville TN)
Emma Elisabeth (Berlin GERMANY)
Emme Woods (Glasgow UK-SCOTLAND)
Entropica (Santiago CHILE)
Erika Wennerstrom (Austin TX)
ESKA (London UK-ENGLAND)
España Circo Este (Forlì ITALY)
Estado de Sitio (Lima PERU)
Estúpida Erikah (Barcelona SPAIN)
E-Turn (Orlando FL)
Ex-Girlfriends (Brooklyn NY)
Ezra Collective (London UK-ENGLAND)
Ezra Furman (Chicago IL)
FAIRE (Paris FRANCE)
The Fantastic Plastics (Brooklyn NY)
Farao (Ulnes NORWAY)
Farrows (Asbury Park NJ)
Febueder (Ascot UK-ENGLAND)
Fenster (Berlin GERMANY)
field trip (New York NY)
Filipe Catto (Porto Alegre BRAZIL)
Flasher (Washington DC)
Fntxy (Tijuana MEXICO)
Foyone (Malaga SPAIN)
Fragile Rock (Austin TX)
Frank Turner (Winchester UK-ENGLAND)
Freedom Fry (Los Angeles CA)
French Vanilla (Los Angeles CA)
The Frights (San Diego CA)
FRIGS (Toronto CANADA)
Frontier Folk Nebraska (Cincinnati OH)
Fruit & Flowers (Brooklyn NY)
Fym Summer (Singapore SINGAPORE)
Gabriel Wolfchild & Northern Light (Seattle WA)
Gabylonia (Caracas VENEZUELA)
Gatecreeper (Phoenix AZ)
Gato Preto (Düsseldorf GERMANY)
Gaz Coombes (Oxford UK-ENGLAND)
Genocide Pact (Washington DC)
The Ghost Wolves (Austin TX)
Gina Chavez (Austin TX)
Girl Ray (London UK-ENGLAND)
The Gloomies (Encinitas CA)
Goat Girl (London UK-ENGLAND)
Go Fever (Austin TX)
Gothic Tropic (Los Angeles CA)
Grace Joyner (Charleston SC)
Gracie and Rachel (Brooklyn NY)
Graham Reynolds (Austin TX)
Graham Reynolds and the Golden Arm Trio (Austin TX)
The Grahams (Nashville TN)
Grupo Fantasma (Austin TX)
Guantanamo Baywatch (Portland OR)
Gus Dapperton (New York NY)
G Yamazawa (Durham NC)
Haex (Los Angeles CA)
Hajk (Oslo NORWAY)
Hannah Eggen (Southampton BERMUDA)
Hardy Caprio (London UK-ENGLAND)
Harpooner (Nashville TN)
Harry Pane (Northamptonshire UK-ENGLAND)
Heartstreets (Montreal CANADA)
Hembree (Kansas City MO)
Hety And Zambo (San Andres Island COLOMBIA)
High Waisted (New York NY)
Himalayas (Cardiff UK-WALES)
Hinds (Madrid SPAIN)
Holy Bouncer (Barcelona SPAIN)
Holy Boy (Los Angeles CA)
Hot Flash Heat Wave (San Francisco CA)
Hugo "Poyo" Segovia (Monterrey MEXICO)
Hunter Sharpe (Austin TX)
Hypoluxo (Brooklyn NY)
Hyukoh (Seoul SOUTH KOREA)
IAN SWEET (Los Angeles CA)
II Tone (Memphis TN)
Indrajit Banerjee (Austin TX)
Invoke (Austin TX)
Ismael Ayende (Bogotá COLOMBIA)
J.I.D (Atlanta GA)
The Jackson Pollock (Bologna ITALY)
JadaL (Amman JORDAN)
Jade Bird (Smallfield UK-ENGLAND)
Jade Jackson (Santa Margarita CA)
Jaguwar (Dresden GERMANY)
Jaimee Harris (Austin TX)
Jake Lloyd (Austin TX)
Jared & the Mill (Phoenix AZ)
Jazzy Amra (Bronx NY)
Jean Caffeine (Austin TX)
Jeff Plankenhorn (Austin TX)
Joan Thiele (Desenzano del Garda ITALY)
Johanna Warren (Portland OR)
John Craigie (Portland OR)
John Moods (Berlin GERMANY)
Jonathan Tyler (Nashville TN)
Jon Dee Graham (Austin TX)
Jon Langford's Four Lost Souls (Chicago IL)
Jonny 8 Track (Brighton UK-ENGLAND)
Joshua Hedley (Nashville TN)
Jóvenes Adultos (Mexico City MEXICO)
Juan de Fuca (Athens GA)
Juan Ingaramo (Buenos Aires ARGENTINA)
Juanita Stein (Sydney AUSTRALIA)
Juiceboxxx (Milwaukee WI)
Julietta (New York NY)
Junglepussy (New York NY)
Junior Flexwell (Austin TX)
Justin Michael Williams (Los Angeles CA)
Kalu & The Electric Joint (Austin TX)
Kamau Kenyatte (New York NY)
KANGA (Los Angeles CA)
Kate Auringer (Denton TX)
Kathryn Legendre (Austin TX)
Kelly Willis (Austin TX)
Kenny Allstar (London UK-ENGLAND)
Kenny Gee (Austin TX)
Kevin Krauter (Indianapolis IN)
Kiho (Otaru JAPAN)
Kimokal (Jakarta INDONESIA)
Kings of the beach (Vigo SPAIN)
Kosha Dillz (Perth Amboy NJ)
The Kraken Quartet (Austin TX)
Kraus (New York NY)
The Krickets (Port St Joe FL)
Kristoff Krane (Minneapolis MN)
LaBaq (São Paulo BRAZIL)
La Cafetera Roja (Paulhaguet FRANCE)
La Etnnia (Bogota COLOMBIA)
La Fragua Band (Medellín COLOMBIA)
Lali Puna (Munich GERMANY)
La Luz (Los Angeles CA)
LANNDS (Jacksonville FL)
La Orquesta Vulgar (Mexico City MEXICO)
LAPS (Glasgow UK-SCOTLAND)
Las Diferencias (Caseros ARGENTINA)
Le Couleur (Montreal CANADA)
Le Galaxie (Dublin IRELAND)
The Lemons (Ulaanbaatar MONGOLIA)
Leni Stern (New York NY)
Lil Wop (Chicago IL)
Lime Cordiale (Sydney AUSTRALIA)
Line Upon Line Percussion (Austin TX)
Lisa LeBlanc (Montreal CANADA)
Living Hour (Winnipeg CANADA)
Lola Kirke (New York NY)
LOLA Local Opera Local Artists (Austin TX)
Lola Marsh (Tel Aviv ISRAEL)
Lomelda (Silsbee TX)
Lo Moon (Los Angeles CA)
Look Vibrant (Montreal CANADA)
Lorine Chia (Bamenda CAMEROON)
The Lost Brothers (Dublin IRELAND)
Lovelytheband (Los Angeles CA)
Low (Duluth MN)
Löwin (Austin TX)
Loyal Lobos (Los Angeles CA)
LUFO (CALI COLOMBIA)
Lung (Cincinnati OH)
LYLO (Glasgow UK-SCOTLAND)
MACHINA (Minato-ku JAPAN)
MADDEE (Toronto CANADA)
Madison McFerrin (New York NY)
Magna Carda (Austin TX)
Maiah Manser (Los Angeles CA)
Mala Bengala (Bogotá COLOMBIA)
Mama Duke (Austin TX)
MANEKA (Brooklyn NY)
Margo Sanda (Brescia ITALY)
The Marías (Los Angeles CA)
Marshmallow Coast (Athens GA)
Marty O'Reilly (Santa Cruz CA)
Mattiel (Atlanta GA)
Mauno (Halifax CANADA)
Max Richter (London UK-ENGLAND)
Meanswell (Austin TX)
Mejor Actor De Reparto (Buenos Aires ARGENTINA)
Melenas (Pamplona SPAIN)
Melymel (Santo Domingo DOMINICAN REPUBLIC)
Michael Rault (Montreal CANADA)
MIDDLESPOON (Austin TX)
Mika Shinno (Tokyo JAPAN)
MIKNNA (Los Angeles CA)
MINT FIELD (Tijuana MEXICO)
MNKYBSNSS (Bogota COLOMBIA)
Mobley (Austin TX)
The Molochs (Los Angeles CA)
Mondragon (Mexico City MEXICO)
The Money War (Perth WA)
Monte Warden and The Dangerous Few (Austin TX)
Moodie Black (Minneapolis MN)
Moonbeau (Cincinnati OH)
Moonlight Breakfast (Bucharest ROMANIA)
Moonwalks (Detroit MI)
morgxn (Nashville TN)
Mother Falcon (Austin TX)
Moving Panoramas (Austin TX)
Mr.Kitty (Austin TX)
Mr. Lewis and The Funeral 5 (Austin TX)
Mr Little Jeans (Los Angeles CA)
Mt. Joy (Philadelphia PA)
Muntchako (Brasília BRAZIL)
NADINE (Minneapolis MN)
Naked Giants (Seattle WA)
Nakury (San Pedro COSTA RICA)
Nassau (Brooklyn NY)
The National Reserve (Brooklyn NY)
Nation of Language (Brooklyn NY)
Navy Gangs (Brooklyn NY)
Neuman (Granada SPAIN)
New Fame (Da Nang VIETNAM)
NHD – Nourallah Harvey Dezen (Dallas TX)
The Nightowls (Austin TX)
Nina Nesbitt (London UK-ENGLAND)
NoMBe (Los Angeles, CA)
Non M'importa Della Luna (Santiago CHILE)
nothing,nowhere. (Boston MA)
NO WIN (Los Angeles CA)
Numb.er (Los Angeles CA)
NVDES (Los Angeles CA)
Oak House (Athens GA)
Obliques (New York NY)
Oliver Riot (Los Angeles CA)
Omni (Atlanta GA)
Ona (Huntington WV)
ORB (Geelong AUSTRALIA)
Ori Dagan (Toronto CANADA)
Ought (Montreal CANADA)
OY (Berlin GERMANY)
Pale Waves (Manchester UK-ENGLAND)
Palo Duro (Austin TX)
PAPÁ BOCÓ (Pereira COLOMBIA)
Papachina (Armenia COLOMBIA)
Papisa (São Paulo BRAZIL)
Parrot Dream (Brooklyn NY)
Particle Devotion (Baton Rouge LA)
Part Time (San Francisco CA)
Paul Cauthen (Tyler TX)
PAYAMBÓ (Bogotá COLOMBIA)
Pearl Charles (Los Angeles CA)
Perel (Berlin GERMANY)
Peterson Brothers (Bastrop TX)
Pierre Kwenders (Montreal CANADA)
Pink Mexico (Brooklyn NY)
Pink Milk (Gothenburg SWEDEN)
Pixel Grip (Chicago IL)
Pkew Pkew Pkew (Toronto CANADA)
Planet Booty (Oakland CA)
P Montana (London UK-ENGLAND)
Pneuma (San Jose COSTA RICA)
Popstitute (Medellin COLOMBIA)
Post Animal (Chicago IL)
Prairie WWWW (Taipei TAIWAN)
PRANKROOM (Kawasaki City JAPAN)
The President Lincoln (London UK-ENGLAND)
Pretty City (Melbourne AUSTRALIA)
Prinz Grizzley and his Beargaroos (Egg AUSTRIA)
Promiseland (New York NY)
Public Access T.V. (New York NY)
Qais Essar (Phoenix AZ)
Queen Moo (East Hartford CT)
Quiet Kids (McAllen TX)
Quin NFN (Austin TX)
Quique Escamilla (Toronto CANADA)
Rachele Andrioli e Rocco Nigro (Lecce ITALY)
Rachel K Collier (Swansea UK-WALES)
Ramesh (Austin TX)
Ramirez Exposure (Valencia SPAIN)
RAMONA (Tijuana MEXICO)
Range Emotion (Austin TX)
Reg Bloor (New York NY)
Residual Kid (Austin TX)
The Resonars (Tucson AZ)
Revolver Plateado (Bogotá COLOMBIA)
Rev. Sekou (St Louis MO)
Rhys Lewis (London UK-ENGLAND)
Riley (New York NY)
Roberta Campos (São Paulo BRAZIL)
Rob Gullatte (Houston TX)
Rome Is Not A Town (Gothenburg SWEDEN)
Royal Teeth (New Orleans LA)
The RPMs (Brighton UK-ENGLAND)
Ruby Boots (Perth WA)
Rude-α (Setagaya-ku JAPAN)
SadGirl (Los Angeles CA)
Said The Whale (Vancouver CANADA)
Saintseneca (Columbus OH)
Saint Sister (Dublin IRELAND)
Sangat! (Karachi PAKISTAN)
Sarah Shook & The Disarmers (Chapel Hill NC)
Scenic Route to Alaska (Edmonton CANADA)
Scott Collins (Austin TX)
Scott H. Biram (Austin TX)
Sea Moya (Mannheim GERMANY)
Season to Risk (Kansas City MO)
Seis Pistos (Chihuahua MEXICO)
SEND MEDICINE (Los Angeles CA)
The Shacks (New York NY)
Shell of a Shell (Nashville TN)
She Sir (Austin TX)
ShitKid (Stockholm SWEDEN)
Sie Lieben Maschinen (Kansas City MO)
SILVASTONE (London UK-ENGLAND)
Single Lash (Austin TX)
SISTERS (Seattle WA)
Sixo (Dallas TX)
Skinny Lister (Greenwich UK-ENGLAND)
Skyway Man (Nashville TN)
Sloppy Jane (Brooklyn NY)
The Sloths (Hollywood CA)
Slow Caves (Fort Collins CO)
Slum Sociable (Melbourne AUSTRALIA)
Smokepurpp (Miami FL)
Smokey Brights (Seattle WA)
Soccer Mommy (Nashville TN)
Soda Lilies (Austin TX)
The Soft White Sixties (Los Angeles CA)
Some Kind of Animal (Pittsburgh PA)
Son Little (Philadelphia PA)
SoundMass (Austin TX)
Soweto Kinch (Birmingham UK-ENGLAND)
Spinning Coin (Glasgow UK-SCOTLAND)
Spirit Adrift (Phoenix AZ)
Sports (Tulsa OK)
Sputnik (Mexico City MEXICO)
STAL (Paris FRANCE)
Stars and Rabbit (Yogyakarta INDONESIA)
Step Rockets (Minneapolis MN)
Stop Light Observations (Charleston SC)
Strawberry Runners (Redding CT)
Strvngers (Edmonton CANADA)
The Strypes (Cavan IRELAND)
Summer Heart (Malmö SWEDEN)
Summer Salt (Austin TX)
Sunflower Bean (New York NY)
Sun Voyager (New York NY)
Supa Bwe (Chicago IL)
Superbody (Chattanooga TN)
Super Doppler (Norfolk VA)
Superorganism (London UK-ENGLAND)
SUR (Los Angeles CA)
SYML (Issaquah WA)
Tagore (Recife BRAZIL)
Tameca Jones (Austin TX)
Tan Frío el Verano (Buenos Aires ARGENTINA)
Tangina Stone (Brooklyn NY)
Tasha the Amazon (Toronto CANADA)
TAWINGS (Tokyo JAPAN)
Tayla Parx (Dallas TX)
The Teeta (Austin TX)
TENDOUJI (Tokyo JAPAN)
Terence Ryan (Pembroke MA)
Thee Conductor (Austin TX)
THICK (Brooklyn NY)
Tijuana Bibles (Glasgow UK-SCOTLAND)
Tim Atlas (San Jose CA)
Tiny Ruins (Auckland NEW ZEALAND)
Tita Lima (Los Angeles CA)
TOMKAT (Denton TX)
Tone Stith (New Jersey NJ)
Tracy Bryant (Los Angeles CA)
Tristen (Nashville TN)
Trophy Dad (Madison WI)
Trupa Trupa (Gdańsk POLAND)
Tunde Olaniran (Flint MI)
Tuomo & Markus (Helsinki FINLAND)
Twain (Franklin County VA)
Tyler Childers (Louisa KY)
U.S. Girls (Toronto CANADA)
Us, Today (Cincinnati OH)
Uzuhan (Atlanta GA)
Valley Queen (Los Angeles CA)
The Veldt (Raleigh NC)
Violet Days (Stockholm SWEDEN)
Von Grey (Atlanta GA)
VZn (Jersey City NJ)
Waco Brothers (Chicago IL)
Wake Island (Montreal CANADA)
Washer (Brooklyn NY)
Wavie Gang (Milwaukee WI)
Weird Bloom (Rome ITALY)
Welles (Nashville TN)
Wentru (Antofagasta CHILE)
We Were the States (Nashville TN)
Wifisfuneral (Palm Beach FL)
Wilderado (Los Angeles CA)
Wild Moccasins (Houston TX)
The Wild Now (Austin TX)
Willie Heath Neal (Atlanta GA)
Will Stewart (Birmingham AL)
Wire Spine (Vancouver CANADA)
Wood & Wire (Austin TX)
World Brain (Berlin GERMANY)
WRONG (Miami FL)
Wyclef Jean (Saddle River NJ)
Wyldest (London UK-ENGLAND)
Yamantaka // Sonic Titan (Toronto CANADA)
Yazan (Brooklyn NY)
The Yellow Traffic Light (Turin ITALY)
YFN Lucci (Summerhill GA)
Yoga Fire (Mexico City MEXICO)
Young Jesus (Los Angeles CA)
The Young Step (St. Augustine FL)
Yxng Bane (London UK-ENGLAND)
Zen Bamboo (Montréal CANADA)
Zeshan B (Chicago IL)
Zoey Dollaz (Miami FL)
Zoology (Kelowna CANADA)
Zuli (Long Island NY)

Explore 2018 Music Festival Lineup
Everything subject to change.
Photo credits, clockwise from top left:
MINT FIELD – Photo by María Fernanda Molins
COASTCITY – Victor Prieto
SMOKEPURPP – Photo courtesy of the artist
Sunflower Bean – Photo by Andy Deluca
Fenster – Photo by Simon Menges
Bad Gyal – Photo by Pablo Alzaga

The post Superorganism, YFN Lucci, Low, Bad Gyal, and 500+ More Showcasing Artists Announced for SXSW 2018 appeared first on SXSW.