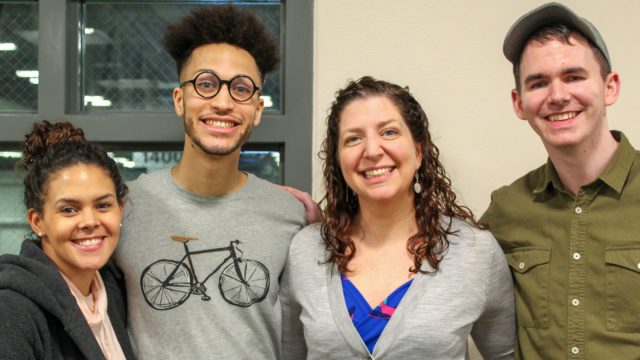 On Monday, March 5, the SXSW EDU Opening Keynote Stories of Schooling & Getting Schooled will be video streamed live!
Opening Keynote – Stories of Schooling & Getting Schooled
In collaboration with storytelling phenomenon The Moth Education, Stories of Schooling and Getting Schooled will feature four teachers telling true stories from their lives—journeys taken inside the classroom and outside of it.
Teachers bring their lives into the classroom, and their classrooms into their lives. Educators Micaela Blei, Chris De La Cruz, Crystal Duckert, and Tim Manley will take us on their journeys, sharing stories from their lives that are both personal and true.
In exploring this intersection of teacher identity, The Moth will inspire listeners to find and share their own stories, launching a week of learning and connection at SXSW EDU.
Follow SXSW EDU on Facebook to Catch the Stream
Be sure to follow and like the SXSW EDU Facebook page to catch the stream as soon as it goes live.
More Video From SXSW EDU 2018
While you await the start of the 2018 SXSW EDU Conference & Festivals this March 5-8, relive all the exciting Keynotes, Featured and Policy Forum Speaker sessions, and more from previous years on the official SXSW EDU YouTube Channel. Stay tuned to SXSW EDU News for the latest event updates.
Attend SXSW EDU, March 5-8
Purchase a SXSW EDU badge for $545. Or, save big and add a SXSW EDU badge to your SXSW Platinum, Interactive, Film or Music badge purchase for only $295. Once registered, book your hotel through SXSW Housing & Travel for the best available rates.
Did you already purchase your SXSW Platinum, Interactive, Film or Music badge and you want to attend SXSW EDU too? Contact reg@sxswedu.com.
SXSW EDU 2018 Opening Keynote speakers Crystal Duckert, Chris De La Cruz, Micaela Blei, and Tim Manley..
The post Streaming Live, Monday, March 5: SXSW EDU Opening Keynote [VIDEO] appeared first on SXSW.