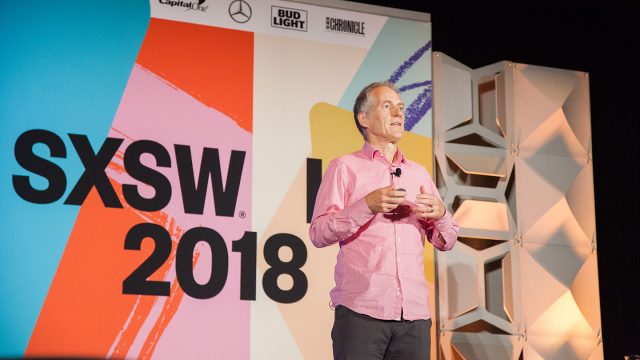 The Entrepreneurship & Startups Track unites founders and funders of all stages to discuss current best practices, industry news, emerging markets, and services. With SXSW 2019 just a few short months away, we've curated a list of some of our most highly anticipated sessions for this March.
"The Entrepreneurship & Startups Track showcases many of the most exciting startups and new services across a variety of industries," said SXSW Programmer Dhiunka Perera. "Whether you're a first-time founder, serial entrepreneur, seasoned investor, VC angel looking for the next unicorn, or just interested in emerging technology, this track covers a wide range of business and investments topics relevant to current trends, resources, and influences."
Learn more about the Entrepreneurship & Startups Track from March 8-12 during the SXSW Conference with primary access to Interactive and Platinum Badges; secondary access to all other badges.
Explore topics ranging from strategic investment and the future of venture capital to establishing and growing businesses. Get excited for March and browse some of the programming highlights below.
Entrepreneurship & Startups Session Highlights
Startup-Corporate Partnerships Key To Innovation
Speakers: Sara Chapman (Dell), Karen Kilroy (Kilroy Blockchain), JD Weinstein (Oracle), and Sabrina Wojtewick (Bunker Labs)
Partnerships between corporations and startups aren't new. They are just becoming increasingly more critical. Innovation is key for corporations looking to stay relevant, and strong corporate partnerships are often a startup's most powerful growth hack. According to Boston Consulting Group, 95% of startups wish to develop long-term corporate partnerships. JD Weinstein, head of Oracle's Startup Ecosystem in Austin; Karen Kilroy, entrepreneur and CEO of Kilroy Blockchain; Sabrina Wojtewicz, co-founder of Bunker Labs; and Sara Chapman, Director of Entrepreneurship Strategy & Partnerships at Dell will discuss how companies are approaching innovation differently, what startup-corporate partnerships mean today, and how both startups and corporations can find the right fit.
The New Guard of Venture Capital
Speakers: Soraya Dorabi (Trailmix Ventures), Patrick Finnegan (TGZ Capital), Heather Hartnett (Human Ventures), and Suzy Ryoo (Atom Factory & Cross Culture Ventures)
As the amount of early-stage venture funds and growth-stage funds quickly proliferates on a yearly basis, finding unique investment opportunities has become increasingly difficult. Many of the best startup investments in these undervalued areas are found by investors that typically lack representation in investment committees. This panel will highlight some of these underrepresented investors and the valuable perspective that they can provide.
A Black and White Perspective on Entrepreneurship
Speakers: Jason Ford (Saturn Five), and Ikechi Nwabuisi (Tribl)
In this interview-style session, Ikechi Nwabuisi, an entrepreneur and son of Nigerian immigrants, will interview Jason Ford, a founder who sold his business in 2014 to Bazaarvoice. Ikechi and Jason have been friends for a while, and have found much common ground in their lives and entrepreneurial experiences. But they are also acutely aware of how the world views them differently—and how that shapes the level of access and resources available to them. It can be hard to get an insider perspective on entrepreneurship. Particularly for those that are not white men who share demographics with a majority of VCs and well-funded startup founders. Jason brings an open and honest perspective, and Ikechi will not pull any punches, which promises an educational and interesting discussion.
All the Startup Ladies: Reimagining the VC Scene
Speakers: Sarah Chambless (Manatt, Phelps & Phillips, LLP), Maxine Kozler Koven (LDR Ventures), Tosca Musk (Passionflix Inc ), and Daina Trout (Health-Ade Kombucha)
The stats on venture capital (VC) funding of women-led startups are notoriously low, matched only by women's poor representation in the senior ranks of VC firms. Women are changing that narrative, though. Maxi Kozler Koven is building a bicoastal network of women angel investors. Tosca Musk created an OTT platform for consumers of romance content, mostly women and overlooked. After brewing kombucha in her closet, Daina Trout "followed her gut" to co-found Health Ade. Sarah Chambless is in the trenches as a legal advisor to female-led startups, and an investor. The panelists will discuss how they have moved beyond the statistics, and propose practical solutions, debating how to leverage women's unique traits as founders, funders, and customers to create a parallel investment ecosystem.
How to Tell Your Startup Story
Speakers: Veronica Dagher (The Wall Street Journal), and Jade Floyd (Case Foundation)
Take a deep dive during this interactive session featuring leading journalists covering startups, venture capital and technology. Seasoned journalists will be moderated in a discussion by the Case Foundation. You'll learn their tips for founders seeking to break their next big story, what makes an effective and compelling pitch, how to build relationships with reporters and how to make your company stand out. At the session conclusion, we will invite attendees to share their pitches with the journalists for feedback in real time. Please come to this session with your media pitch in hand.
Browse More Entrepreneurship & Startups Sessions
Purchase your SXSW Badge and reserve your hotel today to experience these sessions along with 10 days of screenings, showcases, exhibitions, networking, and more this March 9-18 in Austin, TX.
Stay in the SX know and follow us on Facebook, Twitter, Instagram, and SXSW News for the latest SXSW coverage, announcements, and updates.
SXSW 2018 Session with Tim O'Reilly – Photo by Debra Reyes
The post Startup Storytelling, Corporate Partnerships, and the VC Scene: Entrepreneurship & Startups Track Sessions for SXSW 2019 appeared first on SXSW.