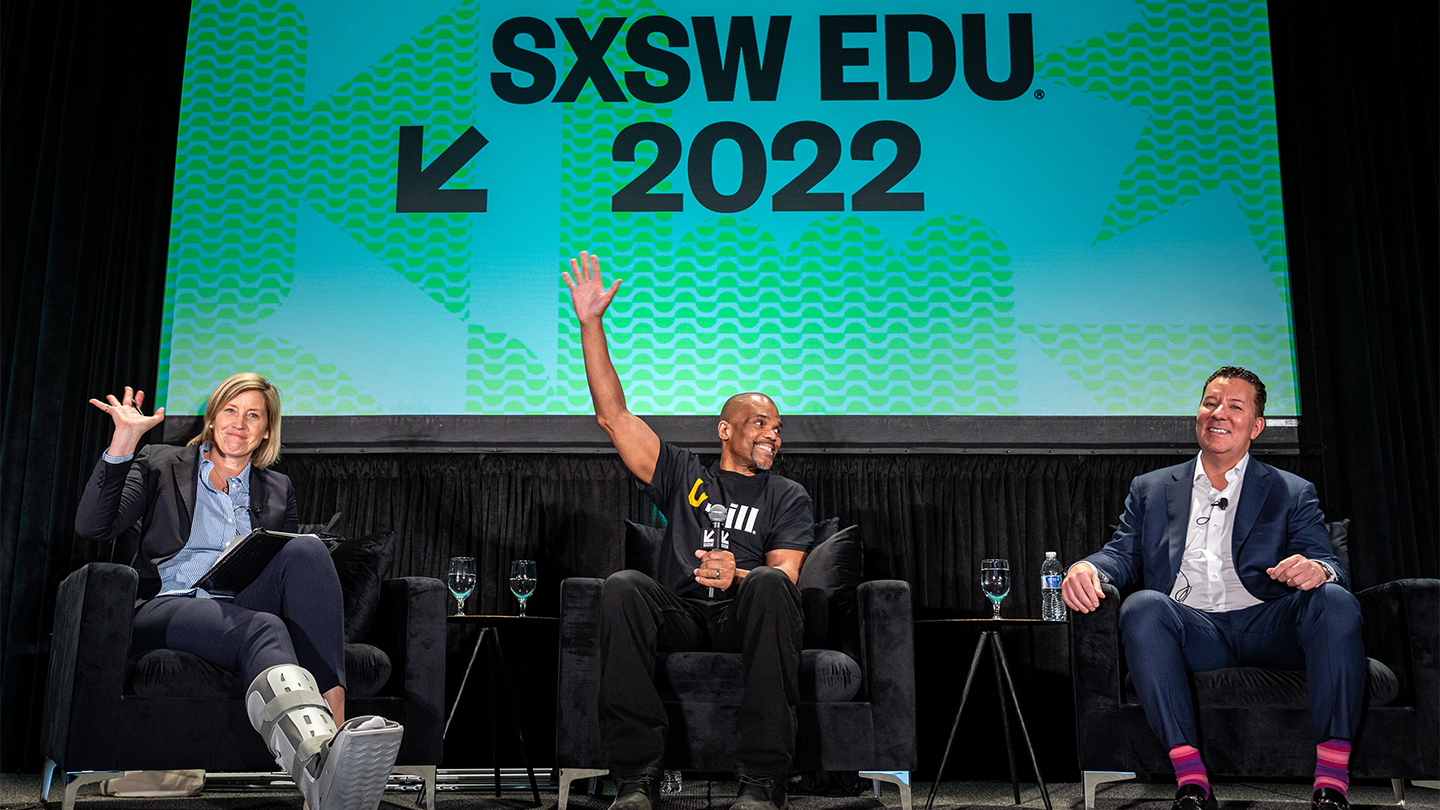 Kick off your time in Austin early with four days of exploration and learning at the SXSW EDU Conference & Festival from March 6-9, 2023!
We believe that education has the power to inspire, elevate, and change the future. We bring together the learner, the practitioner, the entrepreneur, and the visionary to share their groundbreaking stories, tackle complex issues, and build reimagined paths forward.
Serving as an on-ramp to SXSW, SXSW EDU reflects the world's most critical social issues as seen through the lens of education bringing together a unique set of innovators to connect, empower, and inspire the global community who is passionate about the future of education.
2023 SXSW EDU Highlights
The annual SXSW EDU Conference & Festival fosters innovation and learning, featuring Conference sessions, film screenings, a world-class Exhibition, networking opportunities, competitions, and much more explored across 11 overarching thematic tracks.
Explore the full SXSW EDU Schedule.
Passionate Speakers
Education's most innovative thought leaders from around the world will take the SXSW EDU stage to provide inspiration and new cutting edge ideas to help move the needle on important social issues and create a better future for learners everywhere. Explore the lineup of this year's speakers including 2023 Keynote Speakers Ruth J. Simmons and Doreen Gehry Nelson, Featured Speakers Kristi Yamaguchi and Hank Green, and so many more.
Electrifying Competitions
Trailblazing entrepreneurs and students showcase their fresh ideas and solutions in front of a panel of judges and an audience.
The Launch Startup Competition, presented by the Walton Family Foundation, celebrates emerging innovations in learning with a fast-paced pitch competition featuring seven finalists from around the world who have been selected to pitch their startup in front of a panel of industry experts.
The Student Startup Competition, powered by WIT - Whatever It Takes, brings together high school students during SXSW EDU to pitch their entrepreneurial business ideas. Five finalists have been selected to go head-to-head pitching their business ideas this March.
Dynamic Expo
Discover what's next and new in education at the SXSW EDU Expo presented by LearnPlatform. This dynamic space showcases the practitioner and research development process coming together through discovery-based learning, curated programming and networking, and many interactive exhibits, proving it to be a central hub for innovations and learning.
The SXSW EDU Expo will be free and open to the public on Wednesday, March 8.
Monday, March 6: 9:00am–4:00pm
Tuesday, March 7: 9:00am–4:00pm
Wednesday, March 8: 9:00am–4:00pm (open to the public)
Purposeful Networking
Find mentorship, new connections, and friends whose interests align with yours through the many networking opportunities ranging from walking tours through downtown Austin, Mentor sessions, pop-up dinners, and much more.
Exhilarating Festival
Get inspired by exciting performances highlighting dance, music, and more, and watch film screenings tackling social impacts on domestic and international learning and more.
Buy Your SXSW EDU Badge
Join us for a celebration of learning and innovation at SXSW EDU, March 6-9, 2023 in Austin, Texas.
Student Mental Health DMC at SXSW EDU 2022 - Photo by Jon Currie
The post Start Your SX Experience Early with Four Days at SXSW EDU appeared first on SXSW.