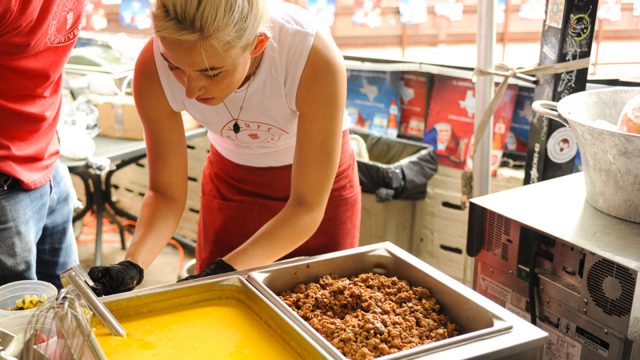 The sixth annual SouthBites® Trailer Park, rooted in celebration of Austin's iconic food trailer culture, is right around the corner. Get ready for a great time full of food and fun, March 9-17.
In collaboration with Sprudge, SXSW is welcoming Roasters Village to SouthBites this year to highlight the growing tea and coffee industry on the weekend of March 10-12. Not only will you find your favorite roasted drinks at Southbites this year, but you'll also discover some of the best rolling restaurants around. Exciting as this may sound, the icing on the cake and cherry on top for SouthBites this year are two new special events: SouthBites Market and Quesoff!
SouthBites Market
The SouthBites Market will run March 14-17 and offer thousands of SXSW attendees the opportunity to taste and purchase many different cuisines and items. The options at the SouthBites Market will be diverse and delicious from a wide range of different vendors that are sourced locally and globally. Here's a sneak peek at a few of the confirmed vendors for this year:
+More Southbites market exhibitors coming soon
Quesoff
SouthBites is thrilled to announce Washington State Wine presents Quesoff, a Hot Luck pop-up on March 13 this year during the trailer park, brought to you by Washington State Wine and Hot Luck. As much as Austin loves the warm, melted cheese phenomenon that is queso, it's time that SXSW brings a one-of-a-kind "best of the best" edition of the classic Quesoff. Experience quality queso from the most iconic past competitors, plus a special appearance by Aaron Franklin. Who makes the best queso in Austin? You decide! Take a look at our Quesoff teams:
Get your taste buds ready for the SouthBites Trailer Park because SXSW is cooking up something special to share with you!
Photo by Jessica Alexander
The post SouthBites Update: SouthBites Market Lineup and Quesoff Announcement appeared first on SXSW.