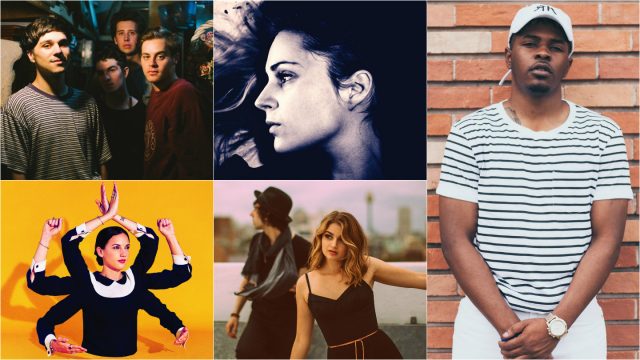 Although we still have six months to go until SXSW 2017, we just couldn't resist releasing an early taste of Showcasing Artists for the Music Festival.
These early confirmations announced today bring a variety of styles – such as indie rock, pop, hip-hop, electronic, Americana, R&B, and soul – from a number of countries, including Germany, Argentina, Australia, the UK, France, Spain, Canada, and the US. This list is meant to be just a sample of our lineup for SXSW 2017, with much more to come in October.
Speaking of larger SXSW Music Festival announcements: If you want a chance to be included in our next round of Showcasing Artists and save a little cash money on the application fee, apply via Sonicbids by this Friday, September 9 at 11:59PM ET. Being an official Showcasing Artist at SXSW comes with a lot of benefits.
In the meantime, dig in to today's artist announcement and discover some new music! At SXSW 2017, you can see these artists and more, plus get primary access to music industry conference events, personalized assistance with booking a hotel room, and new expanded access to most Film and Interactive events. Register by this Friday, September 9 to save $500 off the walk-up rate.
Akina Adderley & The Vintage Playboys (Austin TX)
Agosto (San Isidro ARGENTINA)
Alex Napping (Austin TX)
Rocky Banks (Houston TX)
Vera Blue (Forbes AUSTRALIA)
BOOHER (Austin TX)
Cory Branan (Nashville TN)
Allysen Callery (Bristol RI)
Alex Cameron (Sydney AUSTRALIA)
Laura Carbone (Mannheim GERMANY)
Chain of Flowers (Cardiff UK-ENGLAND)
Chain Wallet (Bergen NORWAY)
Chelou (London UK-ENGLAND)
Crater (Seattle WA)
Creepoid (Philadelphia PA)
Diet Cig (New Paltz NY)
Dubfire (Washington DC)
Forth Wanderers (Montclair NJ)
FOXTRAX (Los Angeles CA)
Colin Gilmore (Austin TX)
Henry Hall (New York NY)
Hard Proof (Austin TX)
Hoops (Bloomington IN)
Jain (Paris FRANCE)
Tameca Jones (Austin TX)
King Cayman (Madrid SPAIN)
Alex Lahey (Melbourne AUSTRALIA)
Lazyeyes (Brooklyn NY)
Carlo Lio (Toronto CANADA)
Demi Louise (Boronia AUSTRALIA)
Elizabeth McQueen (EMQ and Psiplay) (Austin TX)
Misimplicity (Austin TX)
My Education (Austin TX)
Never Young (Oakland CA)
Agnes Obel (Berlin GERMANY)
Pastel Ghost (Brooklyn NY)
Sara ∏ (Barcelona SPAIN)
Polarheart (Sydney AUSTRALIA)
The Quebe Sisters (Dallas TX)
Ratboys (Chicago IL)
Running Touch (Melbourne AUSTRALIA)
San Fermin (Brooklyn NY)
Oscar Key Sung (Melbourne AUSTRALIA)
S U R V I V E (Austin TX)
Tasha the Amazon (Toronto CANADA)
Throttle (Melbourne AUSTRALIA)
Adam Torres (Austin TX)
Trudy and the Romance (London UK-ENGLAND)
Wafia (Brisbane AUSTRALIA)
Miss Lavelle White and the L Men (Austin TX)
Yoke Lore (Brooklyn NY)
Jesse Colin Young (Aiken SC)
Yung Gordon (Miami FL)

Everything subject to change.
---
Related News:
Photo credits, clockwise from top left:
Hoops by Daniel Topete
Agnes Obel courtesy of the artist
Rocky Banks by Hector Mendoza
Polarheart by Alex Leeway
Jain courtesy of the artist
The post Sneak Peek: Announcing 50+ Artists for SXSW 2017 appeared first on SXSW.