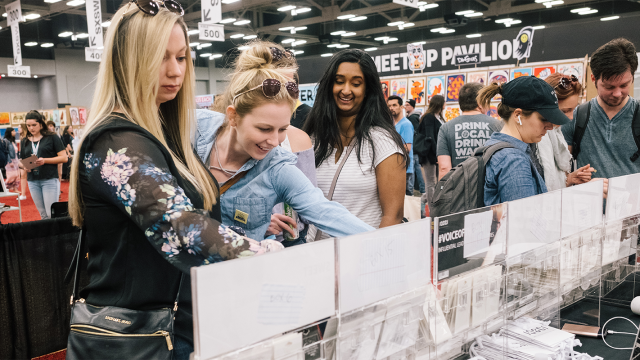 Do you run a business in the fashion industry? Are you looking to show off—and sell—your latest trends to the large, diverse crowds at SXSW? Then SXSW Marketplace is just the opportunity for you!
Now in its third year, SXSW Marketplace runs March 15-16 and is held in the Austin Convention Center, adjacent to the popular Flatstock Poster Show. This elevated shopping experience features local Austin brands as well as hand-picked national and global favorites. With such a wide mix of vendors and attendees, this truly is a unique shopping experience in the heart of SXSW. Not only will you be able to take advantage of unmatched exposure to a diverse and international crowd, but you're sure to make a few friends in the process!
Last year SXSW Marketplace and Flatstock Poster Show saw a three-day attendance of 42,000, featuring more than 70 exhibitors in 108 Marketplace spaces. Exhibitors included brands and organizations like Austin Pets Alive!, TOMS, Leatherandvodka, Cat Footwear, Die Trying TX, and many more. A full list of 2018 vendors can be found here.
Exhibition spaces range from 10'x10' booths to 50'x50' islands, providing your organization or business —no matter the size— the opportunity to sell your products over multiple days. We also offer additional opportunities for one-hour design presentations, hands-on workshops, and demos.
Don't miss out on this unique opportunity to show SXSW your best! Spaces are limited, so apply soon!
Photo by Nicky Lockman
The post Show Off Your Style: Apply to Join SXSW Marketplace 2019 appeared first on SXSW.