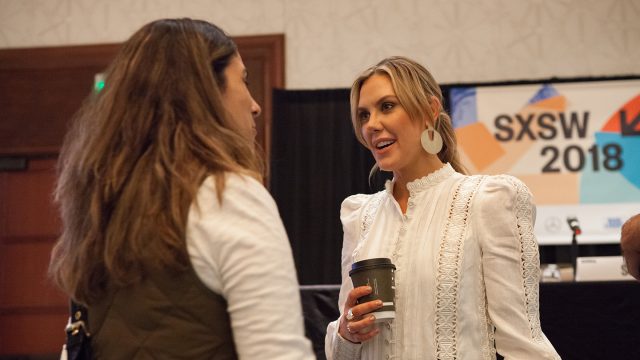 As Nike's Colin Kaepernick ad campaign and Kendall Jenner's Pepsi commercial show, taking a stand on social issues can make or break a brand. The Brands & Marketing Track features sessions that explore how to create and maintain a brand to generate brand loyalty without alienating consumers by leveraging data, neuroscience, storytelling, and trends.
Join us during the SXSW Conference from March 9-14 to discuss topics ranging from the role of advertising executives in assessing cultural appropriation vs. cultural appreciation to how to leverage taking a stance on a social or political issue without damaging a brand, and if brands should at all. These sessions explore who the responsibility falls to as we move into an age where consumers expect their brands to fall on one side or the other of the pressing issues of our time.
Brands & Marketing Session Highlights
Cultural Appropriation vs. Cultural Appreciation
The advertising industry has found itself constantly dancing the line between appropriation vs appreciation – with consumers demanding more from industry leaders, and leaving no room for errors. But in this climate, who actually holds the responsibility of deciding what is culturally relevant or insensitive, the creative director, the manager, or the viewer? In this session Tanya Dua, Senior Reporter at Business Insider, Chas Moore, Executive Director of Austin Justice Coalition, Tanya Tarr, Vice President for the North American Region for advantageSRING, and Angela Yang, Director of Connections at T3, with set out to answer questions like: who decides if the one minority actor cast in a commercial adds diversity or if they're a "token," who decides whether a script is playing on a harmless trope or exploiting a harmful stereotype, and are industry leaders the antidote to culturally insensitive or appropriating work – and if they are, is this responsibility even fair?
Brand: The New Political Reality
In 2019, every brand or brand action is political. In light of the examples set by Pepsi, Facebook, Starbucks, and Gap, 57% of consumers say that they buy or boycott brands because of the stance it has taken on an issue – and it has never been more important for brands to move forward the smart way. This panel will bring together Joy Howard, Cheif Marketing Officer of Lyft, Corley Kenna, Senior Director of Global Communications & PR at Patagonia, Nancy King, Director of Global Insights & Strategy at Airbnb, and Brendán Murphy, Senior Partner at Lippincott, to discuss the new reality for brands marketing to a highly nationalized, politicized, and polarized society. Learn from the brand leaders already working in this new territory, and what lessons can be learned from those who've put a stake in the ground and the new rules for engaging customers and employees on the issues that matter.
Equal Opportunity Behind the Lens: Media Diversity
Diversity in film and advertising has more momentum than ever, with a current movement that's celebrating and increasing diverse voices in production by providing mentorship opportunities for historically-underrepresented directorial talent to gain exposure. Many initiatives have sprouted up to pave the way for a more diverse and inclusive industry that features more women and minority directors by providing them the necessary tools, counsel, and resources to showcase and optimize their work for the commercial space. Anna Blue, Executive Director of Girl Up!, Tamika Lamison, Program Director, The Commercial Directors Diversity Program, Toddy Stewart, Partner & Creative Director of Picture Farm and Picture Farm Director Mentorship Program, and Doug Zanger, Senior Creative Editor at Adweek, will discuss the steps production companies with various perspectives can take to continue making progress toward media and storytelling to encompass a much more inclusive creative perspective.
How Diversity Became our Implicit Bias
It's been proven that diversity makes agencies more effective and profitable – but implementing the diversity can be a slow process that takes a toll on existing staff and new hires alike. But what happens when the diversity comes from the top down and leadership represents many diverse perspectives? The Dailey team bought itself back from its holding company of over 30 years, they knew the new managing partners would be a more diverse group than most – but what they didn't know was how quickly their leadership could affect the deeply-rooted culture of an agency founded in an earlier time. Join members of Dailey's leadership including Jean Grabow, President and Managing Partner, William Waldner, Managing Partner, Marcus Wesson, Executive Creative Director, and Michelle Wong, Managing Partner, as they talk about everything from socially conscious creative projects to how diverse leadership can create a space in which all kinds of people thrive.
Media's Role in Addressing the Opioid Epidemic
America's opioid epidemic is estimated to have impacted more than 2 million Americans in 2018 through addiction to prescription or illicit opioids – and it's not difficult to see how once you know that opioid dependence takes only 5 days to develop. So what can advertising do to help raise awareness and tackle an issue that's has a death toll of thousands a year? Come hear from Eric Asche, Cheif Marketing Officer of Truth Initiative, Marsha Cooke, Senior Vice President of Content Strategy at VICE Media, Roy Daiany, Head of Industry, Public Health, Government & Military at Google, and Ashley Menschner, Vice President of Media, Team Lead & Partnerships at The Advertising Council, who brought you truth, one of the largest, most effective youth smoking prevention campaigns, about how effective social good campaigns can play a critical role in taking on society's greatest crises.
Check out other Brands & Marketing sessions as well as other Keynotes and Featured Speakers:
Browse More Brands & Marketing Sessions
Enjoy primary access to all Brands & Marketing sessions as well as other Conference Sessions with a Platinum or Interactive Badge, and secondary access to most other events.
Crossover Track Recommendations
Learn more and unlock your badge's full potential when you explore sessions on the other 25 Conference Tracks that relate back to Brands & Marketing:
Attend SXSW 2019
So, are we going to see you in March?
Get your SXSW Badge and reserve your hotel today to attend SXSW 2019 and experience these Conference sessions along with 10 days of screenings, showcases, exhibitions, networking, and more this March 8-17 in Austin, TX.
Follow us on Facebook, Twitter, Instagram, and SXSW News to stay current with all things SXSW.
Featured Image by Benedict Jones
The post Shouldering Responsibility: Maintaining a Modern Brand appeared first on SXSW.