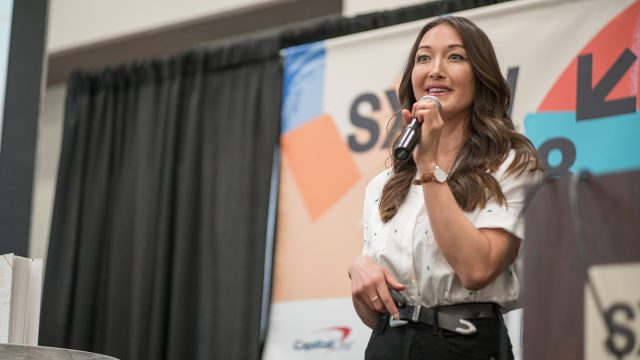 These inspiring individuals were unsatisfied with the status quo and sought to change it, not just for themselves, but for those like them. During the Health & MedTech Track at the SXSW Conference, we're giving these individuals a platform to inspire others to follow their lead and challenge the status quo by taking their health into their own hands.
Hear more in the JW Marriot, Salon H starting at 5:00pm during our new session format, Focus15s. These speakers will share a one-hour time slot and will speak on a similar theme or topic – which in this instance, would be improving health through innovative solutions.
Disrupting the Wellness Status Quo Session Highlights
All-Diabetes Pro Sports Team Is Changing the Game
At seven months old, Phil Southerland was diagnosed with type 1 diabetes. He was told he would be dead or blind by age 25. When people are diagnosed with diabetes, they are told they can't do endurance sports. Now age 37, Southerland is the CEO and Co-Founder of Team Novo Nordisk, the world's first all-diabetes professional cycling team. Through a partnership with the world leader in continuous glucose monitoring, Team Novo Nordisk is using technology to change the game for all athletes living with diabetes. Southerland has dedicated his life to the 437 million people living with diabetes and wants to improve access to care and what it means to live and thrive with diabetes. Through the help of technology, Southerland has created an army of type 1 athletes that serve as role models and superheroes.
Introducing Ann: The Warm Hands of AI
While watching her father's fight with dementia deprive him of his ability to communicate, Tiril Sommerfeldt Syversen, Digital Transformation Consultant at Accenture, was inspired to look to modern technologies for ways to support dementia sufferers in communicating their needs. With the help of dementia experts, they created Ann – an IBM Watson virtual agent that blends data from patient's medical records and experiences with AI to predict behavior and form hypotheses to improve patient communication. Currently a second-iteration prototype, Ann demonstrates how we can combine AI with human experience to make healthcare personal.
Biohacking for a Healthy Brain
Researchers are clarifying the best practices when it comes to increasing the longevity of our brains, but not fast enough for those facing diseases right now. In the meantime, we all experiment with our health via "lifestyle medicine" through practices like manipulating diet, exercise, sleep, and stress. Though this seems to work for some, it lacks strong scientific backing or a personalized approach. In this session, hear from Brian Duggan, Founder of Citizen Science for Health, as he tells the story of his journey towards a healthier brain – and how what he learned can apply to each individual.
Explore other Focus15s across the other 25 tracks of programming and we'll see you in March!
Attend SXSW 2019
Get your SXSW Badge and reserve your hotel today to attend SXSW 2019 and experience these Conference sessions along with 10 days of screenings, showcases, exhibitions, networking, and more this March 8-17 in Austin, TX.
Follow us on Facebook, Twitter, Instagram, and SXSW News to stay current with all things SXSW.
Featured Image by Manuel Gonzales Jr
The post Shifting Focus to Disrupt the Wellness Status Quo – SXSW 2019 Sessions appeared first on SXSW.