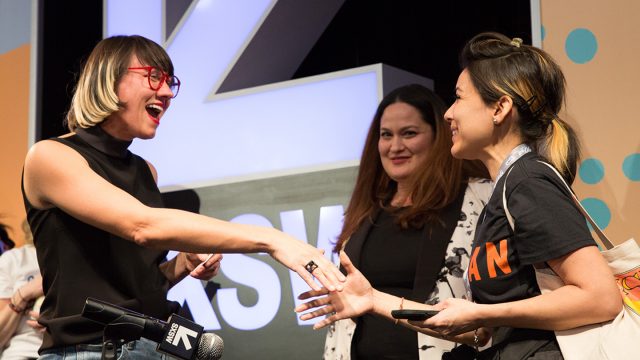 The 2019 SXSW Conference & Festivals is officially underway and we've already had some incredible programming! Take a look at our photo gallery from Day one! The next ten days will be a whirlwind of inspiring sessions, film screenings, meet ups, showcases, exhibitions, and competitions across the 2019 event. There's still time to join us! If you can't be here for this year's event, you can still tune in to our live streams and watch Keynotes, exclusive interviews, red carpet coverage and more online!
Finish planning your SXSW adventure and make it official by grabbing your badge! With our SXSW Badge Discount for Enrolled Students, currently enrolled students may apply to purchase a SXSW Interactive, SXSW Film, or SXSW Music Badge at the discounted price of $375.
Learn more about SXSW Badge Discount rates below and start creating your schedule! Learn from – and network with industry leaders from some of the world's largest companies. Discover the latest trends, experience red-carpet Film premieres, and get to know global emerging artists from March 8-17, 2019.
Whether you're attending SXSW as a student or as a young professional looking to advance your career, browse our list of sessions at the SXSW Conference aimed at fostering creative and professional growth.
If you're looking to make your way in the music industry, be sure to check out these beginner music industry focused sessions at SXSW 2019.
Have you always dreamt of building a career in the film industry? Don't pass up these film industry focused conference sessions!
SXSW 2019 Sessions for Students
Students in the Music Industry Meet Up
Co-hosted by student talent buyers from UW's WUD Music and FSU's Club Downunder, this meetup provides an occasion for student talent buyers to meet with students from other colleges as well as agents and others in the industry to discuss the challenges of college booking and to cultivate a network of college bookers.
Building a 21st Century Workforce
This panel will discuss ways to encourage greater adoption of non-traditional educational pathways — such as apprenticeships, train-to-hire programs and internships — to introduce Americans to high-demand careers in tech and help our country build a competitive and fully-equipped 21st-century workforce.
College Booking: How to Book Like the Pros
This session aims to provide students and advisors with the tips and tricks to better navigate the booking process, as well as advice on working with agencies, when to start the booking process, working with middle buyers, and more.
Browse More Student Sessions:
Continue searching the SXSW 2019 schedule to find more sessions relevant to you! If you're unsure which badge is right for you, take our Badge Quiz to find out.
Register now to experience 10 days of programming to fuel your own creativity and career aspirations this March 8-17 in Austin, TX!
To apply for a student discount on a SXSW 2019 Badge, complete the form and provide a PDF illustrating proof of current school enrollment or school employment. After we receive and verify proof of enrollment or employment, we will email you a registration coupon. More discount details and the application form can be found on the 2019 SXSW Student Discount Form.
Follow us on Facebook, Twitter, Instagram, and SXSW News to stay up to date on everything SXSW.
The post Jumpstart Your Career at the 2019 SXSW Conference appeared first on SXSW.