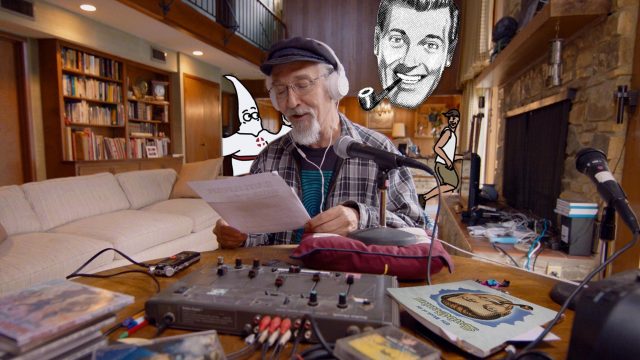 The 2019 SXSW Film Festival is almost upon us and we can't wait to have you here! Before you make your way down to Austin, TX get to know films from our lineup a little bit better with our Filmmaker In Focus series. Dive into our Q&A with director Sandy K Boone, as she tells us about her film J.R. "Bob" Dobbs and The Church of the SubGenius, which will world premiere in the Visions screening section.
In your own words, what does this film mean to you?
Sandy K Boone: This film is a homage to my late husband, David Boone, aka "Roperto Dela Rosa", and his film style; a venue for the founders of the Church, Doug Smith, aka "Ivan Stang", and Steve Wilcox, aka "Philo Drummond", to tell the true and unabridged story of the Church of the SubGenius for the first time, so after their passing — or as Doug Smith would say, "boarding the pleasure saucers" — the world would not turn the tongue-in-cheek con job and joke of the Church of the SubGenius into a real cult or possible Scientology, and finally, a humorous but effective mode, to speak out, in the age of Trump, about the fake news and cult practices being used in our politics and government today.
What motivated you to tell this story?
SKB: In all honesty, my original motivation was to stop crying, take action, and find a path to speak out about the absurdity of our current political situation, which in reality was far more absurd than the Church of the SubGenius was or ever had been! After reuniting with Doug and Steve, reminiscing over the past and finding out that a documentary of the church had never been completed, I received "Bob"'s blessing and with my team turned our hopes and dreams into reality!
What do you want the audience to take away?
SKB: I am hoping the audience will have not one but many "aah and haa" moments. Our world and government are using "cult tactics" to separate and divide us with fear. Let's find some creative ways to make civility, truth, thoughtfulness, and empathy popular again!
What were you doing when you found out you were coming to SXSW?
SKB: I was with my grown daughters and grandchildren, playing dominoes and laughing.
Do you have a past experience at SXSW that impacted your decision to come back?
SKB: This is my directorial debut. I have executive produced and produced several films submitted and accepted at SX.
Add J.R. "Bob" Dobbs and The Church of the SubGenius to your SXSW Schedule. Stay tuned in the coming weeks as we share more interviews with our SXSW 2019 filmmakers!
Join Us For SXSW 2019
Register and book your hotel now to save! The Film Badge gets you primary access to all SXSW Film events including Film Keynotes and Featured Sessions, world premieres, round tables, workshops, parties, and more. Over the course of nine days, the SXSW Film Festival hosts over 450 screenings! Film registrants also have primary access to Convergence events, including the Comedy Festival and nine unique Conference tracks, as well as secondary access to most Interactive and Music events.
Follow us on Facebook, Twitter, Instagram, and SXSW News for the latest SXSW coverage.
See you in March!
J.R. "Bob" Dobbs and The Church of the SubGenius – Photo by David Layton
The post Sandy K Boone Talks About Her Film J.R. "Bob" Dobbs and The Church of the SubGenius – SXSW Filmmaker In Focus appeared first on SXSW.