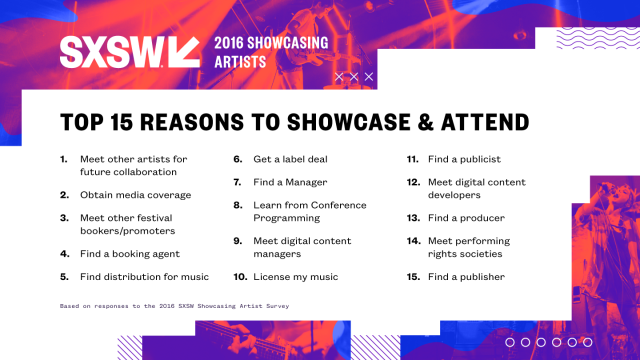 It's already the beginning of September, which means the early deadline for 2017 Showcasing Artist applications is just around the corner! Apply via Sonicbids by next Friday, September 9 at 11:59PM ET for a chance to perform on an official showcase at SXSW 2017 and save some cash on the application fee.
You have just one more week to take advantage of the discounted rate of $35. After the early deadline, the fee is $55 through the final application deadline, October 21, 2016.
Visit Sonicbids – the official SXSW Music Festival application platform – to complete the application and create or update your Electronic Press Kit. Beyond applying to SXSW, Sonicbids connects artists to a vast network of promoters and booking agents helping you score other gigs and events all year round.
Why perform at SXSW? Starting with their performance, artists have the chance to play in front of an audience that includes a wide variety of industry influencers – representing recording labels, booking agencies, management and PR firms, publishers, and countless media outlets – plus potential brand partners, fellow musicians, and fans. Showcasing Artists can also attend SXSW Conference sessions, which means they have access to once-in-a-lifetime learning and networking opportunities.
Artists who are looking to take the next steps in their career, grow their network, earn new fans, and support new endeavors can benefit greatly from SXSW.
Please visit the Showcase FAQ page for more information about performing at the 2017 SXSW Music Festival, and visit our Showcase Applications page to get started.
For those of you thinking about attending SXSW 2017, badges and hotel rooms are now on sale at the lowest rates of the year, but hurry! The early deadline for registration is also next Friday, September 9.
SXSW takes place March 10-19, 2017 in Austin; the Music Festival takes place March 13-19, 2017.
The post Reminder: Early Artist Application Deadline Next Friday, September 9 appeared first on SXSW.