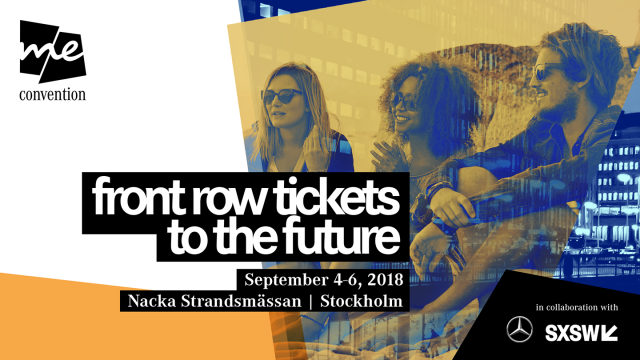 In 2017, SXSW in collaboration with Mercedes-Benz held the inaugural me Convention in Frankfurt – a three-day cross-cultural event uniting technology, design, and creative industries for a critical dialogue about the future. This year, me Convention moves the conversation to Sweden's vibrant capital, Stockholm, from September 4-6, 2018 to showcase pioneers from all industries and reveal some of tomorrow's most innovative technologies. Make your plans for me Convention and take advantage of the Early Bird rates available until June 29!
The unique and open platform of me Convention creates an intimate space for dynamic talks with top-tier speakers, inspiring keynotes, workshops, mentor meetings, and more. Join us to explore the 2018 themes — New Society, New Leadership, New Economies, New Creativity, and New Bionomics — plus an outstanding evening program including concerts, art exhibitions, Startup Cities Pitches, parties, and film screenings.
2017 speakers included astronaut Buzz Aldrin, artist A$AP Rocky, Sheryl Sandberg (Facebook), cyborg Neil Harbisson, Auma Obama (Sauti Kuu Foundation), monk Gelong Thubten, John Cohn (IBM), Amber Valletta (Master & Muse), and many more. As you get ready for Stockholm, experience all of the 2017 talks as well as the Mystery Talks series presented by me Convention during SXSW 2018. Stay tuned for 2018 me Convention programming announcements and updates throughout the season.
Register to join today's makers and thought leaders for me Convention 2018. Badges are available now at Early Bird rates until June 29 at €329 ($402 USD). Students currently enrolled in college or university can follow this link to secure a special student discount.
SXSW is pleased to join Mercedes-Benz once again to host me Convention as an evolution of its mission to help creative people achieve their goals. Set your sights on Stockholm and secure your spot to #createthenew! Follow @meconvention on Instagram and Twitter, and sign up for me Convention newsletter.
The post Register Now for me Convention 2018 in Stockholm from September 4-6 appeared first on SXSW.