In the heart of Austin, Texas, amidst a vibrant sea of creativity and innovation, stands the SXSW Music Festival. For musicians, aspiring artists, and industry enthusiasts, this annual gathering has become an emblem of artistic exploration and boundless potential. Embark on a journey with us to uncover the compelling reasons why participating in the SXSW Music Festival is a transformative experience.
From electrifying performances that echo through legendary venues to the unparalleled networking opportunities that reverberate behind the scenes, SXSW is more than just a festival – it's an immersive tapestry of inspiration and ingenuity. Whether you're an emerging artist seeking a breakthrough or an industry insider looking to expand your network, the SXSW Music Festival has something remarkable to offer everyone.
Dive into the heart of this musical extravaganza and discover the reasons to perform at the SXSW Music Festival.
Exposure to a Diverse Audience: SXSW attracts a large and diverse crowd of music lovers, industry professionals, and influencers from around the world. Performing at the festival gives you a chance to showcase your talent to a broad range of people who may be interested in your music, potentially leading to new fans and followers.

Networking Opportunities: SXSW is a hub for musicians, producers, promoters, and other industry insiders. It provides a unique platform to connect with like-minded individuals, build relationships, and potentially collaborate with artists or professionals who can help further your music career.

Industry Showcasing and Recognition: SXSW is renowned for its music industry presence. By performing at the festival, you have the opportunity to capture the attention of industry tastemakers, talent scouts, and record label representatives. A standout performance at SXSW can lead to significant exposure and potentially open doors for future opportunities, such as recording contracts or booking agents.

Professional Development and Learning: In addition to performances, SXSW offers an array of panels, workshops, and discussions covering various aspects of the music industry. Attending these events can provide valuable insights into industry trends, best practices, and emerging technologies. It's an opportunity to learn from experts, gain new perspectives, and enhance your professional skills.

A Platform for Experimentation and Feedback: SXSW embraces innovation and creativity, making it an ideal environment to experiment with new ideas and musical styles. The festival encourages artistic exploration and provides a receptive audience that appreciates and celebrates unique approaches to music. Performing at SXSW allows you to gauge audience reactions, receive feedback, and refine your craft in a supportive and diverse setting.

An Unforgettable Experience: Beyond the professional benefits and networking opportunities, performing at the SXSW Music Festival guarantees an experience that will be etched in your memory forever. This event is not just a stage to showcase your talent; it's an immersive journey into the heart of music and creative expression.
The atmosphere at SXSW is electric, with a palpable sense of excitement and anticipation in the air. As you take the stage and share your music with the world, you become a part of a vibrant musical legacy that has hosted countless iconic performances.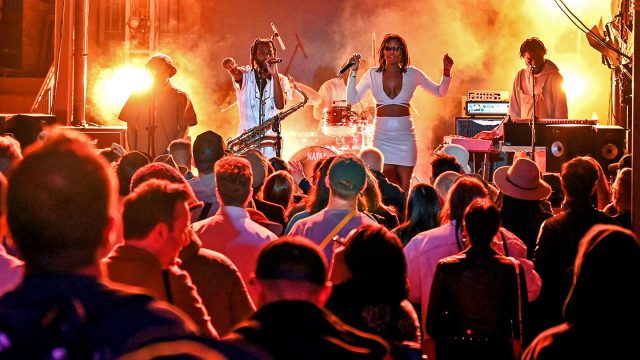 The post 6 Reasons To Perform At The SXSW Music Festival appeared first on SXSW.