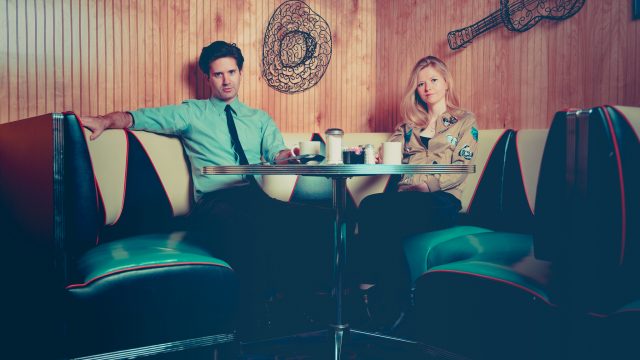 All photos by Dylan O'Connor
When Tessa and Greg from British indie-pop band Still Corners asked us to meet them at the iconic Dart Bowl on Austin's Brentwood neighborhood for a photo shoot, we jumped at the chance. We spent some time with them in the cafe off of the bowling alley one afternoon last week and got the insider tip on their upcoming new studio album (Dead Blue), recent move to Austin, and more.
Read on for the full interview and portrait gallery.
Q&A
You're releasing your first full-length in three years, titled Dead Blue, on September 16. Did your process differ this time around? What can we expect from the new record?
Greg: Process was the same, we come up with a bunch of chords and melodies and sing over them and take the best bits and turn them into songs. This time we veered a bit towards a darker synth sound. I think the songs in general are tighter in the arrangement sense, less meandering.
You two recently relocated to Austin full-time. Why the change of scenery?
Tessa: We decided that we wanted to spend some time in the US and took a while working out where to go. I've always loved Austin when we've visited and wanted to go somewhere hot. I run cold so feeling warm pretty much all the time is fantastic
Austin has a great vibe as well and we've been enjoying our time here so far.
A bowling alley is an interesting choice for a photo shoot. Why did you choose the Dart Bowl for these portraits?
Greg: The diner in there is a blast from the past, great atmosphere, nice peeps. Has a classic Texas look too.
How have your experiences performing at SXSW been in the past?
Greg: Always exciting and surprising. When we showed up in 2011 having never been before we didn't know what to expect. We played 9 shows in 3 days, it was crazy. Everything from a full house to one person and their dog in an empty parking lot. I think Tessa'a voice went out after day 2. It was show show, taco taco, show show, beer, repeat. Had a great time, wouldn't change a thing.
You have a huge North American tour coming up. What else is on the horizon?
Tessa: After the North American tour, we're planning to go over to Europe and do some dates there and are looking forward to working on new music. We've been doing all our photos, videos etc for this album so it will be great to spend some proper time writing songs again!
Portrait Gallery
Left to right:

Still Corners, Still Corners, Still Corners, Still Corners, Tessa Murray of Still Corners, Still Corners, Tessa Murray of Still Corners, Greg Hughes of Still Corners, Greg Hughes of Still Corners, Tessa Murray of Still Corners, Still Corners, Still Corners
All photos by Dylan O'Connor
The post Q&A and Portrait Gallery: Still Corners appeared first on SXSW.