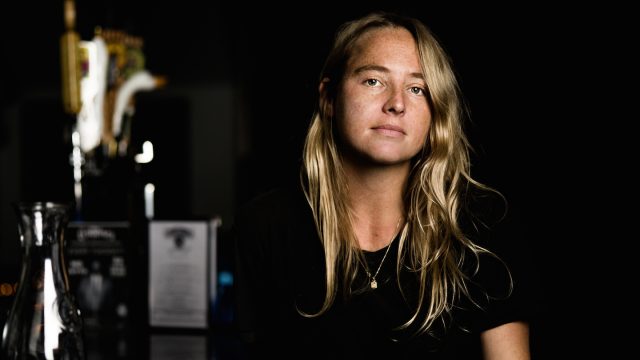 All photos by Dylan O'Connor
Elisabeth Corrin Maurus, better known by her stage name Lissie, stopped by Austin in late September for a solo show at Antone's. We caught up with her for a photo shoot, headed up by the always amazing Dylan O'Connor, and chatted about her new live album, tour, SXSW experiences, and future plans.
Read on and browse through the gallery.
Q&A
You released your third full-length album My Wild West at the beginning of this year. Did you do anything differently in terms of your approach to writing or recording?
It was the record that almost didn't happen. After being dropped by Sony and writing songs and prepping to record, I got burnt out on the idea of making tracks to get another deal. I felt like my songs and direction were up for debate and it wasn't fun anymore. I decided to move back to the Midwest after 12 years in California. In the midst of that shift I was writing a ton and thought it'd be a waste to abandon ideas and not pursue new ones. I quietly cut tracks with Curt Schneider and finished up the ideas that had been kicking around. I said I wouldn't release it but then I felt the "saying goodbye to California" theme developing and finished a full album! I was really enjoying myself again and was proud of the work! Sooooo I released it! Ha!
Tell us a bit about this new live album – how did it come to fruition?
Last year I did a solo acoustic European tour. I'm fortunate to have a solid fanbase in so many awesome corners of the world! I wanted to record the London Union Chapel show because of the beautiful atmosphere and acoustics of this church venue. There wasn't necessarily a plan to release a live album but I knew I wanted to share some live performance, as that's where I shine I think! As the months passed, I thought it would be a great way to wrap up promoting "My Wild West" while providing my supporters with new content!
You're performing by yourself on this current tour. How have the shows been so far?
The solo shows are the best! It's such a stress free, simple way to connect! I love having space for my voice to experiment and the intimate connection with the crowd! We chat and banter, I take requests and generally treat it like a little party! I repeat that I'm fortunate to have great fans that support me in all my versions of self!
How have your experiences been at SXSW in the past? Any crazy stories to share?
My first SXSW – no one knew me and it was soul destroying haha! No one came to my shows! My second one was great because I had some buzz and that was super exciting! My third one I was kind of old news and just drank too much! This past year, my fourth was my favorite! I felt like I had this sweet spot where I wasn't the hot new thing but had put in the years to where I felt a sort of respect. I stayed at a cute little house with a little garden and rented a car and brought a guitar player. It was an independent way of navigating the chaos! I had great shows, saw great music, are amazing food and ran into old friends! The crazy stories are too crazy to share!!!
What are your plans for the rest of this year and 2017?
I've just wrapped up a solo US tour and am taking six weeks off to get settled into my new Iowa farmhouse and in anticipation of my sisters twins' birth! I'll head back to the U.K. and Norway after Thanksgiving until Christmas for a solo tour over there! Going into 2017 I'm gonna take some time off to just live in my house and gather new material for songs! I'm trying to figure out how to do some basic recording at home and am building a mini office studio. I'd like to have a new album completed by the summer! But we'll see what I have to say!
Portrait Gallery
Left to right:

Lissie photos by Dylan O'Connor,
All photos by Dylan O'Connor
The post Q&A and Portrait Gallery: Lissie appeared first on SXSW.