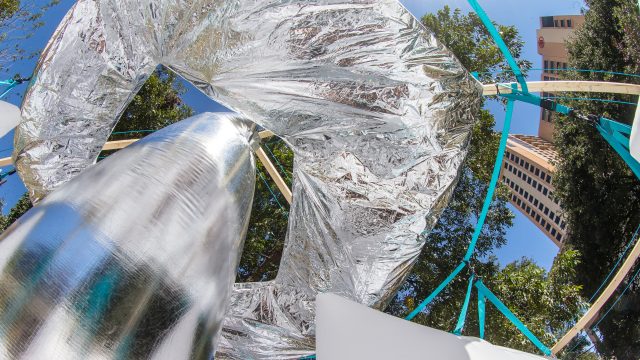 Good news – the final application deadline has been extended through November 22 at 11:59pm PT, so there's still time to enter your design work for SXSW 2019. The application fee will increase from $50 to $100 on November 9.
Place by Design is SXSW's public space design competition highlighting transformative work at the intersection of art, technology, and design that rethinks how we use and interact with the places around us.
Selected finalists will present their work in a showcase during the Design Track at SXSW 2019. Each designer or team will also present their work in a fast-paced pitch competition and participate in a Q&A session with the judges, who ultimately determine the winner.
The SXSW Place by Design competition is open to all types of design work that rethinks, enhances or transforms public space, including but not limited to emerging technologies, urban interventions, public art and architecture. Read on for more application tips.
Place by Design Tips to Apply
Place by Design provides a platform for anyone to present their scalable solutions for improving our shared landscape. You don't have to be a designer, architect, or have any formal accreditation.

Remember that no intervention is too small! If your project is original, inspiring, and improves the surrounding, SXSW wants to see it.

PXD is all about telling the story of your design, why and how it worked, and what it ultimately means. Really think about how these questions relate to your project.

Please note that your work will be judged in part by its impact on the design problem it set out to solve, therefore conceptual submissions and projects in planning are not eligible for inclusion at this time.

Have questions about applying? Don't hesitate to email pxd@sxsw.com.

The final application deadline is November 22, 2018 at 11:59pm PT.
Join Us in March 2019
Register to attend SXSW 2019 and book your hotel to begin your SXSW adventure from March 8-17, 2019. Sign up for SXSW Event Updates to always be in the know!
2016 SXSW Eco – Place by Design Outdoor Lounge – Photo by Steve Rogers
Teaser Image – SPACEBUSTER: We Like America – 2018 SXSW Place by Design Finalist
The post Present Your Design Work at SXSW: Place by Design Deadline Extended to November 22 appeared first on SXSW.