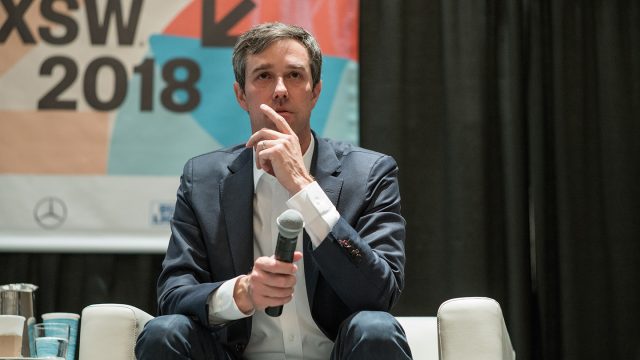 How will today's issues and policies transform in the future? In the Cities, Government & Politics Track we'll explore how factors such as innovative city development, privacy issues, and politics shape policy on all levels of government.
Become part of the conversation by joining us for the SXSW Conference from March 8-11 and dive into sessions featuring issues from the future of urban planning and civic engagement to government's intersection with tech innovation and data tracking. These sessions we've pulled together feature projected policy changes and discuss the forces driving change in the new year.
Cities, Government & Politics Session Highlights
Are There Civil Rights in a Tech World?
Privacy, when it comes to the internet, is something we all value – but we often forget that privacy falls under the larger umbrella of civil rights. Today, the internet has permeated into almost every aspect of our society, leading many to fear their individual privacy has already been violated. In this panel Amy Hinojosa, President and CEO of MANA, Gavin Logan, Telecommunications Fellow of the National Urban League Washington Bureau, Kham Moua, Associate Director of Policy and Advocacy of OCA – Asian Pacific American Advocates, and Nicol Turner-Lee, Fellow at The Brookings Institution, will discuss how our concepts of civil rights are more important, when applied to the internet, than many may realize – especially when considering whether traditional civil rights can be applied to the internet in its many applications in our daily lives.
Location Privacy: Will We Ever Have it Again?
The more the number of mobile devices and apps grow, so does the amount of data we generate regarding our physical location – and while the availability of this data eases our user experience, it also becomes available to law enforcement, companies, and even our friends and family for tracking our every move. This session featuring Laura Moy, Executive Director of the Center on Privacy & Technology at Georgetown Law, will examine the technologies behind location tracking as well as the legal protections that do – and don't – exist to protect our location information. The discussion will also touch on how threats to location privacy disproportionately affect historically disadvantaged communities as well as seeking to answer the question: as technology advances, will we ever have location privacy again?
How a Record Number of Women Ran and Won in 2018
There is a devastating lack of diversity among our elected officials, and it shows in our public policy – from issues like women's health to abuse and harassment in the military. In 2018, a record number of women, and minority women at that, ran for office. This panel, led by Heather Caygle, Reporter at Politico, Brittney Cooper, Author and Founder of Crunk Feminist Collective, Andrea Dew Steele, President and Founder of Emerge America, and Terri Sewell, Congresswoman of Alabama's 7th District in the U.S. House of Representatives, will discuss the "pink wave" – namely, what encouraged women to run, how did they win over their male counterparts, and what does the future look like with more women in office. Come discuss the results and implications of the HERstory-making election.
Fighting Gerrymandering in 2021
Congressional and legislative districts will be redrawn all over the country in 2021. With the help of "Big Data" and other emerging tech, this process could be the most politicized redrawing to date as the map drawers are able to gerrymander with micro-precision to advantage one political party over the other or favor preferred candidates. But on the other side of that, the same data and tech could also enable citizens to aid in policing the process more than ever before. In this session, hear from Michael Li, Senior Counsel to the Brennan Center for Justice at NYU School of Law and Michael McDonald, Associate Professor at the University of Florida, as they discuss how citizens can leverage the new tools that will be available to them in 2021 to help ensure that American democracy is not hijacked.
Generation Z Is Poised to Revolutionize Politics
Gen Z is, frankly, tired of waiting for their elders to fix things – they are disillusioned with the politics of today and big government, and they are stepping in to solve social issues themselves. By becoming political leaders and social activists, they are taking charge and disrupting politics with demands for new policies. But what has forced Gen Z to take on the mantle of leadership so young, and how has this affected their coming of age? Stef Kight, Politics Reporter at Axios, Nadya Okamoto, Founder and Executive Director of PERIOD, Tawny Saez, Practice Lead of Cultural Insights at The Harris Poll, and Ethan Sonneborn, Gubernatorial Candidate at Ethan Sonneborn 2018, set out to answer these questions in this session as well as discuss findings from The Harris Poll's new study with Axios, "The Z-Ruption Report" – the first of its kind peer-to-peer generational survey. In the study, they asked Gen Z about their political participation and activism and how they hope to influence government today.
Check out other Cities, Government & Politics sessions as well as other Keynotes and Featured Speakers including Eric Klinenberg, Margrethe Vestager, and Valerie Jarrett:
Browse More Cities, Government & Politics Sessions
Enjoy primary access to all Cities, Government & Politics sessions as well as other Conference Sessions with a Platinum or Interactive Badge, and secondary access to most other events.
Crossover Track Recommendations
Learn more and unlock your badge's full potential when you explore sessions on the other 25 Conference Tracks that relate back to Cities, Government & Politics:
Attend SXSW 2019
Get your SXSW Badge and reserve your hotel today to attend SXSW 2019 and experience these Conference sessions along with 10 days of screenings, showcases, exhibitions, networking, and more this March 8-17 in Austin, TX.
Follow us on Facebook, Twitter, Instagram, and SXSW News to stay current with all things SXSW.
Featured Image by Marie Ketring, Sadiq Khan – Photo by Dylan Johnson
The post Policies of Tomorrow in Cities, Government & Politics appeared first on SXSW.