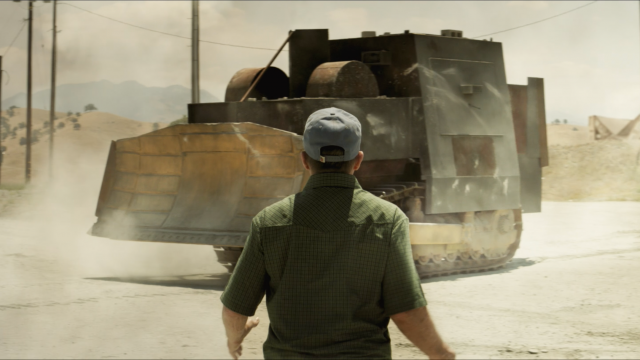 The 2019 SXSW Film Festival is almost upon us and we can't wait to have you here! Before you make your way down to Austin, TX, get to know films from our lineup a little bit better with our Filmmaker In Focus series. Dive into our Q&A with director Paul Solet as he tells us about his film Tread, which will World Premiere in Documentary Feature Competition.
In your own words, what does this film mean to you?
Paul Solet: Tread is a film about so many things: the frailty of human perspective; legacy, and the loss of power; resentment and isolation, and on and on – but it is also a movie that works very hard to allow an audience to come to their own conclusions, so I'll save the rest for Q&A.
What motivated you to tell this story?
PS: The first time I saw images of Heemeyer's machine, I had no context at all. I just saw this giant armored bulldozer destroying buildings with all of these police following it, totally powerless to do anything, in this bizarre slow-speed chase. The spectacle alone suggested enough of a combination of ingenuity and obsession and discipline, not to mention absolute smoldering fury, on the part of whoever was driving it, that I was surely hooked from those first images.
What do you want the audience to take away?
PS: I hope whatever perspective an audience brings to this movie is subverted and challenged and ultimately turned back on themselves. I hope the movie prompts people to reflect on their own experience of resentment, and rage, and isolation. Ultimately, I believe in stories more than anything else. A good story can deliver hugely important ideas without spoon-feeding, without moralizing, without even taking a definitive stance on a subject – and yet still leave you with so much more than you signed up for. If we've done our job, that's what I hope TREAD provides.
How did you find your subject?
PS: My brother was a prosecutor for many years and has a wonderful eye for true crime stories. Seven years ago, he sent me images of the machine for the first time. I couldn't believe what I was seeing – and I couldn't believe I had never heard of this incident before. So, you could say the subject found me.
What made you choose SXSW to showcase your film to the world?
PS: The whole team agreed SXSW was the perfect festival for the film's premiere. This is not a traditional doc by any stretch of the imagination, so a festival that is totally fearless and unusual was the perfect fit. We knew SXSW was going to love exactly what we do about this movie.
Do you have a past experience at SXSW that impacted your decision to come back?
PS: My first film Grace played at SXSW 10 years ago. I loved the SXSW audiences and the environment so much. It is a place that is so unpretentious and honest in its love for film and its appreciation of filmmakers, I've looked forward to bringing a movie back ever since.
Add Tread to your SXSW Schedule. Stay tuned as we share more interviews with our SXSW 2019 filmmakers!
Join Us For SXSW 2019
Register and book your hotel now to save! The Film Badge gets you primary access to all SXSW Film events including Film Keynotes and Featured Sessions, world premieres, round tables, workshops, parties, and more. Over the course of nine days, the SXSW Film Festival hosts over 450 screenings! Film registrants also have primary access to Convergence events, including the Comedy Festival and nine unique Conference tracks, as well as secondary access to most Interactive and Music events.
Tread – Photo courtesy of film
The post Paul Solet Talks About His Documentary Tread – SXSW Filmmaker In Focus appeared first on SXSW.