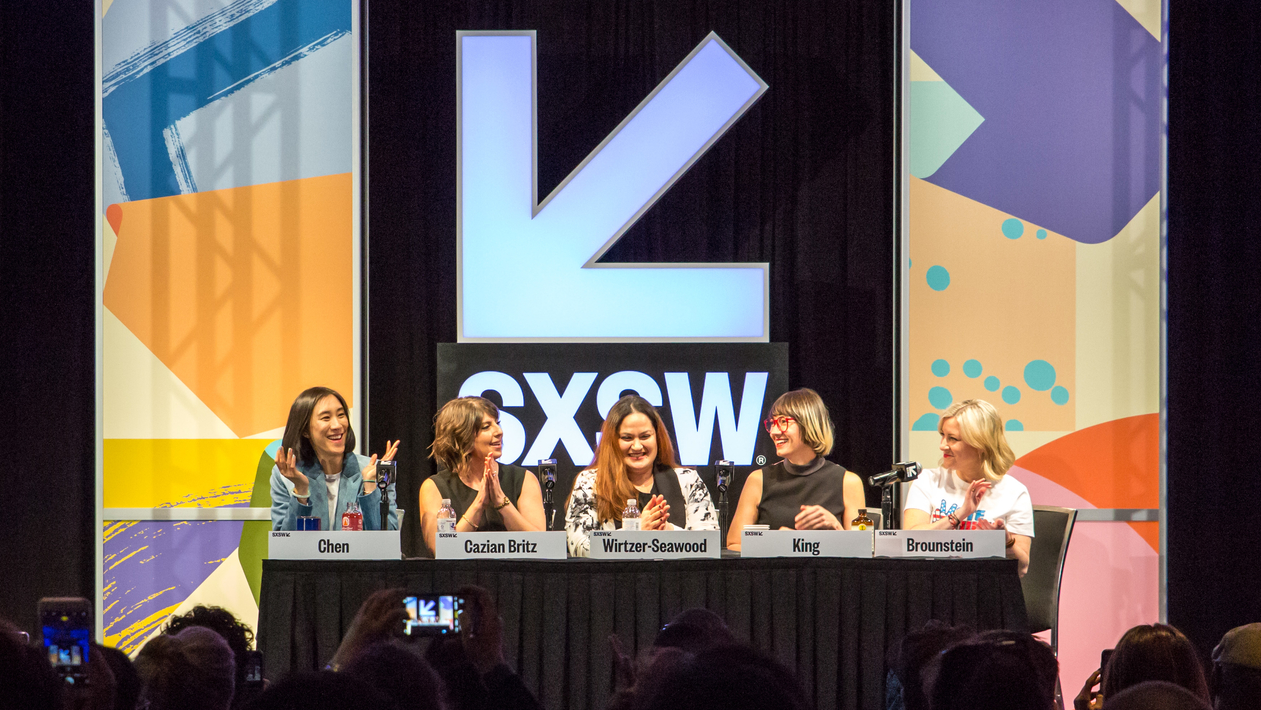 Good news! The 2022 PanelPicker® entry period has been reopened for a round two of applications from October 13-22. Take advantage of this unique opportunity for one last chance to enter your session proposal for the 2022 SXSW event.
Global professionals at every level come together during the Conference to participate, learn, and network while exploring what's next in the worlds of tech, entertainment, culture, and beyond. Our PanelPicker® platform allows the SXSW community to have a significant voice in what creative and thought-provoking programming is selected for SXSW and SXSW EDU.
Be part of leading the conversation along with thousands of other creatives at SXSW 2022. Learn more about the PanelPicker application process below.
Application Process
The application process is simple: visit panelpicker.sxsw.com and complete the online form by October 22 at 11:59pm PT.
Upload proposals related to tech, film, and music in a variety of session formats including panels, solo presentations, book readings, podcasts, mentor sessions, and more.
Proposals should be specific, well-titled, and illustrative of the impact of your ideas and the depth of research behind them. Read our application tips to learn about creating a great proposal. Entries will be reviewed and selected by SXSW Staff.
Tracks
Explore our 15 Tracks of programming for proposal inspiration. New to this list of Tracks is 2050 (long-range and big-picture thinking), Climate Change (mitigating the impact of the earth's rising temperatures), and Transportation (new transit-related technologies).
Specific areas of interest we are looking for during this call for entries include but are not limited to behavioral studies, edge computing, entrepreneurial skill sets, esports, new markets, neuroscience, radical life extension, software engineering, and technical design and development.
Summits
New for this year, Conference programming offers a deeper dive into specific topics at our Summits. With most running for two days at a single location, Summits feature programming across a variety of formats.
Funding & Investors
Finance 3.0
The Space Rush
Athlete Empowerment
Cannabis Industry Evolution
Connecting with XR
Future of Work
The State of Psychedelics
Apply October 13-22
Explore this year's Tracks and Summits as well as the first announcement of PanelPicker-curated sessions to gain inspiration.
Help shape the Conference programming at SXSW 2022 from March 11-20! Propose your session idea through PanelPicker® by the final deadline of October 22 at 11:59pm PT.
Stay connected with SXSW – subscribe and follow us across the socialverse – Twitter, LinkedIn, Instagram, and Facebook.
Teaser Photo by Aaron Rogosin
Top Image: "Insider Tips from the Boss Women of Instagram" – Photo by Jessica Stamp
The post SXSW PanelPicker® Round Two: Accepting Session Ideas from October 13-22 appeared first on SXSW.