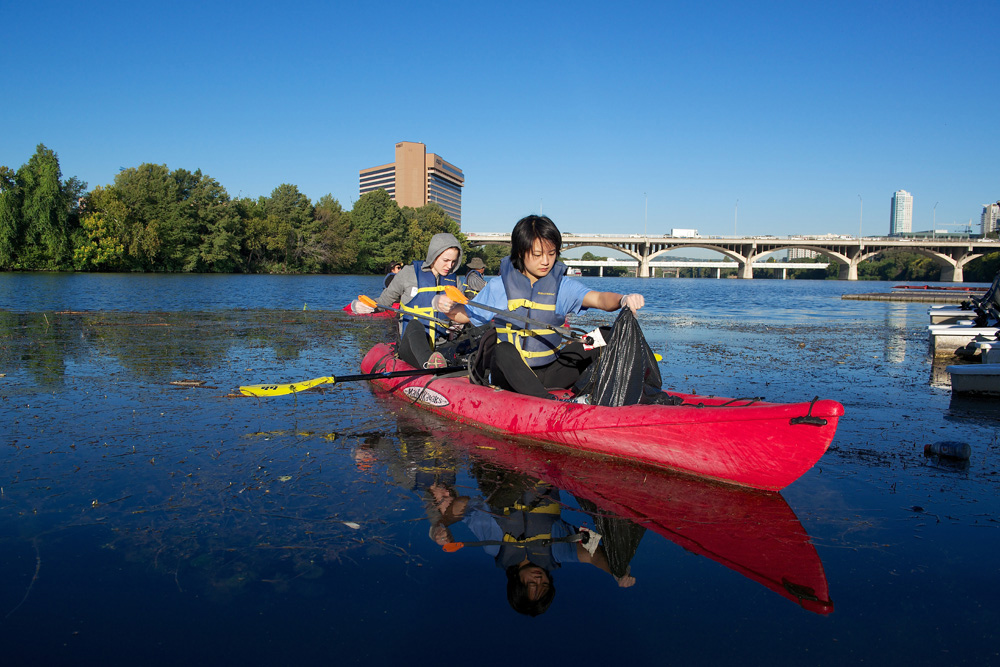 We are at a critical moment in the fight for the planet's future. Once thought to be a faraway issue, it is currently blazing – or freezing or flooding – all around us. As we face extreme climate emergencies, people are paying more attention to the impact humans have on the environment.
From March 10-13, programming in the Climate Change track covers the consequences of soaring temperatures and rising oceans, while also showcasing the most promising efforts on mitigating the effects of global warming.
Join climate urgency conversations with biomedical doctors, scientists, sustainability educators, and climate advocates looking to build a stronger, cleaner, and brighter future during the SXSW Conference.
A Healthy Planet Is Necessary for Our Survival
Did you know over 400 million tons of plastics are produced each year? The vast majority becomes waste and causes a taxing burden on our environment, climate, and energy usage. In Can, Plastic-Eating Enzymes Save our Planet Dr. Hal Alper (The University of Texas at Austin), will discuss how we can move away from traditional recycling and chemical treatments that require a lot of energy and create more pollution. Simply put, if the "solutions" we've made aren't working it's time to switch them up for Earth's sake.
There is no doubt that human activity has negative effects on the environment. If we are the problem, we should be the solution. In What if Someone Tries to Re-Engineer the Climate, Peter Frumhoff (Harvard University), Oliver Morton (The Economist), Katharine Ricke (Scripps Institution of Oceanography and School of Global Policy and Strategy at UC San Diego), and Shuchi Talati (Policy Entrepreneur) dive into "geoengineer" the Earth to counteract global warming. These panelists are ready to share how we can help brighten the clouds, put a haze into the stratosphere, and bring cooler water up from the ocean depths.
The Potential for Creative Solutions
While not always easy, we must talk about climate change in terms of its potential. Experts are looking outside the box for solutions. Life on a Reforested Planet will bring in thought-provoking ideas on how regrowing the planet's forests on a massive scale will change everything about life in 2050. Our panel combines the expertise of Jad Daley (American Forests), Yee Lee (Terraformation), Josh Parrish (Pachama), and Clara Rowe (Restor) who will paint life on a reforested planet, and the path we need to get there.
While some are looking to the rainforest for ideas others are looking toward the sea! Looking to Our Ocean for Climate Solutions dives deep into how the ocean can be a unique solution for the carbon footprint we leave. Learn more about how to leverage the ocean's existing ability to remove carbon dioxide with experts like Ken Buesseler (Woods Hole Oceanographic Institution), Margaret Leinen (Scripps Institution of Oceanography at UC San Diego), and Susan Lozier (American Geophysical Union).
The First Step Is Always the Hardest
Reaching our critical climate goals require participation from every person on this planet. While many of us want to take climate action, knowing where to start can be nerve-racking. Lucky for you the Climate Action 101: Finding Your Climate Squad Meet-Up is the perfect way to get started. Bringing together experts like Carissa Cabrera (The Conservationist Collective) and Wanjiku Gatheru (All We Can Save Project) this empowering discussion will center on the importance of intentionally finding a climate community, which climate issues to focus on, and ways to effectively help.
You don't need to be an extreme activist to make a difference. The best way to start is by making small changes in your daily life, learning from experts, and joining the climate conversation.
Continue the Climate Conversation
Check out more sessions from our Climate Change track. Discussions range from renewable energy and fossil fuel alternatives, sustainable practices, coastal relocation, plant-based foods, and forward-focused green startups.
All SXSW Badges receive primary access to Climate Change track sessions.
Join Us for SXSW 2023
Don't miss SXSW 2023 from March 10-19 to experience more Conference sessions, Exhibitions, live music performances, film and television screenings, and much more.
Keep up with us on Facebook, Twitter, Instagram, TikTok, and SXSW News.
Photo by Debbie Finley
The post Our Planet's Future and What To Do About It – Climate Change Sessions appeared first on SXSW.