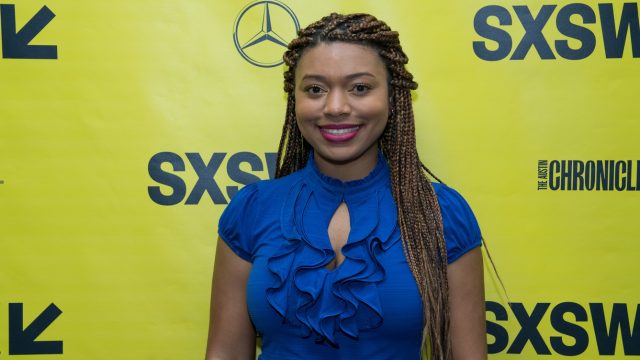 In Barry Jenkins' 2018 Film Keynote he took a few moments to discuss the future of filmmaking, and he made a distinct point to mention Nijla Mu'min. Her directorial feature debut Jinn world premiered that very same day and it went on to win a Narrative Feature Special Jury Award for Screenwriting. In 2017, Mu'min was named one of 25 New Faces of Independent Film from Filmmaker Magazine and most recently she directed the episode "The Tree and Stone Were One" for the critically acclaimed series Queen Sugar, created by SXSW alum Ava Duvernay.
Jinn will be available to watch in theaters on November 15 and on VOD and Digital HD on November 16. Learn more about the film and Mu'min with our interview below!
In your own words, what does this film mean to you?
Nijla Mu'min: This film is a love letter to my upbringing, to my family, to my community, to my first love, and to my hopes and dreams for the future of cinema and art. It is light, hope, pain, magenta, wild afros, soft silk scarves, sweet bean pie slices, and family love.
What motivated you to tell this story?
NM: I was drawn to this story because of my own upbringing in a largely African-American Muslim community in Oakland when I was a young girl. As I got older, I was introduced to pop culture, different forms of sexuality, Lil' Kim rap tapes, daisy dukes, pressed hair, belly-out t-shirts, and I became quite conflicted about how to define my identity as a black girl with a Muslim father and a spiritual mother. I was a part of so many different cultural worlds and wanted to make them all fit.
What do you want the audience to take away?
NM: I want the audience to have an emotional connection to the story, and to the characters, whatever that encompasses. I want the audience to remember the story and characters in their hearts and minds.
What were you doing when you found out you were coming to SXSW?
NM: I was at my mother's house in Charlotte, NC. I think we had just gotten home from getting take-out. It was very cold that night. I had been staying with my mother after I found out that the film didn't get accepted to Sundance. I experienced a deep sadness as a result, and it took some time for me to recover emotionally from that news. When I checked my email and saw Janet Pierson's SXSW acceptance email, I jumped, screamed, and laughed. My mother also celebrated with me. We hugged. That email was much-needed good news during a time when we didn't know what was going to happen with the film.
What made you choose SXSW to showcase your film to the world?
NM: I'd known several filmmakers who screened work in the festival and had really fun, worthwhile experiences at the festival. I was also a fan of some of the past programming at the festival, and I felt that our film aligned with that. I loved that our film was able to shine and stand-out at this festival, creating a buzz that helped launch the film into people's awareness.
Describe what you were feeling during your SXSW premiere?
NM: I was really, really nervous during my premiere, but also very excited. I couldn't wait to see how the audience would respond to a movie that I'd watched so many times by that point. I was sitting on the edge of my seat, almost holding my breath when the movie started but I started to relax when I heard people laughing, and responding emotionally to certain scenes and moments in the film.
What was going through your head when Jinn took home a Narrative Feature Jury Award For Screenwriting?
NM: I was surprised, excited, and overjoyed. First, I didn't know that there was an award for screenwriting, but when Justin Chang started to describe the film that won the award, I knew we had it. I just started saying 'Oh my God' and jumped out of my seat when my name was called. I think I high-fived my producer Avril Speaks. I was surprised, but I was also emotional because writing has always been my calling and my passion. It was a full-circle moment.
Join Us For SXSW 2019
Register and book your hotel now to save! The Film Badge gets you primary access to all SXSW Film events including Film Keynotes and Featured Sessions, world premieres, round tables, workshops, parties, and more. Over the course of nine days, the SXSW Film Festival hosts over 450 screenings! Film registrants also have primary access to Convergence events, including the Comedy Festival and nine unique Conference tracks, as well as secondary access to most Interactive and Music events.
Follow us on Facebook, Twitter, Instagram, and SXSW News for the latest SXSW coverage.
World Premiere of Jinn – Photo by Kurt Lunsford
The post Nijla Mu'min Discusses Her Narrative Feature Special Jury Award Winning Film Jinn appeared first on SXSW.