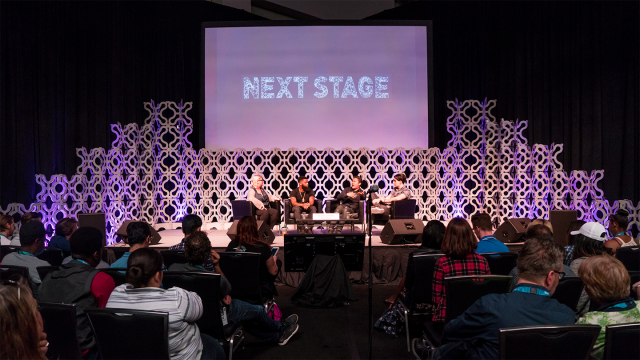 With the SXSW Trade Show just around the corner, we're excited to announce the first Next Stage programming highlights for 2019!
Next Stage Presented by Playbook takes place within the Trade Show in the Austin Convention Center, Exhibit Hall 4. Drawing inspiration from the creative industries, Next Stage features presentations and performances that span the overall themes of Interactive, Film, and Music. These sessions showcase the inventive, emerging talent participating at SXSW, including cross-industry panels with diverse speakers and intimate showcases from official SXSW Showcasing Artists.
Health and Wealth in the Music Business
Playbook
You cannot sustain a career in music if you are not healthy. If you want to have a long and fruitful career in this world of temptation and excess, you need partners to help you stay focused during the days when you cannot afford a personal trainer, nutritionist, or wellness coach. We will dive into the reasons why Playbook places an important emphasis on the development and growth of artists from both a mental and lifestyle perspective, and the program we have developed for our artists, agents and managers to face and overcome these challenges. In discussing lifestyle, one important aspect we will address is stress — along with the benefits of uncomplicating and de-stressing your business life, and how these goals can be achieved.
Royalties, Data & Starting Up a Music Investment Fund
The Music Fund | Speakers: John Funge, Thomas Jerde
This year The Music Fund launches, using data science to forge a new market allowing investors to support musicians in the long tail. We'll discuss what we've learned about starting an artist-friendly business, launching an investment fund, pricing royalties using data, and meeting the needs of the developing musician in an artist-first, scalable way. Topics will include findings from the data, legal and operational issues with collecting and dividing royalties, and our experience as part of the Techstars Music startup accelerator.
Predictions for the Budding Cannabis Industry
Speaker: Matthew Morgan (Kulture Co.)
Matthew Morgan — serial entrepreneur and leader in cannabis — talks to us about the state of cannabis in 2019. Matt will discuss keys to being successful in the marijuana space, pitfalls to avoid, and how to build a cannabis company from zero to $100 million in revenue in 3.5 years. Matt will share some insider tips and the story of how he went from a farm boy raised in Montana to one the leading cannabis entrepreneurs in the world!
Check out the full Next Stage programming schedule. Be on the lookout for updates to the Next Stage programming in the coming weeks!
Programming descriptions are generated by participants and do not necessarily reflect the opinions of SXSW.
Photo by Hannah Varnell
The post Next Stage Programming Highlights – Cannabis and Music appeared first on SXSW.