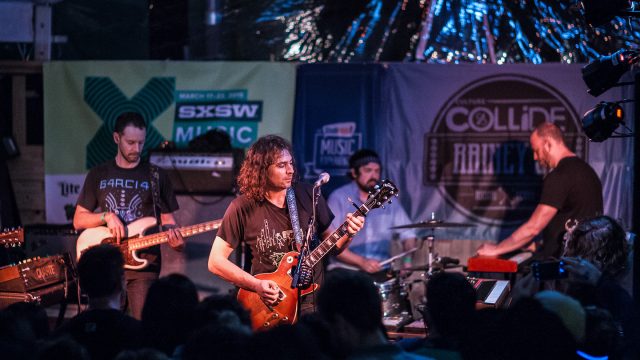 This week, we take a look at our biggest list of SXSW weekly artist releases so far this season. There is a good mix of artists in different stages of their careers as well as a good variety of genres getting attention this week. Let's get right into it since we have so many new albums to listen to this week.
Last week the SXSW Artist Releases write-up featured the new album from A$AP Ferg, and this week the full crew, A$AP Mob, is on deck with Cozy Tapes Vol. 2: Too Cozy. British rock band CYMBALS return with Light In Your Mind. Veteran indie-folk artist Iron and Wine releases Beast Epic. Queens of the Stone Age will release Villains to add to their catalogue of stoner-rock. If you like your rock music a bit more experimental, Tera Melos has a new album called Trash Generator releasing this Friday as well.
Pulling from these weekly releases, we pick one new release and make a playlist for fans incorporating new music from past SXSW artists for them to discover. This week, we're selecting a indie-rock playlist inspired by The War on Drugs whose new album A Deeper Understanding is getting released this Friday. Go ahead and give it a listen because these playlists will only be active for seven days before we pick a new artist to focus on. Keep up with our playlists on the official SXSW Spotify channel, and be sure to follow the playlist.
Past Showcasing Artist August 25st Releases
A$AP Mob – Cozy Tapes Vol. 2: Too Cozy
CYMBALS – Light In Your Mind
EMA – Exile In The Outer Ring
Gogol Bordello – Seekers And Finders
Iron & Wine – Beast Epic
Oh Sees – Orc
Queens of the Stone Age – Villains
Stephen Doster – New Black Suit
Tera Melos – Trash Generator
The Cadillac Three – Legacy
The Fresh & Onlys – Wolf Lie Down
The War on Drugs – A Deeper Understanding
Widowspeak – Expect The Best

The War on Drugs – Photo by Nicholas Kwasny
The post New Music! SXSW Artist Releases – Friday, August 25 appeared first on SXSW.