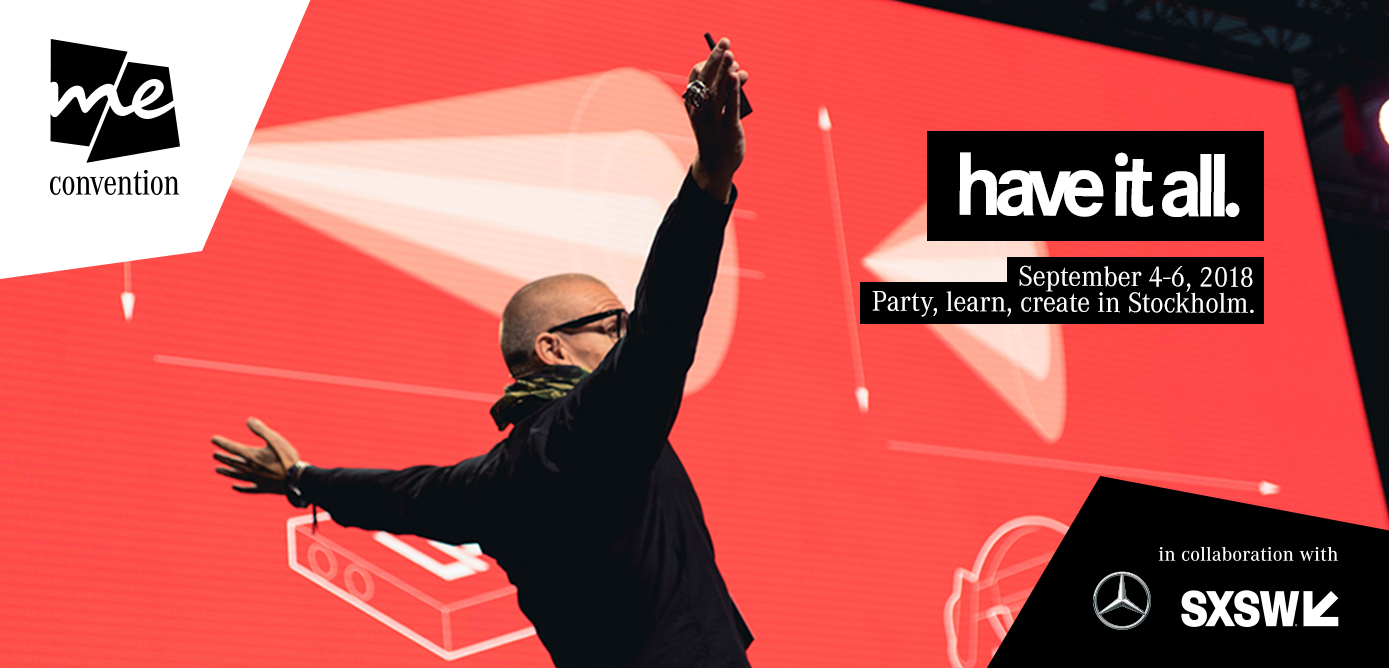 Get ready to shape the future this September at the 2018 me Convention, Europe's leading future-focused festival unveiling the art, music, film and tech of tomorrow. A collaboration between Mercedes-Benz and SXSW, this three-day cross-cultural event unites creatives for a critical dialogue about the future.
Taking place in Sweden's vibrant capital, Stockholm, from September 4-6, 2018, the unique and open platform of me Convention creates an intimate environment to hear from global leaders and participate in once-in-a-lifetime conversations.
By day, experience dynamic talks, keynotes, workshops and more that explore the 2018 themes — New Society, New Leadership, New Creativity, New Economies, and New Bionomics. By night, enjoy an outstanding evening program including concerts, art exhibitions, Startup Cities Pitches, parties, and film screenings.
New Speakers Announced
More top-tier speakers have been recently announced including Ana Arriola (Design Director for AI/Research & Bing, Microsoft), Frank Warren (Founder, PostSecret), Renata Avila (Director, Smart Citizen Foundation), Xin Liu (Artist, Engineer & Curator, MIT Media Lab), Kelly McCarthy (SVP Communications, LVMH), and Steve Horowitz (VP Engineering, Snapchat).
These speakers join a stellar lineup of 100+ speakers including yoga teacher and entrepreneur Adriene Mishler (Yoga With Adriene) ; privacy expert Renee DiResta (Data for Democracy, WIRED); writer and musician Claire L. Evans (YACHT); and hacker and tech magician, Tom London.
Programming At A Glance
1-to-1 mentoring opportunities with innovators across the creative fields
Uncover hidden tech hubs with our Startup Cities track (September 5-6) featuring insiders from 20+ countries
Swedish premiere of the AI documentary More Human Than Human directed by Tommy Pallotta and Femke Wolting
Vibrant parties and concerts at Fotografiska Museet, the Mercedes Pop Up Store and Södra Teatern
Network with innovators and icons in film, art, and tech to take your career to the next level
Curated tours of Stockholm including local hotspots, art and architecture, and a tour of Stockholm's startup scene in partnership with STHLM Tech Fest
Discover new perspectives and much more at the 2018 me Convention in Stockholm from September 4-6, 2018. Register to join today! Students currently enrolled in college or university can follow this link to secure a special student discount.
See you in Stockholm!
The post More Speakers Added for me Convention in Stockholm This September 4-6 appeared first on SXSW.