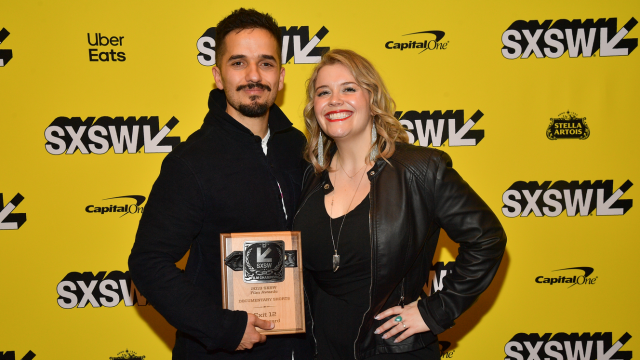 Mohammad Gorjestani is an Iranian-American filmmaker who has directed four short films that screened at the SXSW Film Festival: Refuge (2014), Miss Me: The Artful Vandal (World Premiere, 2016), Sister Hearts (World Premiere, 2018) and Exit 12. The latter took home the 2019 Jury Award in Documentary Shorts Competition.
Exit 12 tells the story of U.S. Marine Roman Baca, whose experiences in the Iraq War ravaged him with depression and anxiety. With the encouragement of his wife Lisa, he decided to return to ballet as way to cope. Baca is now the artistic director of the Exit12 Dance Company in New York City, where he — along with other veterans and military families — uses dance to tell stories about the effects of war. Through movement and creative expression, they work to not only reprogram and reclaim themselves, but also change the perceptions and stereotypes of the veteran community.
"I think SXSW does an incredible job of curating films that are on the pulse of what matters in the world, and we felt Exit 12 was a film that at the very least was critical to the national discourse at a time in this country where so much is at stake."
Watch the film here and remember the Late Deadline to submit to the SXSW Film Festival is October 17.
Interview with Mohammad Gorjestani
In your own words, what does this film mean to you?
Mohammad Gorjestani: We're conditioned in our culture to understand veterans as tough, resilient, and patriotic. But we are shielded from seeing them as sensitive, conflicted, and expressive. Exit 12 is an alternative perspective of who veterans are and of the traumatic effects of war.
We're living in a divisive time where what patriotism is defined as has been hijacked and narrowed by one side of our politics. In this film, through its unexpected group of veterans remind us of another side of America that is more inclusive, compassionate, and still incredibly strong and proud. These veterans remind us of what true American values are and that is to believe in values rooted in the human condition. I can't think of many messages more vital in 2019, a time this defining to our identity as a nation where so much is at stake, especially for marginalized communities.
What motivated you to tell this story?
MG: This film was the 5th film in the "For Every Dream" film series that was produced by Even/Odd in collaboration with Square. What I loved about this collaboration is that from Jack Dorsey at the top, down to the team we developed this series with at Square, we had a conviction to tell stories about the contemporary American Dream from a point of view of class struggle, and the need to provide economic access and empowerment to disenfranchised individuals and communities.
As an immigrant who fled war to come to America and grew up in Section 8 housing, I have seen and experienced first hand how when the odds are stacked against you because of your socioeconomic disposition, that you have less opportunities to succeed. While this story is about veterans, it is also about creative entrepreneurship and a dancer trying to make his dream of having a dance company that has a deeper purpose be a sustainable dream in America. I can relate to that on so many levels as a filmmaker — trying to make work that doesn't bend to the mainstream and stays true to who I am and the voice I want to add to the cinematic landscape while trying to make a living at the same time.
I also feel like right now — for all immigrants, especially Muslim Americans — you can't help but question your place in America. This film was also a chance for me to contribute to what I feel is a better example of who America is through the point of view of veterans who are deeply patriotic, but who believe acceptance and compassion are at the core of America values. Veterans who don't blindly follow any doctrine, but believe that the love for greater mankind itself is not excluded in their patriotism.
The undercurrent of this film felt like trying to understand what America is again in 2019 in a post 9/11 world, and I think that came full circle through the process of the film and also at SXSW because it is utterly the most American thing for an Iranian born filmmaker to make a film about veterans, and then to have the film screen and win in Texas.
What do you want the audience to take away?
MG: Veterans are not tokens or props for political debates. They are real people who often enter service with the absolute best intentions, it's us as a nation who have failed them — investing so much effort to prepare them for war, but not enough to undo that and support them to successfully re-enter society.
How did you find your subject?
MG: The credit for that goes to an incredible research team we had working on this project and others at Even/Odd. We searched the whole country for veterans and veteran groups who were in many ways failed by the system, and took that adversity and did something entrepreneurial with it to create sustainable opportunity for themselves and others.
We knew wanted to find an unexpected story, but we never imagined a story that juxtaposed military training and ballet. So much of this work does rely on luck, but the best way of increasing your luck is through persistence, and our research process was a testament to that.
What made you choose SXSW to showcase your film to the world?
MG: SXSW has been my favorite festival for a long time. The curation of films and programming is incredibly strong and the festival draws an audience not just from across the country, but the world. So many of my favorite films have played at this festival and the films I've seen at SXSW have influenced not just my work, but myself as an individual. I think SXSW does an incredible job of curating films that are on the pulse of what matters in the world and we felt Exit 12 was a film that at the very least was critical to the national discourse at a time in this country where so much is at stake.
Do you have a past experience that impacted your decision to come back?
MG: In 2014 I had my first film at SXSW, a narrative short titled Refuge. For me, that marked a moment in life that, when I look back, was a springboard to so many of the fortunate opportunities and collaborations I've been able to have. I think back to that festival and think about all the incredible people I met that year that I consider some of the most important peers and even friends and collaborators that I have today.
Do you have any advice to filmmakers submitting to SXSW or any advice to first-time filmmakers?
MG: Make work that is personal and that you are proud of, regardless if someone else loves it or hates it. If through the experience of making the film you grew as an artist and person, then that is by far the most valuable thing and everything else is just a bonus.
Getting into a festival or not shouldn't change the way you feel about your film and your work, and if it does it's worth re-examining why you are making films in the first place. What's most important, especially as a director, you want to build a family of collaborators that want to work with you because you bring out the best in them and they bring out the best in you. The rest will follow and take care of itself as long as you keep working and making stuff. Focus on making things that mean something to you and place value in personal over perfect.
Join Us in March
Register to attend SXSW 2020 and get ready to experience World Premieres, screening Q&As, Keynotes, Featured Sessions, and more.
Follow us on Facebook, Twitter, LinkedIn, Instagram, and SXSW News to stay current with all things SXSW.
Documentary Short Jury Winner Exit 12 – Photo by Matt Winkelmeyer/Getty Images for SXSW
The post Mohammad Gorjestani Discusses His Jury Award Winning Short 'Exit 12' – SXSW Interview appeared first on SXSW.