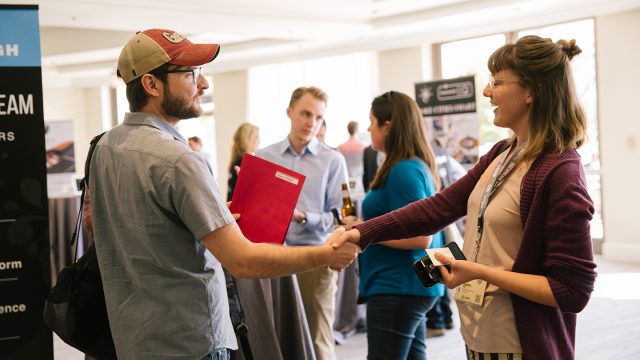 In the Cities, Government & Politics Track we're taking a dive into mobility and urban planning with our new session format, Focus15s! Within one hour, four solo speakers will give presentations on a similar theme, topic, or trend.
Join us in the Hilton Austin Downtown (Rooms 400-402) on Saturday, March 9 at 3:30pm during the SXSW Conference to see how the future of mobility and urban planning are being shaped by the intersection of emerging technology and passion.
Cities, Government & Politics Focus15 Sessions
Redesigning Cities Through Young Urbans
Stella Hiroki, Founder of Smart City Talks, found that simply through blending education and media, it is possible to inspire Brazilian Youth to create projects that can improve their cities. From the research Hiroki conducted during her PhD in Singapore and Dublin, Hiroki was able to gather enough content to start a YouTube channel – Smart City Talks – with interviewees ranging from MIT Professors to Brazilian Housing Activists. Her aim with her channel is to connect young urban kids to their cities. She will use local examples to demonstrate how Brazil can be a hub of urban innovation and will show how youths can leverage technology to integrate tech projects for social innovation.
Kids Before Cars: Safe, Sustainable Urbanization
In an increasingly urbanized and motorized world, safe and healthy cities start with safe streets. Cities that are safe for children are safe for everyone – but at this point in time, road traffic injuries are the leading killer of adolescents worldwide. Unsafe roads prevent access to education, healthcare, and economic opportunities that can lift families out of poverty. The health, economic, and social consequences speak for themselves – roads are the veins through which the health of our society flows, but we are clogging them up with accidents and traffic jams. Join Natalie Draisin, Director of the North American Office & UN Representative of the FIA Foundation to hear how we can achieve a world with zero road fatalities, creating a safe and healthy journey for all children through data-driven, cost-effective choices.
The Next Harvey: Predictive Flood Warning System
In 2017 when Hurricane Harvey devastated the Texas Gulf Coast, the public turned to mobile devices for information, updates, pleas for help, and stories of success. Flooding is a constant in Houston due to urban development and a changing climate. As a region, we have come together to better prepare, predict, and respond. The Regional Flood Warning System incorporates live traffic and road conditions, rain, stream gages, and weather data to put safety alerting on phones, email, and websites that are customized to individual users needs. Francisco Sanchez, Deputy Emergency Management Coordinator for Harris County Office of Homeland Security & Emergency Management will discuss this feat of government cooperation that produces a system that continues to grow with participation from local municipalities, gage and camera developments, and sharing of critical information amongst response partners.
Building Bridges to Connect Communities
Though it may not be obvious on first glance, the Pennsylvania Department of Transportation (PennDOT) represents a new era of values and the future of transportation. Under the leadership of its first female Secretary, Leslie S. Richards, PennDOT prioritizes pedestrians and communities. Since DOT's are no longer held responsible for the transportation system, but for the quality of life they help to create, PennDOT brings communities and businesses into the first stages of infrastructure planning and its plans for autonomous vehicles.
Explore all the Focus15s being offered across the 25 tracks of Conference programming. Whether your interests lie in changing the future of your city or elsewhere, we hope to see you in March!
Attend SXSW 2019
Get your SXSW Badge and reserve your hotel today to attend SXSW 2019 and experience these Conference sessions along with 10 days of screenings, showcases, exhibitions, networking, and more this March 8-17 in Austin, TX.
Follow us on Facebook, Twitter, Instagram, and SXSW News to stay current with all things SXSW.
Featured Image by Marie Ketring
The post Mobility and Urban Planning Session Highlights at SXSW 2019 appeared first on SXSW.