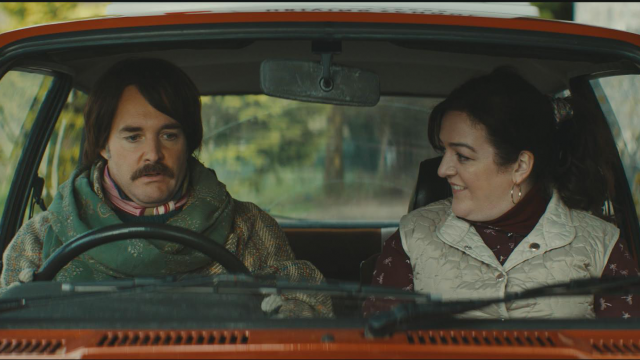 The 2019 SXSW Film Festival is almost upon us and we can't wait to have you here! Before you make your way down to Austin, TX, get to know films from our lineup a little bit better with our Filmmaker In Focus series. Dive into our Q&A with directors Mike Ahern and Enda Loughman as they tells us about thier film Extra Ordinary, which will World Premiere in Narrative Feature Competition.
In your own words, what does this film mean to you?
Mike Ahern and Enda Loughman: We write and direct together, and wrote Extra Ordinary in a smelly little room in Dublin. Right at the start, we wrote on a piece of paper 'A film only we could make' with a sharpie and taped it on the wall. It was a low-key manifesto for ourselves which may seem obvious but looking back now, it's what we are most proud of. We managed to stay true to that sentence throughout the tough decisions and crazy journey of the film, more so, we are very proud to have somehow convinced all these great, talented people to join in and help us along the way. That 'we' got bigger at times. There are lots of parts of both of us in the characters, the small details, the stupidity, and the heart that hopefully become universal when other people watch it. It may be weird at times, sweet at times, and very, very, very, stupid film, but it's a film only we could make.
What motivated you to tell this story?
MA/EL: Mike read a crappy clickbait article about a rural haunted old folks home where ghosts were groping the the old people in the night. It was mostly about the 'pervy phantom' but a few lines within it described a married couple who dealt with the spook. More interesting than all that was that by day she worked in a credit union and he as a lorry driver. But, by night they teamed up moonlit as these 'ghost-whisperers'.
We fell in love with imagining a couple with these very ordinary lives that had extraordinary aspects to them and making it all sit dead-pan in the same world. How normal it was for them, and especially how they met etc. Whenever ghosts are 'caught on camera' they are tiny things like a door closing, or maybe at best a chair falling over. Never big demons like in the movies, always tiny hauntings. With that in mind, we wanted to make something kind of the opposite of Ghostbusters, very rural, Irish but still universally funny. As big fans of Maeve Higgins and her stand-up and writing, we both thought thought she'd make a great lead, we knew her and wanted to write a weird story for her before anybody else stole Maeve and put her in something better, making us sad. We always are very motivated by jealousy.
What do you want the audience to take away?
MA/EL: Maybe, just maybe, they will notice tiny hauntings around them more after the film. Mostly we'd like them to laugh a lot. Oh, and they can cry if they want too!
What made you choose SXSW to showcase your film to the world?
MA/EL SXSW always just seemed like a great fit for this the film. We think the film is fun, a screwball, an adventure, a bit weird and a bit rock and roll. All of these things are true about Austin and SXSW too. We can't wait to show it there!
Add Extra Ordinary to your SXSW Schedule. Stay tuned as we share more interviews with our SXSW 2019 filmmakers!
Join Us For SXSW 2019
Register and book your hotel now to save! The Film Badge gets you primary access to all SXSW Film events including Film Keynotes and Featured Sessions, world premieres, round tables, workshops, parties, and more. Over the course of nine days, the SXSW Film Festival hosts over 450 screenings! Film registrants also have primary access to Convergence events, including the Comedy Festival and nine unique Conference tracks, as well as secondary access to most Interactive and Music events.
Extra Ordinary – Photo by James Mather
The post Mike Ahern and Enda Loughman Talk About Their Comedy Horror Film Extra Ordinary – SXSW Filmmaker In Focus appeared first on SXSW.