SXSW and Eventbase have partnered to bring SXSW Registrants an AI chatbot to serve as a concierge to the March event to help you navigate through the SXSW Conference & Festivals with ease. Abby, the SXSW Bot, delivers a casual, fun conversational-style user experience to help Attendees navigate SXSW, find out what's happening, and get timely answers to FAQs.
SXSW GO is the perfect platform for Abby because mobile winds up being the primary tool of our technically savvy attendees. As our attendees are navigating SXSW, their primary digital experience is through the SXSW GO mobile app. Abby has a prime location in the app, always there ready to assist.
Abby uses Natural Language Processing to deliver appropriate answers to the registrant inquiries, allowing users to get quick replies in a familiar messaging interface. Combined with personalized communication, Abby is able to provide a more meaningful experience for Attendees during the event.
Download the SXSW GO mobile app for iOS and Android to start planning your SXSW 2017 experience today. Abby is also available on Facebook Messenger! Visit the official SXSW Facebook page or use Facebook Messenger to interact with Abby – preview here.
Browse our continuously updated lineup of programming and build your schedule online at schedule.sxsw.com or directly on your mobile device. The mobile app allows you to sync your online schedule with your mobile device, so your info will always be up to date! Plus, get schedule recommendations and discover new music, films, sessions, and beyond.
Start chatting with Abby on your mobile device today!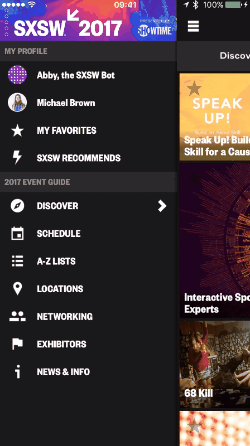 Teaser photo by Jon Shapley / Getty Images
---
Related News:
The post Meet Abby the SXSW Bot on SXSW GO Mobile App and Facebook Messenger appeared first on SXSW.