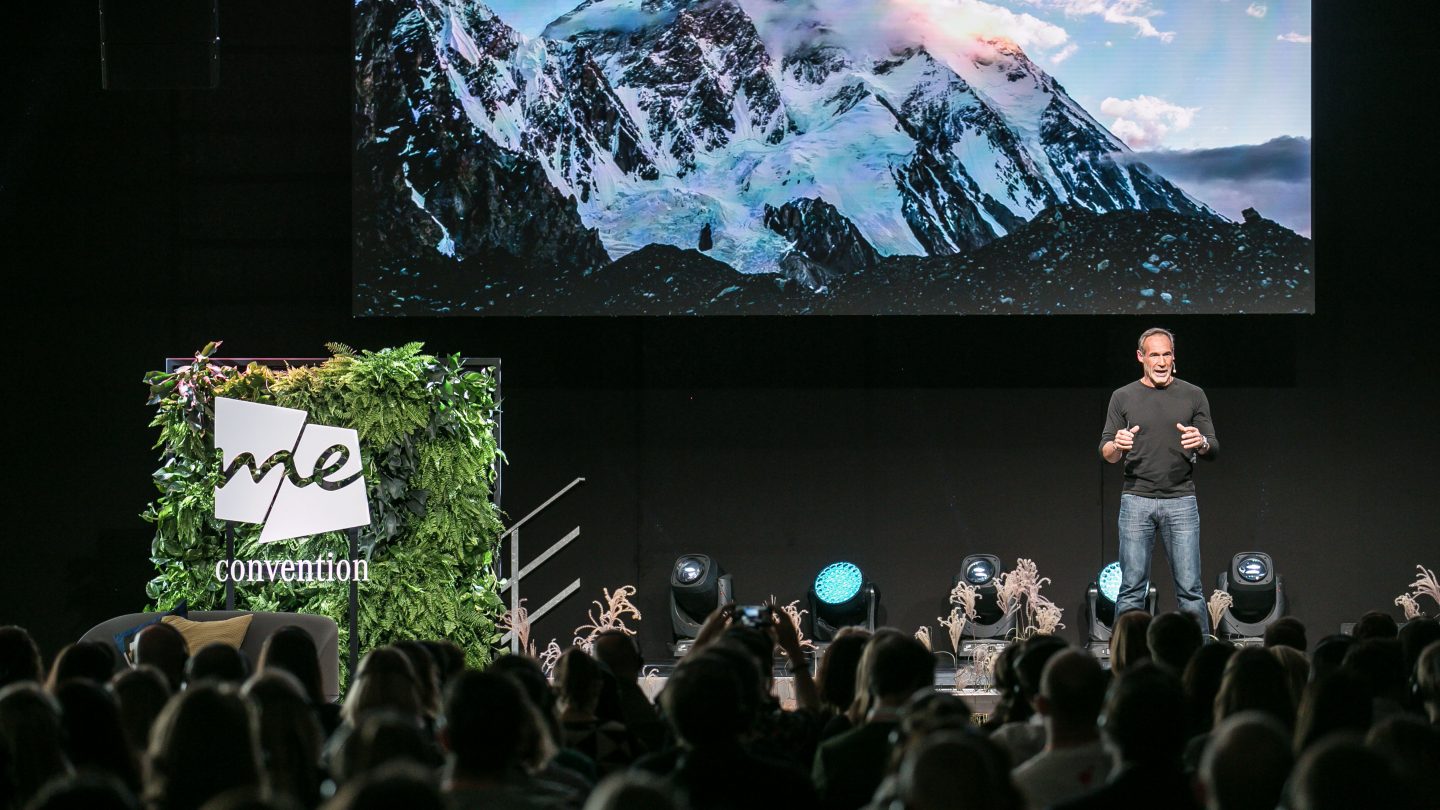 We are live from Frankfurt, Germany all weekend at me Convention – a partner event hosted by SXSW and Mercedes Benz. The event brings together people across a wide set of disciplines to engage in a dialogue about the future across five themes: new leadership, new creativity, new velocity, new urbanism, and new realities. me Convention features over 150 speakers across three days of workshops, expert talks, and inspiring keynotes plus a curated evening program featuring live concerts and rising talents in Frankfurt's culinary and art scene.
After a big opening day of talks ranging from leadership with Sheryl Sandberg to crypto-currency with Brock Pierce, it's time for day two. Explore programming highlights below and follow the festivities with our live stream and social media coverage.
Day Two: Streaming Schedule
10:00am – 10:30am (GMT+2)
Guy Kawasaki & Amy Cole – Experience the Moment, Build the Future
The way that people communicate has undergone a seismic shift – from text to visual; from staged to in the moment. Guy Kawasaki, chief evangelist of Canva, and Amy Cole, Director of Business Development EMEA at Instagram, dive into the future of creative content. Watch here »
12:00pm – 12:45pm (GMT+2)
Hans Ulrich Obrist – Curating in the 21st Century
Prolific curator and artistic director of the Serpentine Gallery Hans Ulrich Obrist offers an insight into the curator's mind and shows curating as a creative act that can be applied to all walks of modern life, from Instagram to museums, from architecture to ecology. During this Keynote, Obrist will present on "The Handwriting Project," a digital protest promoting the preservation of this analog form of expression. Watch here »
1:00pm – 1:30pm (GMT+2)
Dr. Auma Obama – You are Your Future – Poverty is No Excuse
As Founder and Director of the Sauti Kuu Foundation, Dr. Auma Obama and her team seek to give a voice to financially and socially disadvantaged children and youth. Using a Self-Help Model of intervention the Foundation works to unlock their potential and enable them to improve their lives. Watch here »
2:30pm – 3:00pm (GMT+2)
Neil Harbisson – The Renaissance of our Species
Cyborg Neil Harbisson will explore how taking an active part in our own biological evolution is no longer a theory, but an option. Becoming technology, instead of using or wearing technology, opens up the possibility of having additional organs and senses beyond the ones confined to our species. Watch here »
4:30pm – 5:30pm (GMT+2)
Gelong Thubten – The Science of Mind: Mindfulness & Transformation
Gelong Thubten has lived as a monk for the past 25 years and is among the world's foremost meditation trainers. Explore some of the neuroscience of meditation and how it improves both brain activity and body chemistry. Watch here »
More Programming Highlights
Dr. Tracy Laabs, Glenn Zorpette, Arto Nurmikko, and Debarun Guha Thakurta –
Brain-computer Interfaces: Separating Fact From Fiction
Elon Musk and Mark Zuckerberg are among the Silicon Valley moguls who have recently committed funding to projects or entire new companies devoted to brain-computer interfaces (BCIs). During this panel, these experts discuss the new reality, straight out of a science fiction novel.
Moira Gunn & Hartmut Esslinger – Designing the Future
A candid discussion about the challenges and opportunities we face ahead, and how design must evolve from focusing on beautification to becoming a core strategy of innovation.
After the daytime programming, the festivities continue on with Urban Hotspots, an evening music and culinary program. Explore the curated list of culinary spots in Frankfurt's Bahnhofsviertel community. The night concludes with a performance from famed German rap group, Beginner, exclusively for me Convention attendees.
Not able to make it to Frankfurt? Go behind the scenes with speakers and to the front row of all the shows this weekend – follow me Convention on Instagram and Twitter as well as SXSW channels for the latest coverage. Tune in each day for the live stream of select talks at me-convention.com.
And just like that, tomorrow is the closing day. Stay tuned for the final day of live-streamed talks with Ryan Gellert, Amber Valletta, Sasha Samochina, and more.
2017 me Convention speaker, Mike Horn – Photo by Markus Nass
The post me Convention Day Two: New Realities, New Creativity & New Leadership [Live Stream] appeared first on SXSW.