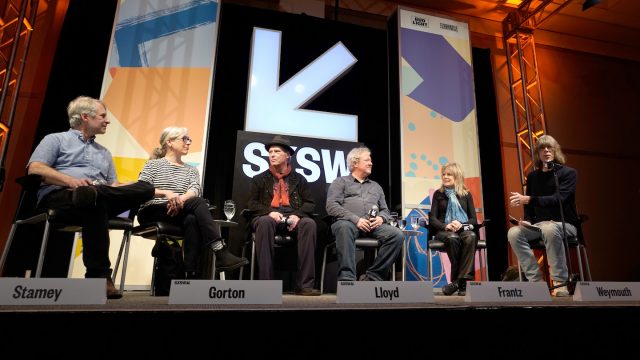 The touring industry has been rapidly changing in recent years. The boom in festivals around the globe, streaming music platforms impact on listening habits, new visual technologies, and recent developments in ticketing have all challenged the industry to quickly adapt. Among other discussions, the Touring & Live Experience Track will forecast many of tomorrow's problems while bringing many of the industry's best thinkers to the table to work through solutions and speculate on opportunities for growth.
Join us for more sessions in the Touring & Live Experience Track during the SXSW Conference from March 12-16. The Touring & Live Experience Track dives into topics such as innovative immersive technologies, the current status of live events worldwide, fan engagement and experience, and cultural awareness for internationally touring acts.
Touring & Live Experience Session Highlights
Is the Festival Explosion Ruining the Industry?
Speakers: Sima Cunningham (Pluto Arts Ltd), Jeremy Holgersen (United Talent), Randy Nichols (Force Media Management), and Greg Patterson (Eventbrite)
Another day, another new festival. And as festivals have larger budgets to pay a higher premium for talent, we're seeing a noticeable shift of artists choosing festival plays over clubs, resulting in limited inventory for club buyers. Has the festival explosion been positive or negative for emerging artists and the future supply side of the next wave of mega acts?
The Future for Cannabis and Live Events
Speakers: Tim Blake (The Emerald Cup), Salwa Ibrahim (Highland Events), Caroline Phillips (National Cannabis Festival), and Matt Stang (High Times)
Live music and cannabis have long been an inseparable pairing, though one that laws prevented from making official. When California opened its doors to recreational sales, many hoped sales and consumption of cannabis would finally be possible at the state's hundreds of music venues and festivals. The transition has proved much more difficult. What does the future hold for cannabis-focused events, and for public cannabis sales and consumption at music venues and festivals in the future? We've gathered the country's foremost leaders of cannabis events to discuss. Tim Blake, founder of The Emerald Cup; Matt Stang, Chief Revenue Officer for High Times, Caroline Philips, founder of National Cannabis Festival, and Salwa Ibrahim of Highland Events.
Small is the New Big: Why It's All About Micro-festivals
Speakers: Jeff Bundschu (Bundschu Company), Brooke Burt (Vans), Zac Ives (Goner Records), and Biasha Mitchell (Eventbrite)
Going to a mega festival was often seen as a coming of age moment, but as attendee trends change and festival lineups look more and more similar, people are leaning towards smaller, more intimate experience-led (vs. lineup-led) festivals. Attendees are tending towards traveling less and favoring local events, and events that establish a true community are seeing more long-term success. What is it about smaller festivals that are pulling people in, and what strategies can festival producers engage to ensure success for them and the ecosystem they work with?
The Future of Live Experiences
Speakers: Matt Lawler (AEG) and Luke Ritchie (Nexus Studios)
The future of live experiences such as sports, concerts and theatre venues is radically changing. The rollout of 5G will trigger a revolution in AR and spatial mapping technologies. Nexus Studios, a leader in immersive storytelling, and AEG, the world's leading sports and live entertainment company, are working closely to enhance live experiences with immersive technologies. By creating a highly accurate digital overlay of the venue that can be accessed via your phone's camera, venues will soon offer an array of new services to offer customers. In this session, we'll explore the opportunities within this digital infrastructure, and cover new ways for brands to engage with customers.
Design Patterns for Spatial Sound in AR
Speakers: Lauren Hutchinson (Pilgrim AR), Todd Reily (Bose Corporation), Sean Thornton (Audio UX), and Angela Watercutter (Wired.com)
It's easy by now to grasp 3D in a visual sense. What about 3D and spatial sound? Imagine being able to deliver an experience where you can programmatically surround a user with spatial sound. As they move their head around, they hear different sounds around them. This panel will feature creative leads from different aspects of the industry, talking through the importance of sound and how they've considered and implemented solutions to engage the user with spatial sound.
Browse More Touring & Live Experience Sessions
Enjoy primary access to all Touring & Live Experience Track sessions with a Music badge. Upgrade to a Platinum badge for primary access to everything at SXSW.
Crossover Track Recommendations
Learn more by exploring sessions in the other 25 Conference Tracks that relate to Touring & Live Experience:
Join Us at SXSW 2019
Interested in attending SXSW 2019? Register now and book your hotel using SXSW Housing & Travel for the best rates and locations close to the action.
Sign up for SXSW Event Updates and read SXSW News for announcements, deadline reminders, programming features, and beyond throughout the 2019 season.
Follow us in all the usual social spots for daily updates – Twitter, Facebook, and Instagram.
SXSW 2018 Featured Session: From CBGB to the World: A Downtown Diaspora – Photo by Ismael Quintanilla/Getty Images for SXSW
The post Looking Into the Future of Touring & Live Experience appeared first on SXSW.