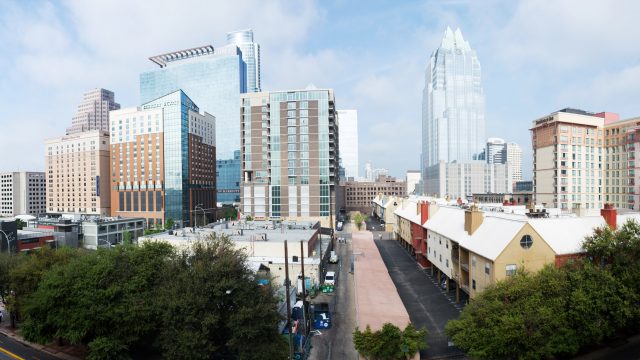 The Austin Convention Center (ACC) – home base for South by Southwest Conference and Festivals – is in the heart of downtown Austin. The surrounding area crackles with urban energy and features the great venues and restaurants of the 6th Street, Red River, Warehouse, and Rainey Street Districts. We understand that your hotel location is key to a successful SX™ experience. Downtown hotels are still available for the second half of SXSWeek® and we have rooms just minutes from downtown for all dates. If you can't find what you need, check out alternative housing options we recommend.
SXSW events are spread throughout Austin and not everyone is able to stay downtown. SXSW Housing & Travel works with a variety of transportation services to provide a comprehensive selection of transportation options, including scheduled ride services through SuperShuttle and Austin Capital Metro bus routes. These options are available to help you design your commute to SXSW events within your individual budget and needs. Check out our hotel map for SXSW Hotel locations and the Availability Page to see hotel rates and amenities before you register.
To help you find the location that works for you, here is a list of neighborhoods that SXSW Housing & Travel holds hotel rooms at our low conference rates:
Austin-Bergstrom Airport
Average Commute to ACC: 15 Minutes*
Austin-Bergstrom airport is a surprisingly quick trip to Downtown Austin, making these hotels ideal for your stay, especially if you require a quick turnaround. Airport hotels are also obviously convenient to the airport, often offer airport transportation.These hotels are also the closest option to the legendary BBQ mecca of Lockhart, Texas.
North IH35
Average Commute to ACC: 15 Minutes*
Hotels along the IH35 corridor in North Austin are easily accessible to downtown. Historic North Austin offers great local cuisine like Amaya's Taco Village and Quality Seafood. Also, check out North Loop's vintage stores, record stores, or hybrid coffee shop-cocktail spots (they give new meaning to baristas), and you'll set new trends upon exiting their brightly colored buildings.
The Arboretum and Domain
Average Commute to ACC: 20 Minutes*
Located in the center of Austin's High Tech corridor, these mixed-use communities in Northwest Austin are populated with exciting new restaurants and hot, big-name shopping if that's part of your passion. In addition to great shopping, enjoy the Domain's nightlife. In true Austin fashion, you can enjoy a drink and even live music after a long day of networking right in the heart of the Domain. They are located in the center of Austin's High Tech Corridor.
South Austin
Average Commute to ACC: 15 Minutes*
Just a short commute to downtown, South Austin hotels offer easy access around town. Take a quick cab ride to the trendy and classic South Congress, South 1st, and South Lamar neighborhoods with dining, entertainment, and boutique shopping.
University Area
Average Commute to ACC: 10 Minutes*
Many SXSW hotels are located on the fringe of downtown and still a convenient distance to the Austin Convention Center and Austin's Capital Metro App bus system. The "university area" is vibrant with student life, shopping and museums like the Bob Bullock and Harry Ransom Center.
Questions? Email housing@sxsw.com.
*Travel times are subject to change based on traffic and individual hotel location.
Austin skyline photo by Judy Won
---
Helpful Resources
Reservation Policies
How to Book
Hotel Availability
Register
SXSW Shopping Cart
SXsocial
The post SXSW Housing: Location, Location, Location! appeared first on SXSW.