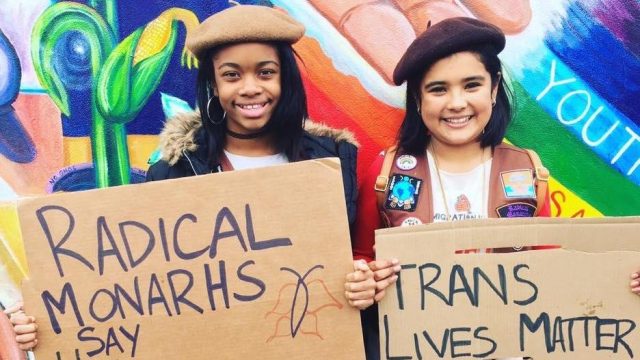 The 2019 SXSW Film Festival is almost upon us and we can't wait to have you here! Before you make your way down to Austin, TX, get to know films from our lineup a little bit better with our Filmmaker In Focus series. Dive into our Q&A with director Linda Goldstein Knowlton, as she tells us about her film We Are the Radical Monarchs, which will have its World Premiere in Documentary Feature Competition screening section.
In your own words, what does this film mean to you?
Linda Goldstein Knowlton: To me this film is all about being unstoppable allies. The Co-Founders are, the girls are, and the troop leaders are — they lead by example in all they do in standing up for all people who face systemic injustices. For those of us who are pushing back against the powers that be in Washington, they demonstrate how we can all be unstoppable. This film also acts as reminder, that the personal is political, and that the political is always very personal.
What motivated you to tell this story?
LGK: When I first read the article about the Radical Monarchs and their co-founders in the Guardian, and read their mission and vision statements, I felt just incredibly inspired. I mean, how could I not be?
"OUR MISSION The Radical Monarchs create opportunities for young girls of color to form fierce sisterhood, celebrate their identities and contribute radically to their communities.
OUR VISION The Radical Monarchs empower young girls of color so that they stay rooted in their collective power, brilliance and leadership in order to make the world a more radical place."
So I'd have to say, the co-founders themselves motivated me to tell their story.
What do you want the audience to take away?
LGK: I want the audience to take away that they can change the world, and that it starts by each person doing what they can each day to change their own world. Step by step, looking first at themselves and then their communities, and doing what the Radical Monarchs continue to do: speaking up and speaking out, and being allies to all. As co-founder Marilyn Hollinquest says in the film, "if we don't want the Black Lives Matter movement to exist in 2036, then we need to teach social justice like we teach STEM subjects."
How did you find your subject?
LGK: The headline of the Guardian was: "Radical Brownies: Is this the Future of Girl Groups?" That headline completely caught my attention because of those words: "radical" and "girl groups" — which I don't usually see together. And then I saw the picture accompanying the article — it was of these badass girls, in their Black Panther-inspired berets, holding their fists up in a power pose, and I was like, "Oh my god, how do I get to know them and who they are and what are they all about?" It was that immediate. That was in January of 2015. I reached out to the Co-Founders in Feb. 2015, flew up to meet them in Oakland, and we started shooting April of 2015.
What were you doing when you found out you were coming to SXSW?
LGK: My husband and I had just had our butts kicked in Rummikub by our 13-year-old daughter, so to quietly lick my wounds, I went over to my computer to look at emails. When I saw the email from Janet Pierson and SXSW, I literally screamed. Really, I screamed because I was just so incredibly happy. I think I may have actually jumped, too.
Do you have a past experience at SXSW that impacted your decision to come back?
LGK: No… I'm a first timer! I've been an admirer from afar, but I've never had the chance to screen a film here until now.
Add We Are the Radical Monarchs to your SXSW Schedule. Stay tuned in the coming weeks as we share more interviews with our SXSW 2019 filmmakers!
Join Us For SXSW 2019
Register and book your hotel now to save! The Film Badge gets you primary access to all SXSW Film events including Film Keynotes and Featured Sessions, world premieres, round tables, workshops, parties, and more. Over the course of nine days, the SXSW Film Festival hosts over 450 screenings! Film registrants also have primary access to Convergence events, including the Comedy Festival and nine unique Conference tracks, as well as secondary access to most Interactive and Music events.
We Are the Radical Monarchs – Photo by Anayvette Martinez
The post Linda Goldstein Knowlton Wants You to Meet the Radical Monarchs – SXSW Filmmaker In Focus appeared first on SXSW.