Enter a session ideas for the SXSW EDU Conference & Festival via PanelPicker through July 19, 2019.
The South by Southwest Education Conference & Festival fosters innovation in learning. The tenth annual SXSW EDU will return to Austin, March 9-12, 2020. The four-day event brings together today's leading minds in education for four days of compelling sessions, in-depth workshops, film screenings, startup events, policy discussions, competitions, networking, and more.
Help shape the 2020 event by entering a session proposal!
2020 Tracks
SXSW EDU is accepting ideas across a wide range of topics impacting how we teach and learn. The 2020 tracks include:
Accessibility & Inclusion
Adult Learning
Arts
Business & Investment
Early Learning
Emerging Tech & Development
Equity
Global Education
Higher Education
Informal Learning
K-12 Education
Leadership
Policy & Civic Engagement
Science of Learning
SEL & Wellness
Student Agency
2020 Formats
The PanelPicker entry application features a number of different formats, each of which supports a specific presentation style. The session format will dictate everything from the flow of the session to the number of speakers allotted to the level of audience participation, and even the way that the room is set up.
Case Study: 1-3 Speakers, 60 Min
Future20: 1 Speaker, 20 Min
Panel: 2-4 Speakers, 60 Min
Performance: 1-3 Speakers, 1.5 Hours
Podcast: 2-4 Speakers, 60 Min
Talk: 2-3 Speakers, 30 Min
Hands On: 1-2 Speakers, 30 Min
Meet Up: 1-2 Speakers, 60 Min
Workshop: 1-3 Speakers, 1.5 Hours
Campfire: 1-2 Speakers, 60 Min
Get Started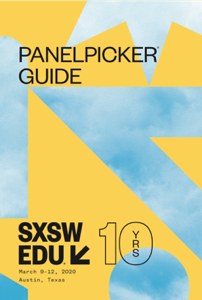 Visit panelpicker.sxsw.com and sign in with your universal SXSW account or create one for free with your email address and a password. Begin your proposal by selecting "+ EDU Proposal" to be considered for SXSW EDU 2020.
Download the SXSW EDU PanelPicker Guide or visit sxswedu.com/panelpicker for helpful information and tips to guide you through the PanelPicker entry process.
The post Learning Takes Center Stage at SXSW EDU: Enter a PanelPicker Idea Today appeared first on SXSW.