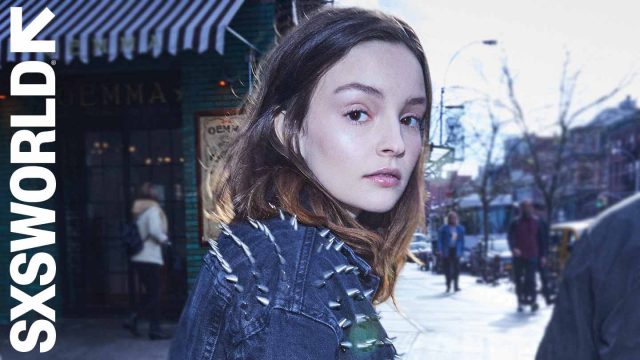 SXSWorld® magazine's Andy Smith set down with CHVRCHES front woman Lauren Mayberry to discuss her music influences, history, fan experiences, and admiration of Garbage lead singer Shirley Manson who she will join for a 2019 SXSW Music Keynote this March.
Read on for an excerpt from the interview, Lauren Mayberry: Rising to the Top By Slipping Through the Cracks, and then dive into SXSWorld for more including audio excerpts from Mayberry.
"On the face of it, you're like 'That's not what a pop band should be!' But that's how I kind of feel like we slipped through the cracks, because we're not what a pop band should be." – Lauren Mayberry on CHVRCHES
The roots of CHVRCHES extend back to Iain Cook and Martin Doherty meeting while both were students at the University of Strathclyde in Glasgow. Cook was a founding member of the local alt-rock band Aereogramme, which was signed to Chemikal Underground and released four albums prior to splitting up in 2007. Doherty was a latter period member of Aereogramme, and future CHVRCHES manager, Campbell McNeil, was the band's bass player.
Mayberry had been a fan of Aereogramme, and in 2011, Cook produced an EP for her unsigned band, Blue Sky Archives. As she remembers, Cook mentioned a new collaboration he had with Doherty, who was playing with The Twilight Sad at the time, but downplayed his expectations of it. "They were maybe going to try to sell it to publishing company or just put them online," she recalls. "It was never like it was going to be a real band necessarily."
Cook then ("rather unprofessionally" as Mayberry jokes) played some of the Blue Sky Archives recordings for Doherty, who suggested that they bring Mayberry in to help with the new project. "So we did the demo, and after that, we were all excited about it," she says. "And we had a conversation in a pub about making it a real band, and what we wanted to do, and that was that!"
Click below to continue reading the full interview by Andy Smith
Read the Full SXSWorld Magazine Article
Explore SXSWorld Magazine
Stay tuned for more spotlights on speakers, artists, film, and more leading up to the 2019 March event.
SXSWorld® magazine is your portal to an in-depth look and extended coverage of the SXSW Conference & Festivals. Exclusive articles are published online throughout the year, with three print issues made available to SXSW registrants. The February issue is printed and mailed out to registrants alongside the digital publication. Two issues of SXSWorld are printed and distributed on-site during the March event and reach professionals working in all aspects of the creative industries while they are attending SXSW.
Interested in SXSWorld advertising or other marketing opportunities at SXSW? Contact a SXSW representative for more information.
Register today to join Lauren Mayberry at SXSW 2019 along with many other Keynotes and Featured Speakers. Then get ready to experience even more during 10 days of networking, showcases, film screenings, exhibitions, tech competitions, art, and beyond from March 8-17 in Austin, TX.
Photo courtesy of the speaker
The post Lauren Mayberry on the Journey of CHVRCHES – SXSWorld Interview appeared first on SXSW.