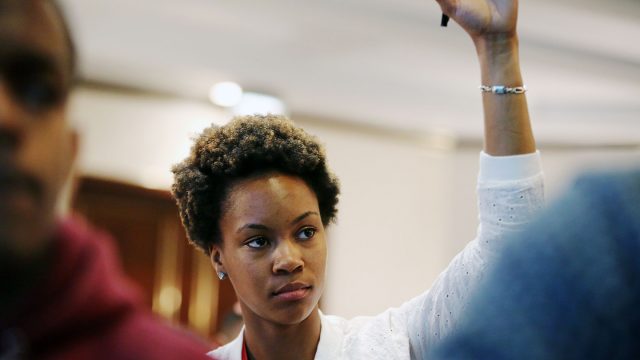 As the younger generations join the workforce, they bring in new ideas on society and the world around us that in turn redefines how workplaces should function. The Future Workplace Track brings together HR, talent, and corporate leaders to discuss these changes as well as other innovation and forward-thinking initiatives that will impact the future of today's workplaces.
Join us March 8-12 during the SXSW Conference to hear more on topics like career development, work-life balance, co-working, diversity, inclusion, HR issues, and employees rights. These sessions we've pulled together address the changes and trends that are most prominent in today's workplaces and how companies can keep up in this ever-changing work environment.
Future Workplace Session Highlights
Going Beyond the Gender Binary in the Workplace
The majority of millennials view gender as a spectrum, rather than a binary, with 56% of Gen Z reporting they know someone who uses gender-neutral pronouns. Companies need to understand how to navigate the shifting attitudes surrounding gender – not only to be inclusive but to remain competitive in attracting top talent – but it's not such an easy transition to make considering the binary world we live in. In this beginner level panel, Liz Byrne, Manager at Point of Pride, Lisa Kenney, Executive Director of Gender Spectrum, and Rebecca Sherer, Director and Senior Executive Talent and Organizational Developer at Google, will provide a dive into defining gender (what it is and isn't), and how companies can apply a gender-inclusive lens to every aspect of their business.
A Girlfriend's Guide to White Woman Allyship
White women in the U.S. have disproportionately benefited from affirmative action and corporate diversity programs – #TimesUp predominantly features white women and Tarana Burke's #MeToo movement gained viral traction after it was amplified, and was wrongfully credited, to white actress Alyssa Milano. The same people who are working towards gender equality seem to be leaving people of color behind. This beginner panel with feature an interactive discussion exploring how to be an ally from the perspective of individuals in historically marginalized groups. Janet Ikpa, Diversity Events Strategist at Facebook, Lisa Lee, VP of Global Diversity, Inclusion, and Belonging at Squarespace, and Lauren Nagel, Vice President of Executive Creative Director and Women's Community Co-Chair at Pandora will unpack who continues to benefit from diversity programs, how white women are unconsciously failing women of color, and tactical ways they can show up as allies for other communities.
Nature at Work for Productivity, Health, and Fulfillment
Spending time in nature improves thinking, creativity, and general well-being – but most of us haven't harnessed the power of nature while at work, though we tend to enjoy it more in our leisure time. What is keeping us from working outside and embracing more elements of nature in our workspaces since 90% or more of info work can be done outside? Hear Ronaldo Balli, Founder and CEO of RRB Ventures, Liz Elam, Founder and Executive Producer of Global Coworking Unconference Conference (GCUC), Philip Vanhoutte, CEO of Philip Vanhoutte BVBA, and Kathleen Zarsky, Founder and Systems & Strategy Director of Holos discuss Biophilia and how you can bring utilize it in your home, garden, office, or coworking space while also bringing your work outdoors.
Transforming the Workplace Through Remote Work
Remote work rose over 115% in the last decade and smart companies know that they have to adapt to this workplace trend or lose out on top talent. Though this policy is here to stay, many companies remain unsure of how to make a remote work policy function in their organization. Greg Caplan, CEO and Founder of Remote Year, Amy Forbes Winebright, Global Project Manager at Dell, Ian Reynolds, Director of Programs, Work, Life, and Engagement at Johns Hopkins University, and Sara Sutton, CEO and Founder of FloxJobs will offer their best practices for starting, implementing, and executing remote work programs. Learn how to maximize the benefits of remote work and address the practical challenges companies may face with this nontraditional, but increasingly common, way to work.
The Digital Economy Isn't Just for the Young
Having five generations in the workplace at the same time provides a never before seen opportunity to exchange intergenerational wisdom – though it seems to almost never happen. Chip Conley, Strategic Advisor at Airbnb and a "Boomer in the land of Millennials," believes that these exchanges of wisdom are the key to moving into the workplaces of tomorrow. From his younger colleagues he has learned how to embrace the newer technologies like Google docs and Instagram accounts, but more importantly, he learned how to curate his life through a lens of adventure. This generation, he notes, is more focused on being "outwardly mobile" than "upwardly mobile," and is more focused on experiencing the world than climbing the corporate ladder. Through the exchange of wisdom, he has become a content and inspired "digital nomad" and has broken out of the three-stage life cycle of learn, earn, retire – and he wants to teach you how to do the same no matter which generation you belong to.
Check out other Future Workplace sessions as well as other Keynotes and Featured Speakers like Roy Spence:
Browse More Future Workplace Sessions
Enjoy primary access to all Future Workplace sessions as well as other Conference sessions with an Interactive Badge, and secondary access to most other events. For primary access to everything the SXSW Conference and Festivals have to offer, a Platinum Badge will have you covered.
Attend SXSW 2019
So, are we going to see you in March?
Get your SXSW Badge and reserve your hotel today to attend SXSW 2019 and experience these Conference sessions along with 10 days of screenings, showcases, exhibitions, networking, and more this March 8-17 in Austin, TX.
Follow us on Facebook, Twitter, Instagram, and SXSW News to stay current with all things SXSW.
Featured Image by Nicky Hernandez Jr
The post Keeping Up in an Evolving Future Workplace appeared first on SXSW.