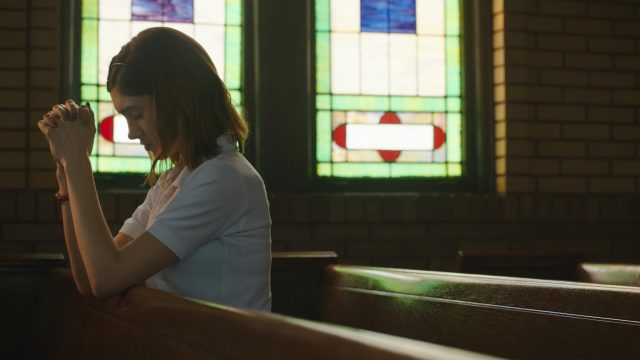 The 2019 SXSW Film Festival is almost upon us and we can't wait to have you here! Before you make your way down to Austin, TX, get to know films from our lineup a little bit better with our Filmmaker In Focus series. Dive into our Q&A with director Karen Maine, as she tells us about her film Yes, God, Yes, which will make its world premiere in the Narrative Feature Competition.
In your own words, what does this film mean to you?
Karen Maine: Because this film is based on my own adolescence and experiences growing up Catholic in the midwest, it's truly a passion project. I first had the idea for this film over a decade ago, and began writing it in 2014, so the fact that it's finally a finished product that people can watch is a dream come true. I'm so grateful to the many people who helped me bring this film to life.
What motivated you to tell this story?
KM: I was raised Catholic and went to a Catholic school in Iowa for thirteen years, and I've always wanted to convey what a strange and bewildering experience it was, especially for a teenage girl. "Sex ed" at my school consisted of explicit slides of STDs, a talk by Pam Stenzel (the famed abstinence-only motivational speaker), and — this is not a lie — a video presentation of a very graphic late-term, partial birth abortion (so graphic, we had to get permission slips from our parents) in a class called "Christian Lifestyles". Of course we were shown diagrams of our reproductive organs, but it's hard for a young girl to see a drawing that looks a lot like a pink elephant's trunk, than look between her legs and connect the two. Because it's part of the reproductive process, male sexual pleasure was thoroughly explained to us, but there was zero mention of potential female sexual pleasure. So when I discovered masturbation, I didn't tell anyone, not even with my female friends, because I'd never heard anyone talk about it before. I thought I was the only one who was doing it and I felt guilty and gross.
Yes, God, Yes explores sexual coming of age in a world of obedience and tradition, with an emphasis on female sexuality and pleasure. I've always wanted to write about a young woman coming of age sexually on her own. Not through a romantic relationship, or a partner, or through uncomfortable sex (which is how we often see female sexuality portrayed).
What do you want the audience to take away?
KM: That women are sexual beings and that there is no shame in that. Whether or not one comes from a religious community, I think we can all agree there is a stigma around female sexuality and pleasure: discussing it, joking about it, actively seeking it. This film is the film I would have wanted myself to see when I was a teenager. I want younger women to watch this and to feel they can speak more openly about their sexuality and their desires. And for older women, to identify and remember what it was like to be that age, and hopefully be grateful that we now live in a time where there is a growing appetite for stories like these. And I want men to understand that women are just as sexually obsessed and curious as they are, and that we're all horn dogs when we're teens.
What were you doing when you found out you were coming to SXSW?
KM: Sleeping. I was in London which is six hours ahead of Austin. I woke up at 2:30am and checked my email and saw that we were accepted. I woke my husband up and told him and he said congrats and fell right back asleep. I didn't fall back asleep for many hours!
What made you choose SXSW to showcase your film to the world?
KM: SXSW is an amazing festival that has premiered some of my all-time favorite films, so we knew it would be the best fest to launch our film to the widest and most receptive audience possible.
Add Yes, God, Yes to your SXSW Schedule. Stay tuned in the coming weeks as we share more interviews with our SXSW 2019 filmmakers!
Join Us For SXSW 2019
Register and book your hotel now to save! The Film Badge gets you primary access to all SXSW Film events including Film Keynotes and Featured Sessions, world premieres, round tables, workshops, parties, and more. Over the course of nine days, the SXSW Film Festival hosts over 450 screenings! Film registrants also have primary access to Convergence events, including the Comedy Festival and nine unique Conference tracks, as well as secondary access to most Interactive and Music events.
Yes, God, Yes – Photo courtesy of film
The post Karen Maine Talks About Her Coming Of Age Drama Yes, God, Yes – SXSW Filmmaker In Focus appeared first on SXSW.