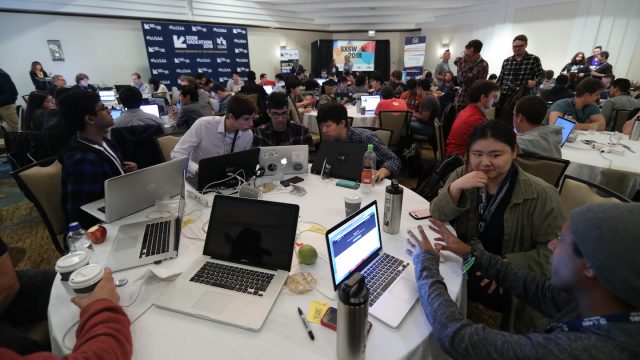 Developers, hackers, and coders are invited to apply for the sixth annual SXSW Hackathon. Teams will work for 24 hours March 12-13 to build tech that addresses the range of media covered at SXSW — from Music, VR, AR, AI, to Blockchain — using a collection of sponsor APIs, SDKs, and tech and guided by industry mentors and artists and entrepreneurs-in-residence. Complete this application form for the opportunity to participate at SXSW 2019.
After the marathon coding session, top level entertainment and media industry judges will award cash prizes to the winning teams, who will also be invited to participate in a two day Hackathon Incubator on March 14-15. Two of the three SXSW 2018 winning teams went on to launch companies they created at the SXSW Hackathon!
Hackers will address these questions with their prototypes:
Commerce & Industry – How is money getting to artists, creators, and rights-holders and can emerging technologies like blockchain, micro-payments or micro-licensing help facilitate and manage the process? How can creatives connect with the right industry players to mutually further careers?
Creation and Performance – How can musicians, VR/AR designers, and other creatives use tech to produce, perform, and display in new ways? What tools can be created to make the process easier or more inventive?
Distribution – With the fragmentation of distribution systems, physical media, and streaming options, how do creators get their work out to the public and in front of the ideal audience?
Consumer – How can we improve the fan, customer, listener, viewer or user experience?
Cross-discipline – How can creators collaborate more easily and more creatively across audio, visual, and immersive fields?
Apply to Participate
The application process is currently open, but spots are limited so act quickly to ensure your spot in March. Hackathon is free and open to the public, and we encourage coders of all skill levels and specialties to participate. Hackers can apply solo, as part of an existing team, or be partnered up with other hackers during the event. As a bonus, accepted participants will also be offered a lowest-rate discount on a SXSW Interactive, Film, or Music Badge – so take advantage of the opportunity to dive into your area of expertise at the SXSW Conference while you're here. Deadline to enter is March 5, 2019 at 11:59pm PT.
2018 SXSW Hackathon – Photo by Randy & Jackie Smith
The post Join the 24-Hour SXSW Hackathon appeared first on SXSW.