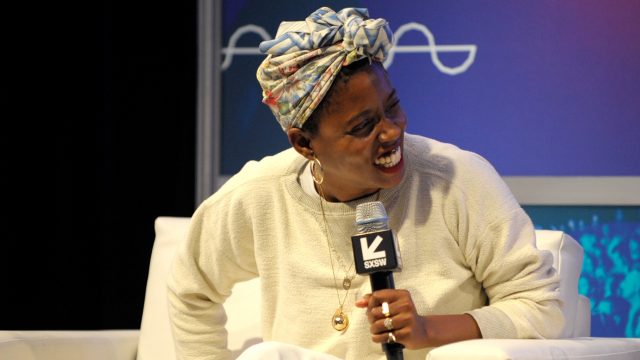 At SXSW 2018, we celebrated the 25th Edition of the SXSW Film Festival and had the pleasure of sharing stories, memories, and reflections from our distinguished alumni. We had a blast telling these tales and want to keep the party going! Today we spotlight Janicza Bravo.
Bravo world premiered two narrative shorts at SXSW: Eat (2011) and Woman In Deep (2016). At SXSW 2017, the festival screened her first feature Lemon in the Festival Favorites section. Additionally in 2017, Bravo participated in a Film & TV Industry Featured Session, The Female Lens: Creating Change Beyond the Bubble with Danielle Macdonald, Gabourey Sidibe, and Jenny Slate. Recently, Bravo has directed many episodes of critically acclaimed television shows like Atlanta, Love, and Dear White People (Episodic World Premiere, 2017). She can also be seen in HBO's series Camping and her next feature is A24'S Zola.
"I knew at my core that I would eventually arrive at the thing that I was meant to arrive at. The when was the hardest to make out.
I directed my first short 6 years ago and the only festival I submitted to was SXSW. I do not recommend that as a way to go about any moves in life. The piece was an exercise. I was trained in the theatre and I didn't necessarily think there was a space for me in film. Well – I got in and nearly wet myself – in fact it's totally possible that I did a little.
I can't really imagine my life in film without that bump of validation. I carried it with me close for many years. Seeing the work that I'd spent all of these intimate hours writing and cutting play in front of an audience was a gift. This would be the first time that I'd have the taste of what it's like to not feel like a plus 1. This would be the first time I'd heard someone else refer to me as a director. And this would also be the first time I'd take a step into that seat without looking back."
Join Us For SXSW 2019
Register and book your hotel now to save! The Film Badge gets you primary access to all SXSW Film events including Film Keynotes and Featured Sessions, world premieres, round tables, workshops, parties, and more. Over the course of nine days, the SXSW Film Festival hosts over 450 screenings! Film registrants also have primary access to Convergence events, including the Comedy Festival and nine unique conference tracks, as well as secondary access to most Interactive and Music events.
Follow us on Facebook, Twitter, Instagram, and SXSW News for the latest SXSW coverage.
See you in March!
Janicza Bravo – Photo by Nicola Gell/Getty Images for SXSW
The post Janicza Bravo – SXSW Film Festival Alumni Stories appeared first on SXSW.