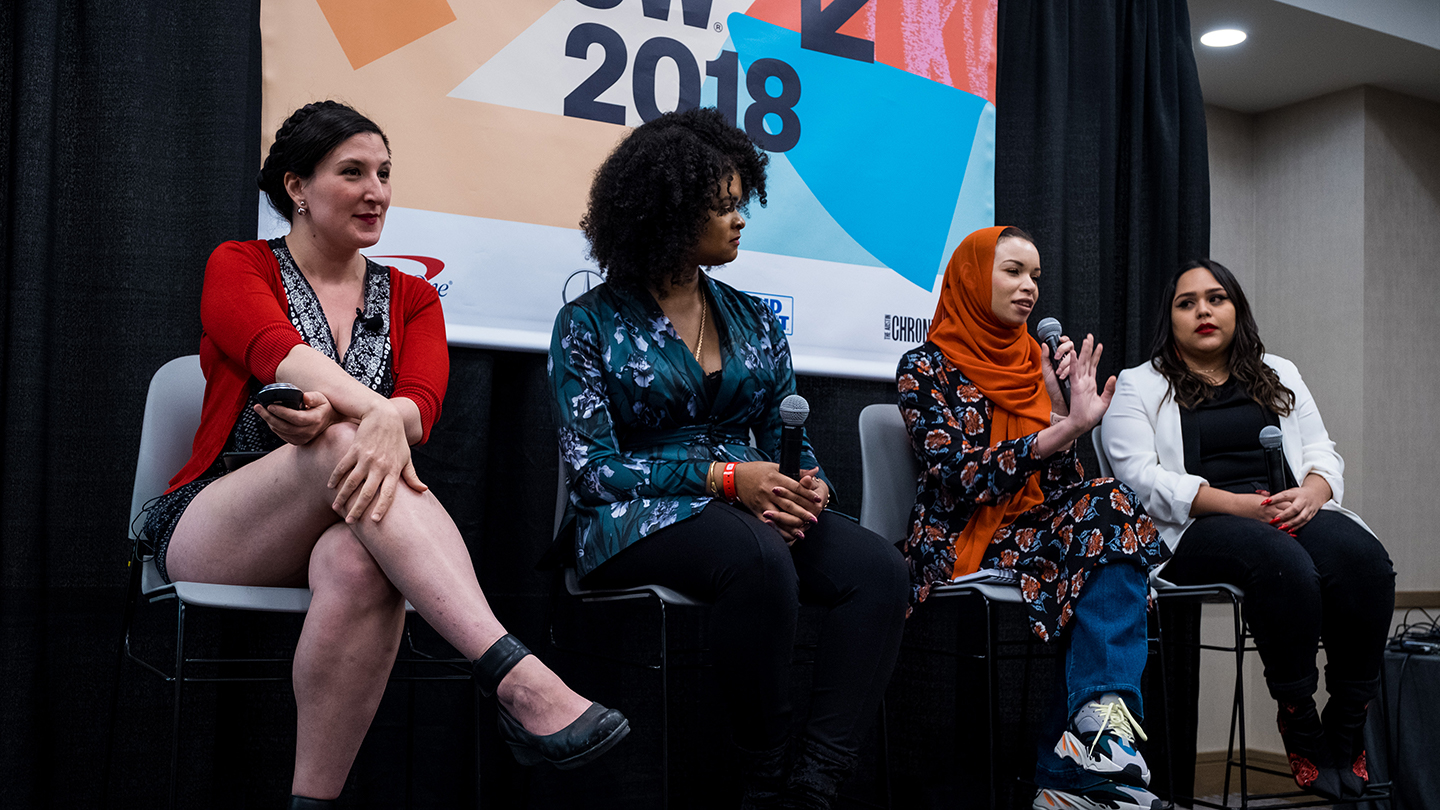 When we are kept from interacting with each other, we are kept from understanding each other. The longer the isolation lasts, the further the divide grows and the harder it is to bridge the gap in the future. The Social & Global Impact Track features initiatives and innovations that are building up a better and more equitable world.
Open to all those who are passionate about positive social and global change, whether you've made a career of it, or you get involved in your spare time — get in on the good by attending the SXSW Conference from March 8-13. These sessions identify the various forms of isolation targeting the vulnerable parts of our society, leading to the current air of confusion and frustration felt worldwide.
Social & Global Impact Session Highlights
It's All By Design: #MeToo and the Military
"Maybe I won't mention the times they hit on me either. So these men return home, shoot holes in my credibility, spread lies about me, and maybe a few truths, but either way, most wives dislike me before we ever meet, and it's all by design."
Joy Craig, a 23-year Marine veteran, and Liesel Kershul, a Marine pilot's spouse, are changing the typical servicewoman-female military spouse relationship — and Joy never thought she would be friends with a spouse. Through their friendship Liesel learned the effect that spousal cliques have on service women. Their friendship grew as the #MeToo movement got its start in 2017 – and by writing letters to each other, they've explored how women can change the military community to support each other and promote unit cohesion, subverting the typical arguments presented against allowing women to serve. Their conversation will be moderated by Anna Hiatt, Editorial Director of The War Horse, the publication that first broke the #MeToo in the military scandal.
The Faces of America's Invisible Population
The U.S. incarcerates more people than any other country in the world, and over 50% of those incarcerated are parents — which ends up leaving over 10 million or more U.S. children affected by parental incarceration at some point in their lives. Ebony Underwood, founder and CEO of WE GOT US NOW, will lead a discussion highlighting this historically invisible population and what the trauma, stigma, and devastating emotional impact of having a parent incarcerated in the U.S. can have on an individual as a child, and what they carry with them into their teenage and adult years.
Missing and Exploited Children: Paradigm Solutions
Missing children are some of the most vulnerable members of the population and are in need of protection. The longer they are missing, the greater the possibility that they might be trafficked, sexually exploited, or abused. ICMEC's Global Missing Children's Network (GMCN) recently launched the "GMENgine" – an innovative, intelligent platform that integrates and searches a vast array of global data sets, looking for matches and other clues to quickly resolve missing children cases. In this session, Mike Cachine, CTO for the International Centre For Missing and Exploited Children, Maura Harty, President and CEO of the International Center for Missing and Exploited Children, Alicia Kozakiewicz, motivational speaker, advocate, internet safety expert & survivor, and Doug Vandyke, Director of U.S. Federal and Nonprofits for Amazon Web Services, will discuss this new system that aims to be as tireless in its efforts to help locate missing children as are the loved ones who search for them in an overall effort to bring about a world that is worthy of its children.
The Dark Side of Tech: Surveillance and Propaganda
The ability to access information and communicate freely with friends and family are human rights — but for repressive regimes, innovative tech can mean new ways to gain and maintain power. Join Alex Gladstein, Chief Strategy Officer of the Human Rights Foundation for a conversation with Abduweli Ayup, Uighur linguist Megha Rajagopalan, China Bureau Chief & Asia Correspondent for BuzzFeed News, and Michael Anti, Chinese journalist and blogger, on how apps, artificial intelligence, fake video, and other cutting-edge technologies are being used to control, surveil, and promote state propaganda in China – and what that means for the rest of the world.
What We (Should) Expect of the Police
Tensions between the police and the community have been rising for years. In July, protestors shut down a freeway in Chicago after police shot and killed Harith Augustus, a barber who was allegedly exhibiting "characteristics of an armed person." Police released body camera video in an effort to diffuse the situation, but tensions boiled over due to the lack of trust between police and the community that had been worsening for years in the making. Augustus is one of nearly 600 people killed by police this year, an unacceptable number regardless of whether the uses of force were justified. In this session, Ed Chung, Vice President of the Center for American Progress, Ron Davis, Principal Consultant for 21CP Solutions, Phillip Goff, President of the Center for Policing Equity, and Josie Rice, Sr. Reporter at The Appeal, will discuss the challenges of police-community relations in America and if and where solutions might be reached.
Check out other Social & Global Impact sessions as well as other Keynotes and Featured Speakers including Brené Brown, Building Trust in Distrustful Times, Eli Pariser, Howard Schultz, and Ike Barinholtz, Sasheer Zamata with Anthony D. Romero:
Browse More Social & Global Impact Sessions
Enjoy primary access to all Social & Global Impact sessions as well as other Conference Sessions with a Platinum or Interactive Badge, and secondary access to most other events.
Crossover Track Recommendations
Learn more and unlock your badge's full potential when you explore sessions on the other 25 Conference Tracks that relate back to Social & Global Impact:
Attend SXSW 2019
Get your SXSW Badge and reserve your hotel today to attend SXSW 2019 and experience these Conference sessions along with 10 days of screenings, showcases, exhibitions, networking, and more this March 8-17 in Austin, TX.
Follow us on Facebook, Twitter, Instagram, and SXSW News to stay current with all things SXSW.
Featured Image by Tyler Draker
The post Isolation: the Social & Global Impacts appeared first on SXSW.