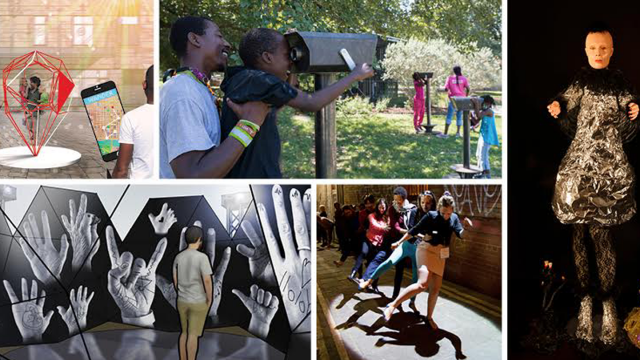 The city of Austin is the only Creative City of Media Arts in the U.S., as designated by the UNESCO Creative Cities Network. This designation speaks to Austin's legacy and leadership in the arts, technology, and culture, as well as Austin's dedication to a thriving cultural landscape. In celebration of this, SXSW is excited to announce, in partnership with the City of Austin Cultural Arts Division, the UNESCO Media Arts Exhibition at SXSW.
"Austin, the only U.S. city with a UNESCO Media Arts designation, is globally celebrated for its innovative and collaborative community bridging the fields of art and technology," said Cultural Arts Division manager Meghan Wells. "For years, SXSW has showcased the talent and innovation of interactive, music, and film industries and has served as an international hub for creative exchange. We are pleased to partner with them to spotlight Austin's media arts initiatives through the lens of the esteemed UNESCO Creative Cities Network."
The exhibition comprises a mini-showcase of media art installations at the Cities Summit on March 12-13, and a companion panel discussion highlighting the global initiatives of the UNESCO (United Nations Educational, Scientific and Cultural Organization) Creative Cities Network. The following works to be showcased are by Austin-based artists working at the intersection of art and technology.
UNESCO Media Arts Exhibition at SXSW Programming
Modeled after Edison's Kinetoscope, Forgotten Landscapes by James Hughes and Ha Na Lee connects viewers to the last known locations of missing persons via interactive, 360-degree virtual reality videos featuring Austin landscapes.
Gathering, by Lisa Woods, is an interactive installation that invites participants to use their hands as a canvas for storytelling. The work explores group portraiture and participatory art and celebrates how technology can help tell stories in new ways.
Yuliya Lanina's Herstory, a motion-activated sculpture featuring a miniaturized and distorted replica of the artist, embodies humor, compassion, and silent sorrow— an examination of the human condition. An accompanying fiddler bunny in a golden dress plays original music by Yevgeniy Sharlat.
Luke Savinsky's Passage (Variation) conjures cinematic memory and perceptual illusion via a three dimensional, virtual passageway made of flickering multi-layered white light, emanating from multiple vintage 16mm projectors.
Visitors to the Media Arts Showcase will also have an opportunity to discover two cutting-edge art installations on view in Austin: Wander, recently launched by artists Chris Gannon, Chadwick Wood and Brockett Davidson, is an interactive, choose-your-own-adventure installation featuring a sculptural beacon and mobile-optimized web app that takes visitors throughout downtown Austin. Jonathan Chomko and Matthew Rosier's Shadowing a public art installation that utilizes City streetlights to capture and project shadows of passersby, will be on view in select locations around the city during the SXSW festival.
Join us for the UNESCO Media Arts Exhibition at SXSW and more art-related programming this March.
Photos courtesy of UNESCO
The post Introducing the UNESCO Media Arts Exhibition at SXSW 2018 appeared first on SXSW.