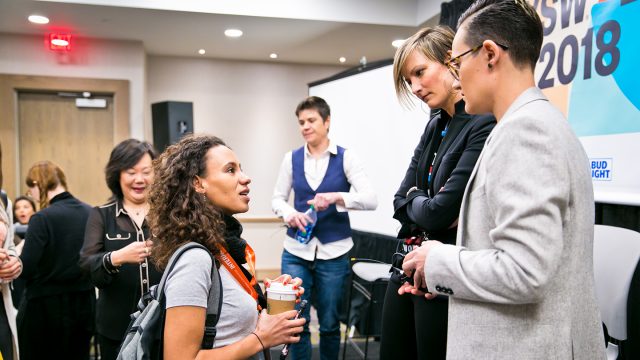 Innovation drives us forward. In the Tech Industry & Enterprise Track we're highlighting the innovations of today and the trends of tomorrow.
Join us during the SXSW Conference from March 8-11 for Tech Industry & Enterprise sessions showcasing the disruptors in the tech industry.
Tech Industry & Enterprise Session Highlights
Disrupting the Status Quo: Female Leaders in Tech
Though the number of women employed by tech companies continues to rise due to the increased efforts to encourage inclusion, there still remain very few women in leadership roles. So how are the few women who have made their way into these leadership roles tackling the challenge of managing teams that are, in many instances, predominantly male – and how are they mentoring teams to build more inclusive work environments? Join Billie Sue Chafins, VP of Software Development at Hulu and Felicia Yue, Senior Manager of Product Management at Amazon Prime Video – two women in tech leadership – as they discuss the challenges of being a woman in tech at the top.
A Language to Foster Innovation
If pilots, divers, firefighters, and surgical teams use a strict language code to avoid fatal miscommunications – why don't businesses who are innovating to survive? In this session, KP Frahm, Head of Innovation Management at DPA, and Wolfgang Wopperer-Beholz, Sense-maker and Facilitator of Product Field GbR, will introduce a product innovation language that lowers the risk of innovation failure significantly, and they will teach companies how to put it into practice.
Shaping the Future of Shopping with Computer Vision
How is the world's largest retailer, Walmart, shaping the shopping experience of the future? Hear from Jeremy King, CTO of Walmart, as he discusses how Walmart's tech division is using technologies including computer vision and deep learning to better understand its customers, both on the newly launched Walmart.com and in its 6,000+ stores. He will also address how maintaining a brick-and-mortar presence is part of its eCommerce strategy.
A New Space Age: Disrupting Investment & Innovation
From being the youngest person to complete a NASA mission at age 16, Brigitte Berman, CEO of Pearl Star Entertainment LLC, has had many extraordinary experiences that have shaped the future of her career. She will share the newest, most exciting discoveries – which range from disrupting the way we look at fiscal investments of the future to how we utilize the concepts of gravity, light, time, and physical space – to innovate within our own companies and lives. Berman will use the gravitational epi-centers of black holes as a tool for looking past chaos in a system to not just stay in line with the current trends, but to set the trends of tomorrow. Like the center of a supermassive black hole, we are being drawn towards a future that is still unclear – so use these tools to shine light on new realities, plan market disruption, or to problem solve within a company of any size.
The Economic Case for Gender Equality
In celebration of International Women's Day in 2019, Alexander De Croo, the Minister of Finance and Development for The Kingdom of Belgium, will present on why he has evolved from an unconscious to an active and staunch feminist. De Croo will speak on why gender equality is the answer to many contemporary challenges: from digitization, globalization, and migration, to the challenges of an aging population. Gender equality is not only the morally right thing to do, but it also makes economic sense – societies with gender parity have faster growing economies, and gender-diverse companies are more productive with better bottom lines. De Croo will propose that in order for this to succeed, we need more male feminists and a new wave of feminism, governments need to get rid of policies that are harmful to women, companies have to open up on the gender pay gap and put more women in leadership roles, and societies have to start questioning unconscious bias.
Grit, Reinvention, and Pivoting for Success
The "celebrity CEO" trend has set a daunting spotlight for executives at all levels where it feels like everyone is watching your every move and not allowing for iterative learning or experimentation. We all need to develop agile strategies, push through unexpected pain points, and continue to learn and grow personally while maintaining authority. Ann Hiatt has seen this first-hand by working as the right hand for some of the most powerful CEOs in the world, with 15 years experience as the Executive Business Partner to Jeff Bezos at Amazon and Eric Schmidt at Google. This talk will explore the many ways in which you can use that spotlight to empower both you and your workforce to think creatively and get results. We can avoid perfectionist paralysis through rewarding growth and learning more than solely performance-based metrics.
Check out other Tech Industry & Enterprise sessions as well as other Keynotes and Featured Speakers like Amy Webb, Sandy Carter & Kathy Klotz-Guest, and Susan Fowler:
Browse More Tech Industry & Enterprise Sessions
Enjoy primary access to all Tech Industry & Enterprise sessions as well as other Conference Sessions with a Platinum or Interactive Badge, and secondary access to most other events.
Crossover Track Recommendations
Learn more and unlock your badge's full potential when you explore sessions on the other 25 Conference Tracks that relate back to Tech Industry & Enterprise:
Attend SXSW 2019
So, are we going to see you in March?
Get your SXSW Badge and reserve your hotel today to attend SXSW 2019 and experience these Conference sessions along with 10 days of screenings, showcases, exhibitions, networking, and more this March 8-17 in Austin, TX.
Follow us on Facebook, Twitter, Instagram, and SXSW News to stay current with all things SXSW.
Featured Image by Travis Lilley
The post Innovations Disrupting Tech Industry & Enterprise appeared first on SXSW.