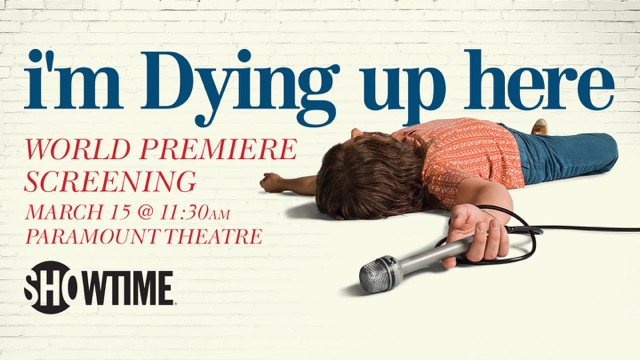 This Wednesday at SXSW, don't miss two exclusive events celebrating the new SHOWTIME® Original Series I'm Dying Up Here, the new drama series executive produced by Jim Carrey, Michael Aguilar, Dave Flebotte and Christina Wayne about the struggles of making it in the 1970s comedy scene.
First, the Paramount Theatre will host the world premiere screening of I'm Dying Up Here at 11:30am followed by a Q&A with series stars Melissa Leo, Ari Graynor, Erik Griffin, Al Madrigal, Andrew Santino, Clark Duke, and Michael Angarano as well as executive producer Michael Aguilar, moderated by Doug Benson.
After the screening, continue the I'm Dying Up Here celebration at the Showtime House at Clive Bar on Rainey Street for live music, cold drinks, giveaways, and your chance to see what it's like to be a stand-up comic in the animated motion poster experience.
Doors open at 2pm and the show begins at 3pm with live performances by Zipper Club, The Wild Reeds, The Relationship (featuring Brian Bell of Weezer), Bleached, Magic Giant and Nick Waterhouse. It all culminates at 11pm with a DJ set by the legendary Grandmaster Flash and appearances by series stars Ari Graynor, Andrew Santino, Erik Griffin, Michael Angarano, Al Madrigal & Clark Duke.
Throughout the festival, catch a ride on one of the I'm Dying Up Here shuttle buses. And don't miss the new SHOWTIME® Original Series I'm Dying Up Here, premiering June 4 at 10 PM ET/PT – only on SHOWTIME®.
To learn more about the series, visit www.sho.com/im-dying-up-here.
Content and image provided by SHOWTIME®
---
Related News:
The post I'm Dying Up Here from Showtime Kicks Off with World Premiere & Event at SXSW 2017 appeared first on SXSW.